Letter: Moratorium Is Last Resort For Residents Whose Questions And Concerns Are Routinely Dismissed By Town Government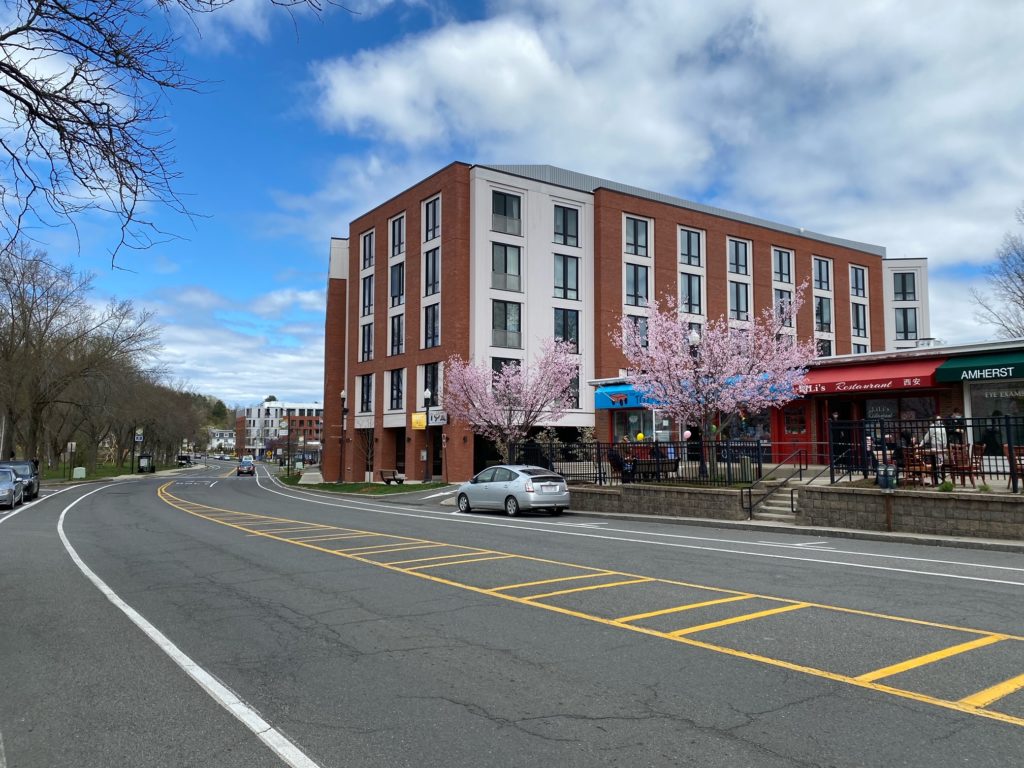 Editor's note: The following letter was sent to the Amherst Town Council and Planning Board on April 26,2021.
As you've all heard from me before, I'd hoped not to have to write again, but questions asked, and comments made, during the April 21 Planning Board (PB) meeting necessitate a reply.
Conflating Building Moratorium With Issuance Of Business Licenses
During the portion of the PB agenda set aside for "Proposed Zoning Article 16," there seemed to  be a conflating of the "Temporary [building] Moratorium" with the issuance of business permits.
The citizen petition doesn't in any way speak to business licenses, so the suggestion that the moratorium will be the death knell for new business in Amherst doesn't ring true. New businesses are welcome to come to Amherst before, during, and after a 6-month moratorium in permitting new apartment buildings downtown. If the inference is that a delay in permitting new buildings — such as the soon-to-be-proposed 11-13 East Pleasant – translates to a delay in new ground-floor commercial space becoming available, sadly, with the closing of Blue Marble, Bart's Ice Cream, and a few other retail establishments downtown, Amherst doesn't have a shortage of space for new businesses wanting to locate here. (In fact, it's taken more than three years for much of the ground floor at One East Pleasant to be filled.)
Petition Signatories Dismissed As "Some People" Living In Downtown Adjacent Neighborhoods
Toward the end of the moratorium discussion, one Board member dismissed the petition signatories as a few people who don't want more building in their "backyard". This member went on to say that it's everyone's downtown. Couldn't agree more – it is everyone's downtown, which it is why the petition already has over 800 signatures from residents who live ALL over Amherst.
Ageism At Work As Residents Who Follow Town Affairs Characterized As People Who Don't Work?
Also, during the 4/21 PB meeting, one member stated (without meaning to be ironic) appreciation for Cinda Jones' email sharing the perspective of "the working class, the people who are keeping things running. That perspective is a minority in terms of the voices we hear. I wish we heard more from them, but they're all so busy working that they don't have time to come to these meetings or to keep up with everything in 'The Daily Hampshire Gazette' or on the Town website."
Implicit in the above statement is the assumption that those pushing back against a certain kind of development downtown are privileged by virtue of having the time to partake in participatory democracy. On more than one occasion during Town Board and Committee meetings (as well as other forums, such as Nextdoor
UMass), my neighbors and I are accused of having "too much time on our hands" — that his ia what allow us to remain abreast of Town affairs and Zoom into meetings. Interestingly, I've never heard advocates for new schools or a renovated library (of which I am one) characterized as such.
And all too often, those pushing back against the proliferation of pricey dormitory-style apartments are also tarred as NIMBYs, when many of us, for whom downtown is our "backyard," have long advocated for inclusionary zoning and affordable housing throughout Amherst. We are neither idle nor NIMBYs, but longstanding, vocal supporters of inclusionary zoning – and yes, even in our backyard.
Moratorium Request – Why Now?
At another point during the meeting, one member asked why opposition to the dormitory-style apartments downtown is happening now? In fact, it's been happening since the application for Kendrick Place first appeared before the Planning Board five or more years ago.
Many residents attended and spoke during public hearings when the proposal for Kendrick Place came before the Board. We asked for onsite parking, but were told that the days of students bringing cars to school was a thing of the past. In fact, we were told that Kendrick Place wasn't student housing at all, but intended for families, professionals and retirees. When we pointed out that, on the architect's website, Kendrick Place appeared under "Student Apartments," the posting was promptly taken down. When we asked that the building be four stories rather than five; that there be appropriate set-backs and green space, we were ignored and dismissed as naysayers. The same scenario played out when the proposal for One East Pleasant came before the Planning Board the following year.
For as long as I've lived in Amherst, those in the community advocating for some restraints on unfettered development are routinely dismissed as anti-development and obstructionist. We'd rather our concerns and comments be considered and respected, than dismissed as annoyances, so that we wouldn't have to petition for a moratorium, the option our Town charter provides as a last resort for residents to have their voices heard.
Jennifer Taub

Jennifer Taub is a resident of Amherst.