CSWG To Town Government: Stop Disrespecting BIPOC People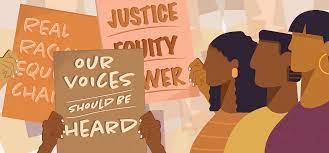 Report On The Community Safety Working Group Meeting of May 5, 2021
The meeting was held via Zoom. A recording of the meeting can be viewed here.
Participating
Working Group Members: Brianna Owen (Co-Chair), Elisha Walker (Co-Chair), Tashina Bowman, Darius Cage, Debora Ferreira, Pat Ononibaku, Russ Vernon-Jones
Staff: Paul Bockelman (Town Manager), Scott Livingstone (Police Chief), Gabe Ting (Police Captain,Operations), Ron Young (Police Captain, Administration), Jennifer Moyston (Community Participation Officer)
Members of the Community Safety Working Group (CSWG) spent over half of their 3.5-hour weekly meeting on May 5 expressing their frustration and disappointment with the Town Manager's budget as presented to the Town Council. The Group reacted angrily to the Town Manager's failure to fund their recommendations for implementing alternative ways to provide public safety services beyond traditional policing.
Town Manager Paul Bockelman was hit with a barrage of criticism for the meager budget allocation, for failing to prepare the Group so that they could participate effectively in the budget process, and for generally failing to support the Group in its work. The proposed Town budget allocates $130,000, or 6 percent of the projected first-year operating expenses for a CRESS (Community Responders for Equity, Safety, and Service) program, which is a civilian alternative system of responders for non-violent, non-criminal situations.  The CRESS Program was one of six recommendations made by CSWG's consultants ,7 Generations Movement Consultants (7Gen)  following their spring 2021 study of Amherst policing and its impact on the BIPOC community.  Those recommendations, noted below, are expected to be endorsed by CSWG in its final report to the Town Council, scheduled for May 17. The final version of the 7Gen report can be viewed here or downloaded using the button below. 

The final recommendations from 7Gen are summarized below:
Increase transparency and accountability by making police audit data available to the public.
Implement the CRESS program.
Create a civilian directed police oversight board.
Stop community policing.
Reduce the number of police by half over the next five years.
Create community institutions that support diversity including:
a Department of Diversity, Equity and Inclusion
a youth center
a multi-cultural center
continued support for the work of the CSWG
Bockelman Voices Support For CRESS
Bockelman attempted to make the case that he is an ally and a strong supporter of the CSWG, and that he is committed to the implementation of the CRESS program precisely as the CSWG has proposed it. He said that the $130,000 represents startup funds that would allow the Town to clarify details necessary to implement the program while lining up funds to pay for it. Bockelman noted that most "alternatives to policing" programs around the country,like the CAHOOTS program in Eugene, Oregon, are co-responder programs, meaning that the police are typically teamed up with a mental health professional. (editor's note: Bockelman later acknowledged that this statement about co-responder programs was incorrect). He said that CRESS would be unusual as a stand-alone agency independent of the police, and suggested that it would take some time to figure out all of the details. Bockelman noted that no money has been allocated to the consultants' other recommendations because formal proposals have not yet been drafted for them.
He emphasized that he is "totally behind this community responder program, as is all of my senior management team, based on the guidance that you have given… There is grant funding out there for much of that stuff, and this is really a critical moment for us, where we are ready to really transform how policing is done… I am moving this program forward based on the goals that you have established. The money we have set aside is start up money, indicating a commitment that we intend to move forward. The next question is, how do we bring that to life based on what you have recommended?"
But the CSWG critique was unrelenting, with members underscoring each other's points and emphasizing the following:
BIPOC people have little reason to trust the police.
The police engage members of the BIPOC community in hostile and harassing ways and there is little trust between the police and BIPOC people in Amherst.
There is a well-established history for the above, and the research of 7GMC only confirms this.
Repeated requests for testimony to confirm police harassment and disrespect further traumatizes and triggers members of the BIPOC community.
While these complaints have been ubiquitous for generations in Amherst, nothing changes.
CSWG and 7Gen did a lot of work to illuminate the conditions of policing in Amherst and the needs of BIPOC people.
CSWG did not receive the guidance and support it needed to effectively participate in the budget process.
Budgeting reflects a community's priorities. There is money for all kinds of things in town, but those deemed important by the BIPOC community are not considered important enough to fund.
There is little commitment in Amherst to dismantle racism and white supremacy.

Co-chair Elisha Walker said that she was frustrated and disappointed with the overall Town response to CSWG's work and that she found the responses (or lack thereof) of the Town Manager, Town Council, and Police Chief, as well as the specifics of the budget, to be disrespectful to the members of CSWG and the hard work that they have done, and to BIPOC people in general. She said that she struggled to find the words to adequately convey how she was feeling. Each member prefaced their remarks with similar sentiments and spoke with evident emotion.
You Need To Pay Attention To The History That Already Exists
Prior to the budget discussion, CSWG engaged in a continuation of a question and answer session that began on 4/28, with Livingstone, Ting and Young, centered on practices and policies of the Amherst Police Department (APD). A summary of some of those questions and answers can be found in the packet for the May 5 CSWG meeting.
CSWG members shared information and personal stories about the ways that police in Amherst are hostile to or discriminate against BIPOC people, referring to a wealth of data collected by the consultants, as well as ongoing national concerns about police misconduct. They noted that APD is planning more listening sessions and anti-bias training, but said that neither of these seem to have changed the behavior of the police over the years.
Tashina Bowman was blunt, saying, "We hear the same stories again and again, but nothing changes. The Town needs to listen to what the community is telling us."
Walker added, "I've lived in Amherst my entire life — I'm 27 — and I have seen and experienced harassment and discrimination from the APD my entire life." Addressing Chief Livingstone, she said, " I don't understand how someone who has been on the force longer than I have been alive can't be aware of how common this is."
Walker also said that repeating their experiences retraumatised residents and doesn't seem to result in new awareness on the part of the police. "We don't need to keep bringing people together to tell their stories again. It's re-traumatizing. It's unnecessary, if you're paying attention. It causes harm. People fear retribution. You need to pay attention to the history that already exists."
Russ Vernon-Jones echoed this, noting that "these complaints we are hearing are not atypical. They're the kinds of complaints we've been hearing from people around town for years." He suggested that failure to address them is indicative of the dominance of White supremacist priorities in Amherst.
Funding And Leadership
Bockelman assured the group that he is committed to finding funding for the CRESS program, saying, "I don't want funding to be a barrier. This is an independent, new department for the Town, and it will have to be approved by the Council. We need a specific timeline. We need to know who is going to do what when, and what the role of CSWG will be. [We] need a funding plan. And I see FY22 as the transitional year. We need a multi-year plan of operation. As I said, there's a lot of excitement about making this happen among senior administration. Our job is to implement the recommendations that you have made. We can't build this program on grants. It has to be based on taxpayer money [and] it needs to be sustainable, built into the fabric of the budget. There are some creative ideas out there, but our job is to come up with a timeline and implementation plan and make that as transparent as possible."
Pat Onanibaku reminded Bockelman that "part of our vision is that this would be under BIPOC leadership," adding, "and I'm not hearing that."
"It's hard for me to picture what the $130,000 is going to be used for. I'd like to know exactly what you are thinking." said Walker.
Vernon-Jones said, "We appreciate your enthusiasm but we understand that people put their money behind the things they care about, and you have not put much money behind this. You even increased the number of police officers for next year,over the number working this year. I think a lot of people in this community were looking for brave and bold leadership to move us beyond racist policing and that's not what I'm seeing. But I don't think it's too late to correct this."
Ferriera said, "The fact that the budget doesn't reflect what we have requested is really a slap in the face. Nothing has really been taken out of the police budget. Everything we've heard in testimony and from our consultants is that in order for the police to be less intimidating, their profile needs to be reduced, and the concerns of BIPOC people need to be prioritized."
Bockelman responded that "It's going to take time and we are going to move forward".
Several members of the committee then responded that people needed to stop telling them to wait. They reiterated that it feels like their work is just being ignored. "Stop saying that you hear us when you are not really listening," Ferriera said.
Little Guidance From Town Manager
Owen noted that Bockelman had provided no guidance for how to approach the budget process. She said she felt like the CSWG had been set up for failure.
Bowman said " You didn't even bother to offer us an explanation of why we're getting this small amount. Nothing. You came to all of our meetings and then offered us basically nothing without an explanation. And you know it's always like this. When it comes to the BIPOC community there's just no money. And we're always a problem. And we keep saying that if you would just listen and work with us then maybe it wouldn't be a problem."
Ononibaku noted that she has lived in Amherst for 40 years and that when she decided to serve on CSWG several people in her network discouraged her, warning that nothing would come of it. "And I joined", she said "because I knew you (Bockleman) had some social justice inclinations. And I understand that you might be empathetic but you don't know our lives….When I watched the Town Council budget discussion I saw white supremacy in action. And I was so distressed I took notes. And after the meeting many BIPOC people and many allies got in touch with me to share their distress – that we had done this work and have next to nothing to show for it. "

Ononibaku continued "We have money for an Economic Development Director who is going to develop for white landowners. We have all of those capital projects – the library for example – with highly paid white administrators. And I hear you saying there is no place from where we can move some money to do this work. Where's the allocation to address racism? … the Chief says we'll do better training but there is already a lot of training and it doesn't help.…. There is plenty of money for the BID. (Councilor Alisa) Brewer supported $60,000 for the BID but questioned the money that had been spent on 7Gen. It's hard for me to have any confidence in the recommendations that White people have for our community."
Owen concluded, "This work has been exhausting and triggering. And then to find that the APD gets their budget increased while we get a token allocation– and that none of our recommendations other than CRESS got a moment's consideration at the Council Meeting…. How long are we going to keep doing this same thing? Now I see that there is an overarching theme of white supremacy in this town. I just feel really let down. "
Bowman said, "White people need to be called out on this. They are benefiting from systemic racism. We have all kinds of opportunities to make a difference here with our work and then you look at the budget and all of the things that this Town has deemed more important, and it's clear that you are not here for us. It's exhausting. Systemic racism is literally killing us. You have sat here with us this whole time, and what you have shown us is that it doesn't matter to you."
Walker said, "I thought our reception from the Town Council was very shameful. It was as if we had wasted the Town's money, as if the consultants' report wasn't sufficiently substantial. Our work has not been recognized for the good work that was done, and you gave us nothing to do it with. And I want to acknowledge all of the hard work that went in, as well as the disappointment in the disrespect that we and our consultants were shown."
A Challenge For Bockelman.
Walker challenged the Town Manager to do better saying, "Mr. Bockelman, you know how we feel. What I want to know is what are you going to do about it?"

Bockleman was contrite. Referring to Bowman's comment that there's no reason to trust, he said, "It's clear that I reinforced that. My mission is to take the goals that you set for CRESS and turn them into action. I apologize for not doing better. The budget is only one metric of this. The other items that you mentioned – the centers and things like that – I recognize the value of things like that, but those are major investments and they will need to go through our capital planning process. For the moment, I will apologize for that and let you know that I will be thinking about this deeply."

Walker said, "Since there apparently will not be a new budget which is what I would like to see, I would like to see an action plan written for how the $130,000 will be spent and how exactly this program will get off the ground and for how we get to the budget that we need, not just for CRESS but for all of the programs that we recommended". She added, "I don't think the Town Council understands the urgency of our work–just because of the comments they have made about our consultants."
Owen concluded the meeting by saying that in spite of the disappointing reaction of the Council, this difficult meeting had moved the group and its work forward. The Committee is considering postponing their report to the Council until after they meet with Bockelman again and will make a decision at their next meeting on May 13.