Letter: Turn East Pleasant Street Into A Pedestrian Mall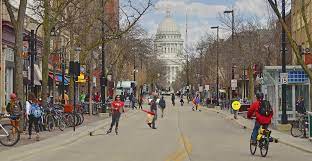 A Proposal For Converting Pleasant Street between the Town Common and the Triangle Roundabout into a pedestrian zone without car traffic.
Question: Can this be accomplished while solving our parking dilemma and maintaining traffic flow.
Proposal: Traffic would be redirected when coming from the south: Cars would turn East on Main Street and connect to the Roundabout via Triangle Street.
Cars coming from the North would either continue via Triangle Street and Main Street or turn west towards Commonwealth Avenue and continue traveling south on University Drive.
Adequate parking should be provided at both ends of the pedestrian zone via two parking garages: One at the Amherst Cinema parking lot (with possibility of a pedestrian bridge to library) and one near the roundabout, near Archipelago apartments. Private developers might finance this, as garages, particularly with long-term parking possibilities, can be profitable and also attractive.
Both should be multi level parking garages.
Benefits: If East Pleasant from Triangle to Amity would be pedestrian only, it would allow wide walking spaces and places to sit in front of multiple businesses which could spring up to cater to this foot traffic. An electric golf cart could slowly roll up and down to provide aid to handicapped or walking impaired. Others, children, seniors, etc, would feel safe ambling along these pedestrian only spaces.
Only those who have business downtown, visiting the library, shopping, dining, attending the cinema, church etc. need to bring cars into town. It would cease to be a place to drive through en route to other destinations. It would free valuable space for foot traffic. According to towns who have done this, it will attract, rather than discourage, a thriving downtown economy. This is an important goal and must weigh in heavily.
Ruminations: Sound utopian, far-sighted? …Should we be in the forefront of development, joining towns that stand to profit from desirability as destination and tourist attractions? Colleges, I believe, would embrace a special town such as this, because a great town, where one likes to spend time, enhances the attractiveness of the colleges that reside there. Yes we are small, but that too could give us flexibility to move in this direction.
Finally: Are there issues of access that need to be worked out? Absolutely. And differently for each individual entity and business that is affected. That is what urban developers and professionals are there for. These are people who work on the big picture rather than individual developers who must put profit first, although Amherst has been blessed with some very fine developers who reside here and have contributed mightily to the common good. They too, might welcome this direction as a path forward.
Karin Winter
Karin Winter is a resident of Amherst