Culture Club: Striking Up The Anarchestra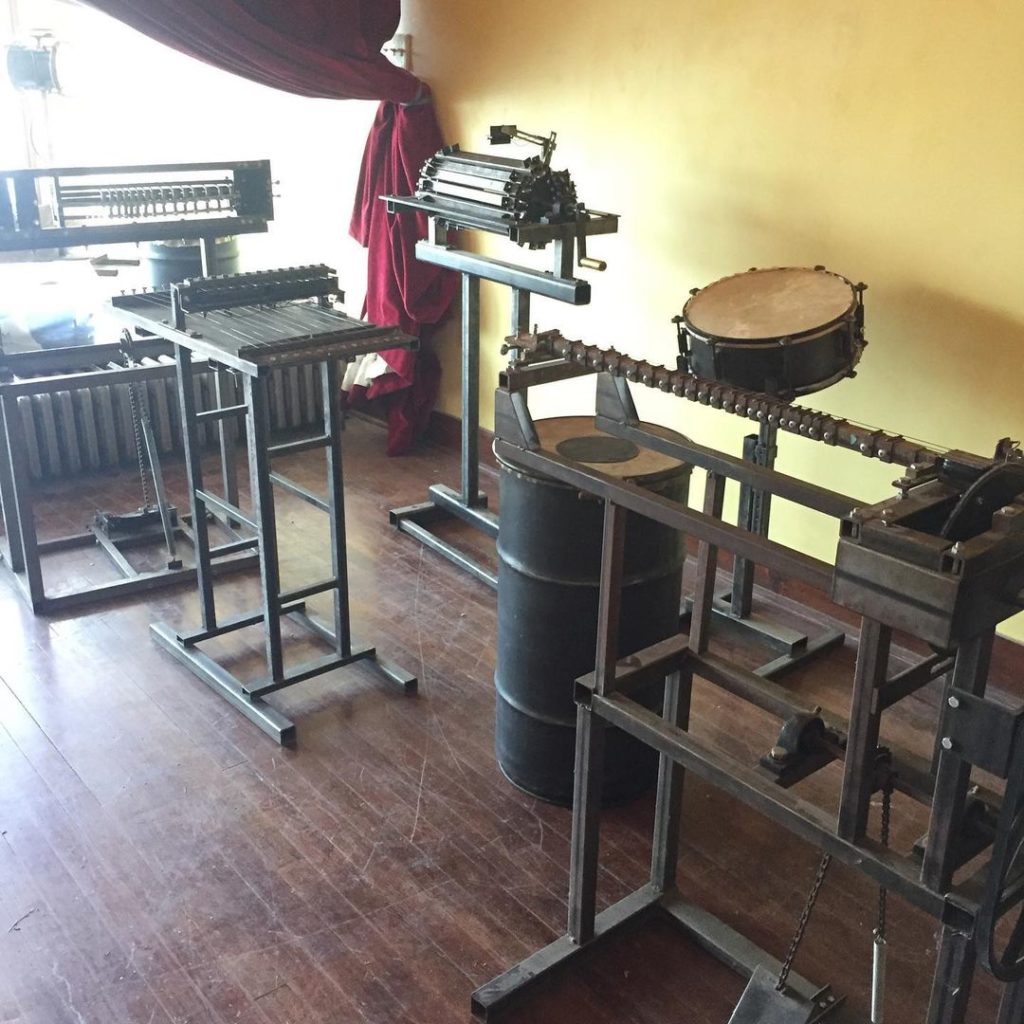 This article originally appeared in the Montague Reporter, 6/25/2021



Strike up the band. The Anarchestra has arrived.

In January 2000, Andrew Thurlow began constructing the Anarchestra, a set of unique musical instruments made from shopworn industrial materials. For the next twenty years, he kept tinkering until his collection grew to encompass more than 200 different instruments of various types along with a large body of music that he composed for them. The instruments, which have a strongly sculptural presence, are designed to be played by musicians and non-musicians alike, typically in medium to large group improvisations.
This spring, Thurlow's music-making devices arrived at 10 Forward in Greenfield, a performing arts space and bar that was closed because of COVID. Instead of drinking and watching other people perform, anyone could book a private appointment to play music by themselves or with friends on instruments with names like the Kzymyryk or the Nanbarrow. Now that COVID restrictions have eased, the collection has moved for the summer to Looky Here in Greenfield, a maker space where anyone can drop in and play them.
Thurlow's name for the project, which is a portmanteau of anarchy and orchestration, would seem to be an oxymoron, but it's not. He conceived of the Anarchestra as an explicit critique of Western musical traditions.
The Anarchestra is focused on collective improvisation. Thurlow designed his instruments to function best when played spontaneously. Few are tuned to pitches in equal temperament or major/minor scales. Many won't stay in tune for long. Nevertheless, as Thurlow's own compositions prove, music readily arises from the strikingly unusual sounds his instruments make.
Improvisation has a long history in musical performance. Long before scores were written, all music began as collective improvisation. Many strains of Western classical music from the Renaissance on included improvised parts. During the early 20th century, jazz musicians made collective improvisation their focus, influencing classical composers like George Gershwin.
Starting in 1940 with his prepared pianos, John Cage brought both improvisation and noise into classical music performance. By midcentury and into the 1950s, many jazz musicians, including Duke Ellington and Miles Davis, furthered the pursuit of mixing improvisation and classical composition.
During the 1960s and 1970s, more radical forms of collective improvisation emerged on the experimental fringes of the rock and jazz music scenes. In Europe, groups like AMM, Musica Elettronica Viva (MEV), and Derek Bailey's Company played completely free improvisations using a mix of acoustic, electronic, and homemade instruments. Similar groups arose in Japan and the U.S.
Other groups experimented by mixing professional musicians with amateurs. The Portsmouth Sinfonia was organized by English composer Gavin Bryars in 1970 when he was teaching at the Portsmouth School of Art. Open to anyone, it attracted people with a range of talents, from those who never played music before to professional musicians including Brian Eno. (Pros were forced to play instruments that they hadn't before, including Eno, who played clarinet!) Anyone could join if they gave it their best shot and showed up for rehearsals. While often mocked, they had hit records and sold out the Royal Albert Hall.
Around the same time in Japan, Tsutomu Ohashi organized Geinoh Yamashirogumi (Yamashiro Performance Collective), which featured a similar mix of professional and non-professional musicians. Their music was a wonderfully strange, still ahead of its time, mix of Western and Eastern classical music, prog rock, and proto-world music. The highlight of their career was recording the remarkable soundtrack to the anime movie Akira.
During the 1980s, Thurlow played guitar in Demo-Moe, a post-punk industrial band known for holding outdoor bacchanals in ad hoc sculpture gardens on the Lower East Side of New York City. Like many similar bands, their noisy performances included percussion instruments made from scrap metal and other salvaged odds and ends.
Dissatisfied performing in a band, Thurlow wanted to de-emphasize his role as a lead guitarist by allowing others, particularly non-musicians, to become involved in music making. The Anarchestra would bring together the Bacchic spirit of Demo-Moe with group improvisation and the mixing of amateurs and more skilled musicians.
"Music is simply sound and what happens to sound," Thurlow says in a recent interview. "My instruments are interfaces between human beings and the sound world. They don't require any special technical knowledge to play."
While acknowledging that fixed pitch and rhythm often play a very important role in music making, he notes that lots of music-making has happened without them, from serialism to many types of non-Western music.
Thurlow rejects the idea that collective improvisation is only for elites. "My instruments," he says, "are self-explanatory. Anyone can step up and play them. Regular people can do it without knowing the mysterious language of musical notes or other technical language. I want music making to be simple and user friendly."
As Thurlow describes, the Anarchestra does not hold "performances." At Anarchestra events, little separates the audience from the performers. What the Anarchestra does, he says, "is not spectacle but festival. The real meaning of folk music is folks playing music together, in a musical community."
"Making a joyful noise together is rooted in human existence," Thurlow says, "although we may need to relearn this. That's what Anarchestra is all about — not trying to make a hit single but trying to enjoy the presence of one another and artistically collaborate. Back when a bunch of people sat around a campfire making music together, I don't think they thought 'I am an artist, hear me roar.' I think they thought, 'Boy, this is fun!'"
Thurlow has recently recovered from a stroke. Although he's nearly made a full recovery, he decided that it was time to find a permanent home for both the instruments and ideals of the Anarchestra, so he established the Anarchestra Foundation.
Thurlow has lived in New England off and on over the years, including several stints in Massachusetts. Former Anarchestra participant Owen W-B stepped up to become the foundation's director. W-B recently relocated to Franklin County, and was awarded a Massachusetts Cultural Council grant to bring the Anarchestra to Greenfield.
W-B said the Anarchestra's residencies at 10 Forward and Looky Here have been a first step in raising awareness about the project and beginning to find it a permanent home. At 10 Forward, people came in groups and occasionally alone. Over the course of several hours, they would figure out how to play the instruments. A professional sound engineer was there to record any songs or sounds that they wanted to save. A mix of untrained and trained musicians came, including local bands like Home Body and Space Camp. There were forty sessions in all, all of which were recorded, including a big jam on the last day that culminated in a fully participatory, improvised group composition.
I got to see and play Thurlow's instruments at Looky Here. "It was a natural fit for us," says Looky Here's director, Hannah Brookman. The space had already been hosting workshops that taught people about microtonal music and other esoteric musical subjects, like making DIY paper synthesizers.
Thurlow's instruments immediately reminded me of the home-made instruments of Harry Partch and Gunnar Schonbeck, although they were made almost entirely from metal. They were a little harder to operate than Thurlow suggests. I'm an obsessive music fan but have never been much of a musician. While I could easily bang on many of Thurlow's instruments without fear of damaging them, at first, the little I produced was very satisfying. I even poked my finger on a metal string protruding from one of them, drawing blood. You've got to suffer for your art, I suppose.
Several other people joined me in the space. As we began to play together, things changed for the better. One person began tapping out a solid rhythm on a set of "membranophones," one of the typologies that Thurlow assigns to his instruments. Another began to find notes on a tall "chordophone" that looks like a diddly bow in an upright metal frame. I plucked away at a glorified thumb piano before switching to a Z'Orb –— a metal version of Benjamin Franklin's Armonica — whose spinning discs could either be struck like bells or vibrated along their edges to produce haunting, long-duration tones.
And what do you know? What had previously felt like playing with the instruments turned into playing them as a groove took hold. We were actually making music!
You can too. Stop by Looky Here on Saturdays between now and August 14, from 12 to 3 p.m. They have a nice selection of Anarchestra instruments to play, mic'd through a mixing board and a small PA, as well a selection of books on music from Thurlow's library and CDs of his compositions. W-B says that it would even be possible to record there, if you let them know in advance.

For more on the Anarchestra, see www.anarchestra.org. You can also listen to 35 full albums recorded on the instruments, streaming for free, at anarchestra.bandcamp.com.

William Kaizen is an art historian and public art advocate. He chairs the Amherst Public Art Commission.