National Pollinator Week Day 4: Establishing Garden Beds And Wildflower Meadows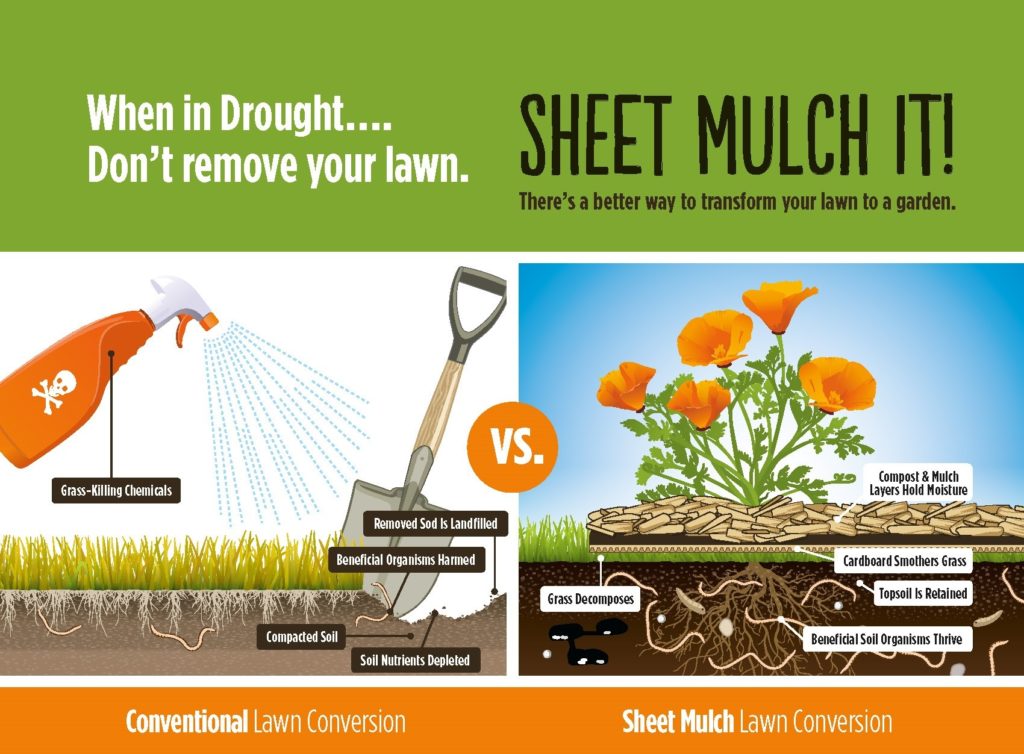 Raised beds are fine for vegetable gardening, but it's often assumed that existing vegetation needs to be uprooted and removed with a shovel, roto-tiller, or sod-cutter in preparation for establishing a garden bed that's 100 square feet or larger, which is the area required for a basic pollinator garden. I much prefer sheet mulching, which is an inexpensive, no-till option that is kinder to those all-important soil microbes that create optimal soil texture and help plants access nutrients and water.
The first step in sheet mulching is smothering existing vegetation with a barrier layer that will eventually decompose. Flattened corrugated cardboard boxes (not shiny) with staples and tape removed or six thicknesses of newspaper will serve the purpose, but if you're planning a large garden, you might consider purchasing a roll of inexpensive builders' paper and just rolling it out over the area that will be planted. You'll need to overlap the cardboard or newspaper by several inches to ensure that grass or other vegetation won't be able to break through.
If you're planning a vegetable garden, you'll probably want to add compost or biodegradable materials that will enrich the soil. In general, however, wildflowers do fine in typical soil, while adding extra fertility might give weeds more of an advantage. For either type of garden, you'll want to top it off with a layer of mulch (wood chips, chipped branch wood, and pine needles are good choices for perennial beds) about two or three inches thick.
Sheet mulching can be done any time of year when there's no snow on the ground. You can either wait until the barrier layer has completely decomposed before planting or just dig a hole, put the plant in the ground, and surround it with mulch. It's a good idea to know how much space each plant will need at maturity and space your plants accordingly. Also, grouping plants of the same species together in clusters maximizes foraging efficiency for pollinators.
If you have a large sunny area of at least 400 square feet, consider establishing a wildflower meadow. You'll need to completely eradicate the existing vegetation, which will take at least a full year; this can be accomplished by smothering with black plastic, repeated tilling, or the use of herbicide. Broadcasting seed in the fall is optimal. New England Wetland Plants in South Hadley is a great source of both seeds and advice, and UNH Extension (wildflower meadows + unh.extension.edu) offers an excellent online resource for learning bout wildflower meadows. Once established, a wildflower meadow only needs to be mowed once (in the spring), so initial costs of vegetation removal and seeds will eventually be recouped by money saved by not having to irrigate, purchase soil amendments, or mow throughout the growing season.
Be an eco-hero and enjoy the delights of nature by creating your own pollinator sanctuary! Please contact me if you're interested in participating in Amherst Area Friends of Pollinators by contributing your gardening expertise, volunteering during pollinator garden workdays, donating extra native perennials for public pollinator gardens, participating in pollinator plant swaps, or helping to spread the word to inform and inspire people and organizations about welcoming pollinators.