Special Needs Families May Have Choice On Sibling Enrollment Starting In Fall 2022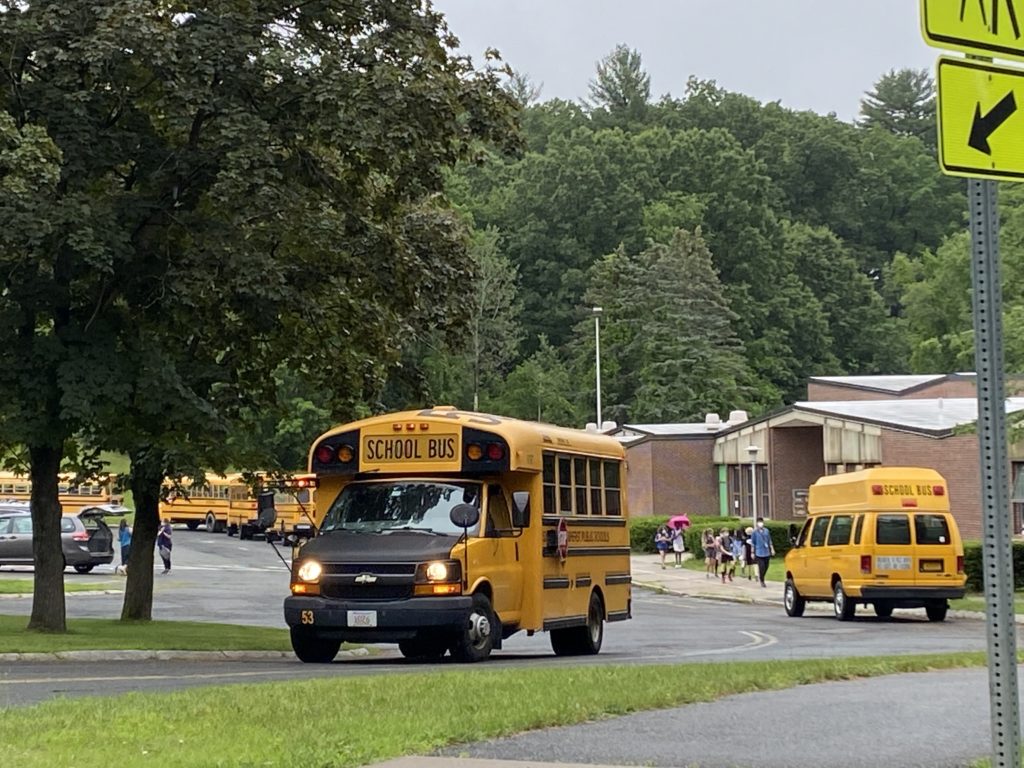 Beginning in fall 2022, families of children in an elementary specialized program may have the choice to send siblings to the same school. Currently, district policy assigns students to schools based on residence except for attendance at specialized programs, which sometimes means families have young children at two different elementary schools.
The district operates three specialized elementary programs. Two are at Fort River: the Academic Inclusive Mainstream Support (AIMS) program for students on the autism spectrum, and Building Blocks for students with social and emotional needs, and the third — the Intensive Learning Center (ILC) for students with multiple and complex disabilities — is located at Wildwood.
In written public comments submitted to the school committee in advance of its June 8 discussion, the Special Education Parent Advisory Council (SEPAC) strongly supported the policy change. "Coordination of, and transportation to, two different schools and services is, in a word, exhausting, in a family that is already experiencing extremely high logistical demands," the Council wrote. "If you approve this measure, you will provide support in two critical areas that are often beyond our Amherst special education families' control: increased time, and decreased stress."
An enrollment working group, created after the previous school building project, studied the impact of centralized special education programming and the sibling enrollment policy on special needs families. One of the group's recommendations in their January 2018 report was to review and revise the sibling enrollment policy to offer families choice. It wasn't until recently, however, when approving a similar policy for the dual language program at Fort River, that school committee members raised the prospect of also amending the policy for families of children in specialized programs.
When Superintendent Michael Morris and Director of Student Services Faye Brady first discussed the proposed policy change at an Amherst School Committee meeting on May 11, their focus was on the logistical, administrative, and financial obstacles to offering families choice. "I know it's beginning to sound like we're not in favor of it but the more we dug in, the more challenges we faced," Morris told the committee.
Among the obstacles raised by Morris and Brady were the transportation logistics, which they said would be most complicated for siblings of students who attend ILC at Wildwood but are zoned to Crocker Farm. Students in a specialized program are typically picked up in a school van, while siblings take the school bus to their zoned school. To get to Wildwood, siblings would need to either ride with their sibling in the van or take the bus first to Crocker Farm and then a bus transfer to Wildwood, a long ride. "Right now, all of our vans are full," Morris told the committee. If a new bus route was needed to transfer one or more children, Morris said it would cost $55,000, a cost not covered in the current budget.
Brady also raised the issue of class size and the potential that adding siblings may tip the balance to the point where an additional teacher would be needed, again costing more money.
Committee member Kerry Spitzer, though, wanted to hear from parents of children in the programs before rejecting a policy change. "What I didn't hear tonight is the perspective of the families and what their preferences are. I would feel better if we heard that perspective," she said.
At the June 8 meeting, committee member Peter Demling reported universal support at the SEPAC meeting for wanting to make the policy more flexible. "Where kids go to school is an intensely personal decision, and for some it is life-altering," Demling reported. With the number of students affected by the change likely to be very low, Demling said SEPAC parents felt a policy change was worth exploring. Each program typically enrolls fewer than 15 students, and of those, there may only be one or two that have elementary-aged siblings zoned to a different school.
Committee member Ben Herrington was supportive of the change. "In my mind, it is pretty cut and dry," he said. "It is something we ought to do, morally."
Similarly, committee Chair Allison McDonald thought it was "the right thing to do."
Demling was sympathetic to the logistical and enrollment challenges, though, and proposed making the change for fall 2022 instead of 2021, to allow sufficient time to think through all the implications and budget accordingly.
"This particular year is going to be harder than average because of the start time change and a higher-than-normal level of enrollment uncertainty with the return from COVID," Demling said. "I feel comfortable deciding that in fall 2022, families will have this flexibility."
A fall 2022 implementation of the policy change garnered nods of support from other members of the committee. Heather Lord and Demling agreed to work with Morris and Brady to develop a draft enrollment policy that they will bring back to the committee for a vote this fall.