Isabel Margolin's Abstract Mosaics At Hope And Feathers Gallery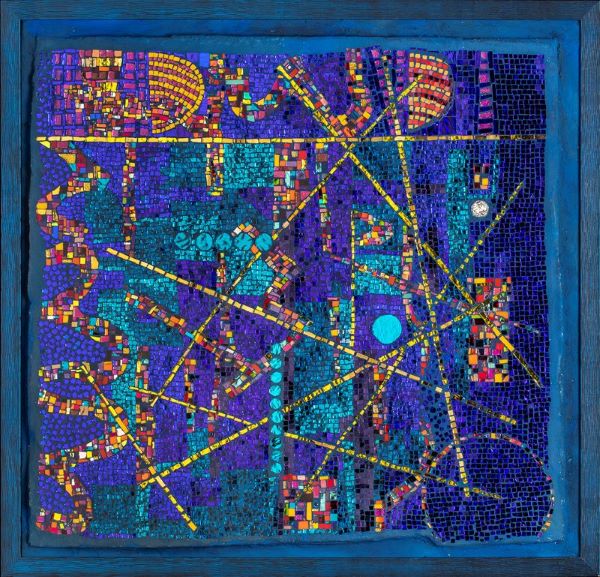 Participatory Demonstration on July 24 In The Tent At Hope and Feathers
Hope and Feathers Gallery, 319 Main Street, is now featuring an exhibit of abstract mosaics by artist Isabel Margolin. The show is entitled "All This and More" and runs from July 7 through August 28. Hours are Monday–Friday, 10–6; Thursday, 10–8, and Saturday–10-4.
Margolin was raised in California, and attended graduate school at the University of Pennsylvania, where she studied American art, literature, and history. She currently lives in Western Massachusetts. She delights in exploring art in all the usual places, as well as being mindful of innovative design in everyday objects.
In the description of her work that accompanies the show, Margolin says:

"In the spring of 2009, I took my first course in mosaics, one that focused on the indirect method, a technique that I have employed ever since. For the indirect method, I place my materials face-side-down on sticky paper, not knowing the final results of my design until I turn the piece over into a bed of cement. It is through a certain controlled randomness, a willingness to cede one's expectations to gravitational forces and the power of sticky tape that I apply the indirect technique to expand the boundaries of this art form. This is a process of chance, choice, and discovery."
Demonstration
Margolin will offer a participatory demonstration of her techniques on July 24 in a tent outside the Hope and Feathers Gallery. She will teach participants the how-to's of creating a mosaic and some of the background history. She will then help them make a collaborative mosaic. She offers this caveat, "I always have people listen to my favorite operas while they are creating!"
Additional information on her work can be found here.