Letter: Too Many Unanswered Questions About Rezoning Lot Behind CVS For A Parking Garage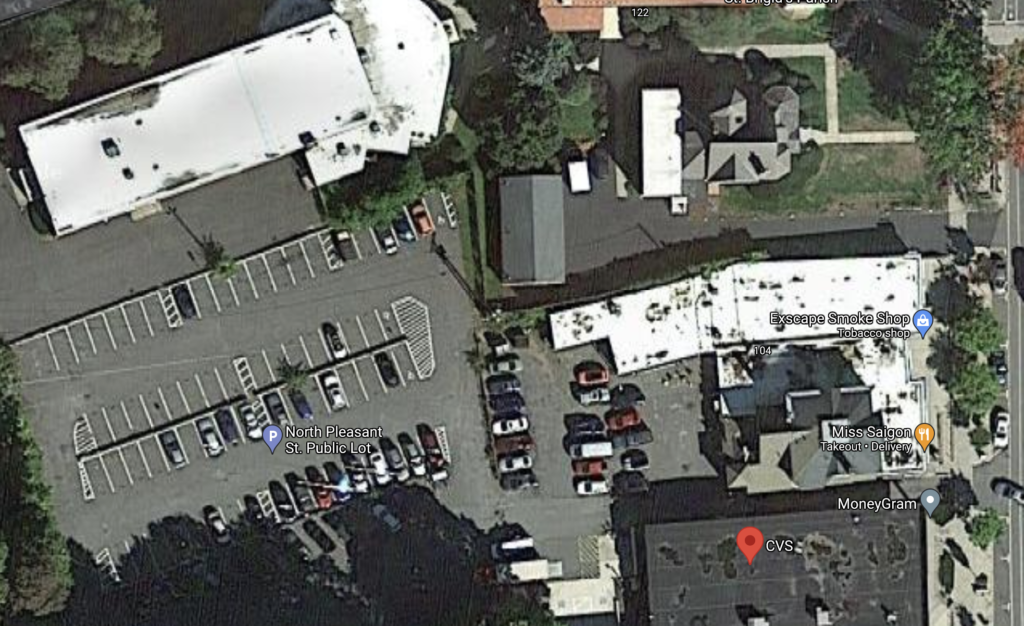 The following letter was sent to members of the Amherst Town Council and the Amherst Planning Board on August 8, 2021
Of the many questions and concerns I'm left with following the August 4, 2021 Planning Board meeting, the one which most perplexes me, is Councilor George Ryan's insistence that rezoning parcel 14A-33 (on NorthProspect Street) must precede any determination regarding whether or not the parcel is even feasible for a garage.

The amendment sponsors, Councilors Ryan and Evan Ross, state (as irrefutable fact) that no architect or developer will "even think about" creating a plan before the site is rezoned. I'm confused by this line of reasoning. Enlisting a developer to design and construct a parking structure is not the first step in the process; determining whether or not the infrastructure of North Prospect Street – an extremely narrow, one-way road – is equipped to handle the traffic flow that would spill out onto it from a parking garage, is. Shouldn't the town (via a consultant or in-house expert) determine if the site is suitable for a parking structure before rezoning it for one?

If we are to take Councilors Ryan and Ross at their word – that a five-story building will never be built on parcel 14A-33, but only a three-story structure – then the next logical question is how many net new spaces will a three-story garage provide? Is the effort and expense worth the gain? Certainly, determining the answer to these questions does not require rezoning the parcel.

I'm not a traffic engineer, but my hunch is that it will ultimately be concluded that North Prospect Street cannot handle the traffic flow from a parking garage. (Perhaps both the entrance and egress could be from different points on Pleasant Street?) Once the parcel is rezoned to BG – even if it's decided that the site is not suitable for a parking structure — we know what will ultimately be permitted there: a five-story building, the "new normal" in downtown. I can also envision a scenario in which a developer concludes that only a five-story garage makes the investment financially viable. Once rezoned BG, nothing will prevent this occurrence, which, despite Councilor Ryan's demurrals, could be the intent. In fact, during a meeting of the Jones Library Trustees on June 29th, the Planning Director explained that if the zoning were changed to B-G, a parking garage could go up to five stories.

Context And Concerns
When the town established zoning, it determined that a certain number of feet or blocks should serve as a buffer between the General Business district and the General Residence neighborhoods. That buffer is the Business Limited (B-L) district.
It's one thing to rezone the town's portion of the parking lot behind CVS from its current RG designation to Business Limited. But to skip over the B-L altogether, and rezone to BG, denies North Prospect Street any buffer between it and the General Business district.
Among the protections a B-L designation provides to the adjacent residential neighborhood is that buildings in the B-L will not exceed 3 stories. From the beginning of zoning in Amherst, until about eight weeks ago (when the North Prospect Street rezoning amendment suddenly appeared), town planners agreed that five-story buildings are not appropriate in the midst of a residential neighborhood. Councilor Ryan has repeatedly assured District 3 residents that a five-story apartment or office will never be built on North Prospect Street. Yet, I venture to say that two or three (or more) years down the road, when a future Planning Board (unbound by Councilor Ryan's promises) is reviewing an application for a five- story building on the parcel, Planning Board members will certainly look askance at residents who (during public comment) remind the board that back in 2021, their councilor promised that such a structure would never be built there. Based on past experience, I don't have confidence this argument will carry much weight with the Planning Board.

What's The Risk In Rezoning?
A Planning Board member posed this question during last Wednesday's meeting. Frankly, to members of the Planning Board, there is no risk to rezoning the North Prospect Street parcel, since no member lives anywhere near that location. With all due respect, the attitude of "what's the risk" feels cavalier and uncaring to those who call the North Prospect Street community home. I attend many Planning Board meetings, and, on more than one occasion, I've heard members remark that a certain kind of development can't happen in an RN (or other outlying) district, because the zoning doesn't allow for it. It seems that zoning is set in stone in every district, except the RG — again, where few, if any, Planning Board members reside.
When, for example, RG residents objected to the removal of footnote m, we were characterized as NYMBYs and elitist. Yet, ironically, we're the ones living in accordance with the very values that the Planning Board claims to embrace. We walk downtown to do many of our errands (more so before the Carriage Shop businesses, the Loose Goose, Amherst Nails, et al, closed down). Many of our houses sit on small lots, close together. Our neighborhoods are extremely diverse socio-economically and generationally (and include students). There are many small houses, some larger ones, and a lot in between. We are not a suburban subdivision of similarly sized, single-family houses. There's a healthy mix of single and multi-family dwellings. We've long been home to ADUs.
The "downside" to rezoning from RG to BG is the disruption (if not ultimate destruction) of life in a longstanding family-friendly, in-town neighborhood. Although members of the Planning Board won't be personally impacted, as stewards of the public good, we ask that they approach rezoning in our neighborhoods with the same care and consideration with which they approach rezoning in their own.
Speaking for myself, I wouldn't be opposed to a three-story parking structure with conifer trees screening the building from the residential street. The point of this letter is not to advocate against a parking garage. Rather, it is to urge the Planning Board and Town Council not to rezone the North Prospect Street parcel before determining if a parking structure can even be built there. And, if the location is deemed conducive for a three -story garage, then please rezone from RG to B-L, to continue providing the buffer the Town has always maintained between RG and BG districts.

Jennifer Taub

Jennifer Taub is a resident of District 3 in Amherst.