Sojourner Truth School Announces Fall Lineup Of 46 Free Classes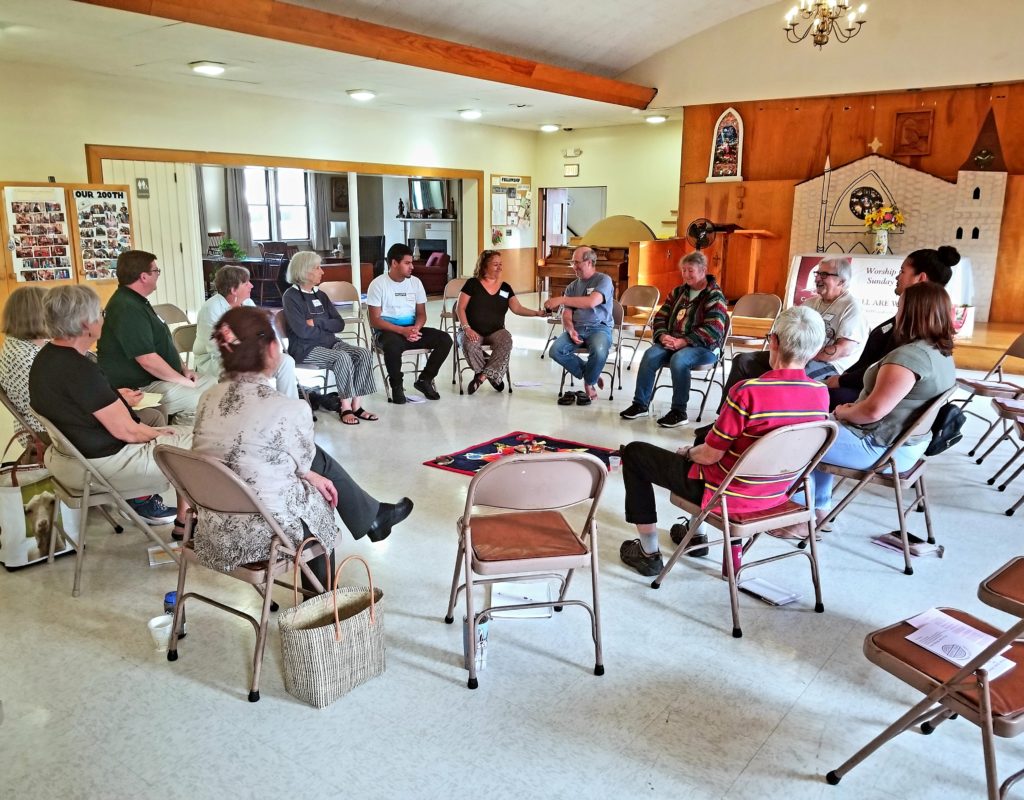 Source: Sojourner Truth School

Sojourner Truth School for Social Change Leadership has announced their lineup of 13 free classes in the month of September.  These classes are described in full in the school's online catalogue.  
Truth School classes are always free and most are limited to a single-session workshop. All but one class in the fall lineup (the class on September 11) will be held on Zoom. Classes emphasize the development of movement building and facilitation skills, and the organizing skills necessary to equip people—young, middle years, and old—to be active, effective, and empowered.
Classes are taught by extraordinary trainers of local and national renown, as well as many new young trainers. All classes amplify the leadership of Black, Indigenous people, and People of Color, and all classes are taught by bi/multi-racial/cultural teams.  Because all classes are now on Zoom, the Truth School is now able to include trainers and participants from other parts of the country and Canada.  

New trainers this fall include Town of Amherst's Community Participation Officer Jennifer Moyston, who is teaching a two-part series, "Strategies for Developing a Diverse Staff or Board" and "Strategies for Maintaining a Diverse Staff or Board" and Dr. Kathy Bullock from Berea College in Kentucky, a teacher, performer,and scholar who specializes in African American Music, and who will be teaching a class on "Black Suffragists' Role in the Suffragette Movement."

A selection of offerings follows below. 
Take a Walk in Sojourner Truth's Shoes
with Wendy Sinton, Carlie Tartakov, and Diane Liebert
Saturday, September 11, 10:00 – 1:00 PM
Rain date: Sunday, September 12, 10:00 – 1:00 PM

September 11th: 20 Year Anniversary
with Dr. Sut Jhally and Dr. Michael Klare
Saturday, September 11, 4:00 – 6:00 PM

Movement-Building and the Arts: How Music, Poetry, and Dance
Inform, Inspire, and Energize Social Movements for Change
with Leti Bueno
Sunday, September 12, 4:00 – 6:00 PM

Calling In the Call Out Culture
with Loretta J. Ross
Monday, September 13, 5:00 – 7:00 PM

Basic Principles of Improvisation for Activism
with Dr. Terry Jenoure
Sunday, September 19, 3:00 – 5:00 PM

When We Get There, The First Day of Autumn
with Irene Strong Oak Lefebvre
Wednesday, September 22, 6:30 – 8:00 PM

Combating Racism: Partnerships, Coalitions, and Reaching Across Lines of Difference
with Dr. L.A. Love
Thursday, September 23, 6:00 – 8:00 PM

Barriers to Reproductive Justice in Western Mass and Beyond
with Shanique Spalding and Carrie Baker
Friday, September 24, 4:00 – 5:30 PM

Masculinities and Queer Youth
with Chiino Rios and James Arana
Saturday, September 25, 3:30 – 5:30 PM

Microaggressions: Death by a Thousand Cuts
with Amihan Jennifer Matias
Sunday, September 26, 2:00 – 4:00 PM

Strategies for Developing a Diverse Staff or Board
and Strategies for Maintaining a Diverse Staff or Board
with Jennifer Moyston
Tuesday, September 28, and Wednesday, September 29, 6:00 – 8:00 PM
May be taken separately or as a series

Black Suffragists' Role in the Suffragette Movement
with Dr. Kathy Bullock
Thursday, September 30, 4:00 – 6:00 PM