Council Meetings To Remain Remote Until September 30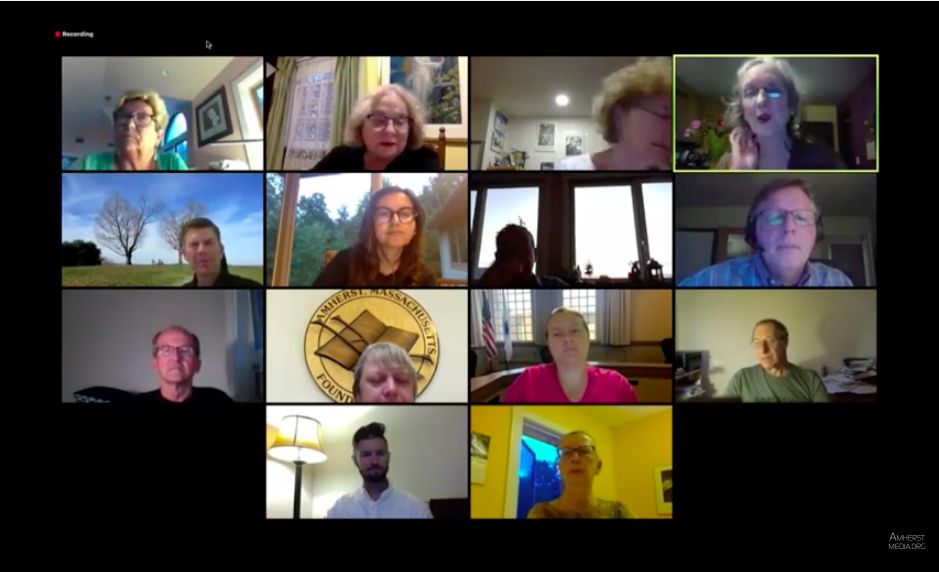 Report On The Meeting Of The Amherst Town Council August 23, 2021
This meeting was held on Zoom and recorded. It can be viewed here.
Present
Councilors: Lynn Griesemer (President, District 2), Alisa Brewer, Mandi Jo Hanneke, Andy Steinberg (At large), Cathy Schoen and Sarah Swartz (District 1), Pat DeAngelis (District 2), Dorothy Pam and George Ryan (District 3), Evan Ross and Steve Schreiber (District 4), Darcy DuMont and Shalini Bahl-Milne (District 5). Note: Schoen left the meeting at 8:30.
Staff: Paul Bockelman (Town Manager), Athena O'Keeffe (Clerk of the Council)
Format of Future Council Meetings
After one hybrid Town Council meeting (on June 21), the council voted to go back to a remote format over Zoom until September 1. Since the next council meeting is not until September 13, the council needed to determine the format of future meetings at this meeting. The motion proposed on the agenda was to continue the meetings either in person/hybrid or remotely until October 31.
However, Councilor Mandi Jo Hanneke objected to maintaining remote access to council and committee meetings, either through the Zoom format or with a hybrid option with some councilors and members of the public being present in the Town Room at Town Hall. Hanneke said the advent of the delta variant of COVID-19 and the new CDC guidelines have made her "somewhat less opposed to remote meetings," but she thinks the council needs to meet in person, even if that requires wearing masks. She asked what the "endgame" is, and said that we "may have to live with COVID forever." She also stated that she is opposed to hybrid meetings, where some people are present in the room and others are participating remotely, because they pose extra work for staff and committee chairs. Finally, she asked why the Finance Committee is the only council committee that has hybrid capability.
In response to her concerns, Town Manager Paul Bockelman said that the town expects employees to be in buildings doing work as much as feasible, but will minimize having multiple people in a room together for meetings. He said that town committees will meet remotely until "Columbus Day" at least. He added that the town is required to broadcast the Finance Committee meetings through a contract with Amherst Media, but will support other council committees however they choose to meet. He noted that the Town Room is the only venue that can support hybrid meetings and agreed that hybrid meetings require a staff member to manage the technical aspects of the meeting.
Councilor Dorothy Pam maintained that the worst option is to hold in person meetings with masks. She felt that remote participation has some problems, but is safer at this time and gives more access to the public. She suggested that maybe the council could meet in person for retreats, where the public is less likely to attend. She added that with the June hybrid meeting, she felt unsafe being in a room with most of the councilors, staff, and 25 members of the public, even though all were wearing masks. Councilor Steve Schreiber said he was glad that the meetings had returned to the Zoom format, because it was easier to "look people in the eyes" than when everyone is sitting next to each other in the front section of the Town Room, although he misses the casual conversations in the hall and stairway where councilors can get to know one another.
Councilor George Ryan stated he felt strongly that the council needs to meet in a hybrid fashion, though he understands the risks and that the CDC has mandated wearing of masks when inside public spaces. Councilor Evan Ross said that in a couple of weeks he will be teaching 20 students in the same room he has always taught in, without modification for social distancing, so it seems absurd to him that the council "can't" meet in person. To this, Pam replied that Ross should protest the lack of accommodation for COVID safety in his teaching environment, not insist that the council also compromise its safety (and the safety of the public).
The original motion was modified to state that council meetings would be held remotely until September 30, which means the topic will be discussed again at the September 27 meeting. The vote was 6-5-1. Ross, Ryan, Hanneke, Andy Steinberg, and Pat DeAngelis voted no. President Lynn Griesemer abstained. (Cathy Schoen had left the meeting before the discussion.)
Council Committees Will Each Decide Whether To Meet In Hybrid Or Remote Format
Hanneke objected to the fact that the only options for council committees were to meet remotely or in a hybrid format. She wanted an option for fully in-person committee meetings. She reiterated that the hybrid format puts an extra strain on the committee chair and staff.
But Councilor Alisa Brewer responded that a fully in-person meeting format should not be an option because it would require those committee members and residents with underlying health risks to be present physically to give input, and consequently puts them at risk. She also noted that holding meetings only in person makes it harder for the public to participate in government. She said she is offended that councilors advocating for a return to fully in-person meetings have so little regard for the well-being of their colleagues and the public.
As the only councilor who has chaired a hybrid meeting, Griesmer said that although it is more challenging to run a hybrid meeting, she is hoping that the council will continue this format even after it returns to meeting in Town Hall. She said this would not only eliminate the need for staff to wait (sometimes for hours) until the item they are to speak to comes up and would mean that the public can more easily attend meetings.
Hanneke and Ross were the only councilors who voted against removing fully in-person meetings as an option. All councilors present then voted to allow each committee to decide what format to use for its meetings. Bockelman reiterated that town staff will accommodate each committee's choice, but requested that they choose an option and stick with it.
Participatory Budgeting Commission Report Approved
When the town charter mandated a Participatory Budgeting Commission (Section 10.11), the goal was to increase citizen input in the budgeting process. Commission Chair Meg Gage said that the intent had been to designate some funds in the town budget for projects proposed and voted on by residents. However, the advent of the pandemic made the feasibility of setting aside funds and finding staff to administer the program unlikely. Therefore, the commission developed other recommendations to increase public input in the budget.
The three recommendations are to:
A. Build on existing budget processes to enhance resident participation
B. Develop a Town-Gown working partnership on Participatory Budgeting
C. Require the Community Participation Officers (CPO) to report to the Town Council annually
There were concerns about points B and C. Hanneke said there are too many issues of importance between the town and UMass that need to be addressed, and that this (working together on participatory budgeting) is not a priority. Further discussion of this was referred to the Town Services and Outreach committee by a 12-1 vote (Hanneke voting no).
Point C was referred to the Governance, Organization and Legislation Committee to be added to the town manager's goals. The vote was 12-0-1 (Pam abstaining).
Gage said she hopes funds to further develop participatory budgeting can be obtained from the American Rescue Plan or from private sources after the uncertainty caused by the pandemic is resolved. By a unanimous vote, the commission was dissolved, since it had submitted its mandated report.
Comprehensive Housing Plan Presented
The Comprehensive Housing Plan was developed over the past 18 months by the Community Resources Committee (CRC) with input from the Affordable Housing Trust and town staff. During the public comment period, John Hornik, chair of the Housing Trust, praised the plan for wanting to create affordable dwelling units and reduce homelessness and cost burdening of renters and homeowners. He also applauded the aim of reducing fossil fuel emissions associated with building and maintaining housing. He criticized the plan for not addressing how to deal with the shortage of on-campus housing for UMass students, which puts strain on the rental market in town.
As presented by CRC Chair Hanneke, the proposed policy has five goals:
Goal I: Promote Greater Pathways to Homeownership and Integrated Communities through Increased Supply of a Diversity of Housing Types
Goal II: Increase the Supply and Variety of Affordable and Market Rate Rental Housing
Goal III: Create, Update, and Maintain Safe, Secure, and Environmentally Healthy Housing
Goal IV: Address Climate Sustainability and Resiliency of Housing Stock, Location, and Construction
Goal V: Align and Leverage Municipal Funding and Other Resources to Support Affordable Housing
The plan also contains a list of possible implementation strategies. Hanneke noted that all studies on housing in Amherst in the past decade have demonstrated a need for more housing of all types, not just for students.
Both Pam and Councilor Shalini Bahl-Milne stressed the need for affordable home ownership. Bahl-Milne said she thinks that private developers would be willing to build smaller homes, even though these are "not big money makers" for them.
Steinberg called attention to the Finance Committee's report of January 2020, which calls attention to the town's cost, including staff time, per unit of affordable housing. He added that Amherst must consider how much housing it can sustain and still maintain its identity. He asked, "How big does this community envision itself?" and noted that increased housing requires increased services.
Shortly before this meeting, Schoen submitted a 20-page analysis of the increasing stress on housing in town caused by the rapid growth of UMass over the past 20 years. She stated that the university has grown from 21,000 to 31,000 students over that time, with little additional on-campus housing. She added that there is not a lot more land in Amherst suitable for building to meet this increased demand. She also noted that the CRC's housing plan draft makes no mention of sidewalks and walkable neighborhoods.
Brewer pointed out that decades ago, Amherst decided to ban apartment buildings in certain areas of town and to preserve large swaths of land for conservation and farming, thus creating much of the current problem.
This was the first reading and discussion of the policy. It will be voted on at a later meeting.
Districting Advisory Board
During public comment, Districting Advisory Board member Tracy Zafian noted that the board is short two members and has been having trouble achieving a quorum at its meetings. She noted that, according to the preliminary 2020 census data, the population of Amherst is over 39,000. With the population being close to 40,000, the board is looking at the possibility of creating 12 precincts, instead of the existing 10. She said the board has no residents from District 4 and only one from District 5.
Governance, Organization, and Legislation (GOL) Chair Ryan stated that he received a Community Activity Form and a Statement of Interest in joining the board from Craig Meadows, a District 4 resident. Meadows is currently a member of the Zoning Board of Appeals, after serving as an associate member for a year. He has lived in Amherst for over 40 years and owns a small business in town. Because of the immediate need of the DAB for more members, Ryan brought the application directly to the full council, rather than having GOL recommend it. Meadows was appointed by a vote of 12-0-0 (Schoen absent).
Town Manager Report
The full Town Manager Report can be read here and in this issue of the Indy.
.Bockelman reported that UMass has reported that 98% of its students and 93% of its staff are fully vaccinated. The university is working with some foreign students who were unable to be vaccinated in their home countries. Coronavirus testing has moved from the Mullins Center to the Campus Center, and is still free and efficient.
He also reported that a judge has denied the injunction in the suit against the town regarding the Jones Library voter disqualifications because a referendum has been included on the November ballot. Without the request for expediting the matter being granted, the litigation alleging infringement of voting rights is estimated to take over two years to resolve.
The meeting adjourned at 9:52 p.m. The next meeting will be September 13.