Eight Design Firms Vie For Elementary School Building Contract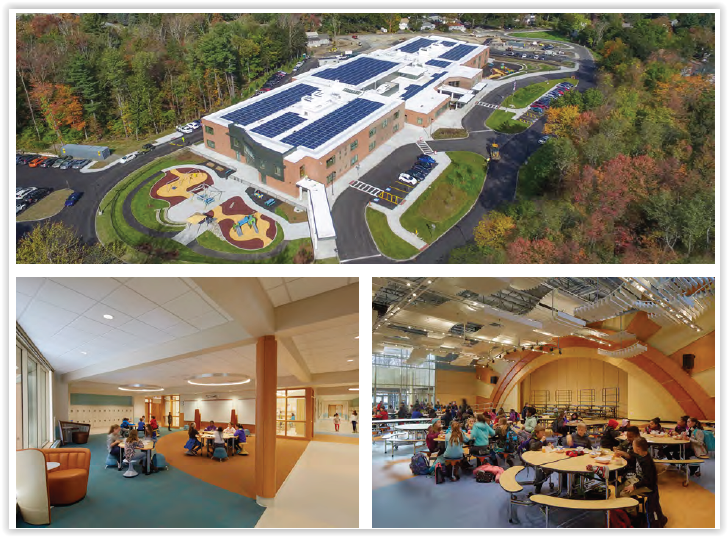 Eight design firms have submitted applications in response to a request for proposals for an elementary school building designer. At their meeting on September 23, the Elementary School Building Committee discussed the applications and offered their thoughts. Project Manager Margaret Wood of Anser Advisory created a comparison grid documenting each firm's experience and said she will incorporate the committee's feedback into the grid.
Two of the eight applicants have prior experience with Amherst projects. JCJ was the architecture firm for the previous Wildwood school building project that failed to garner sufficient community support in 2017 to move forward, and TSKP worked on the Fort River and Crocker Farm feasibility studies. This time, JCJ has teamed up with another architecture firm, Moody Nolan.
The other applicants are DiNisco, DRA, Jonathan Levi Architects, Turowski, Lamoureux Pagano Associates (LPA/A), and Tecton. LPA/A is based in Worcester while the other seven firms are based either in Eastern Massachusetts or Hartford, Connecticut. All design submissions can be found in the meeting packet for the September 23 meeting.
Comments from committee members were most favorable for LPA/A, DiNisco, and JCJ/Moody Nolan. Steve Schreiber and Jonathan Salvon, who are both architects, also spoke highly of TSKP. Shelly Pottorf, the net zero expert on the project management team, said "you can be comfortable with TSKP from a zero energy standpoint." Wood was concerned, however, that TSKP had not yet done a core/whole building project with the Massachusetts School Building Authority (MSBA). Regarding JCJ, Wood expressed concern that the engineering firm it would employ, Buro Happold, had no experience with MSBA core projects.
Praise for LPA/A was effusive. Superintendent Michael Morris, Chairperson and Town Councilor Cathy Schoen, and committee member Phoebe Merriam all thought LPA/A was very responsive to Amherst's priorities. Schoen noted that in one school the firm had designed, the school library was configured to also serve as a satellite location for their public library system. Schreiber liked that the team is led by a woman architect. Pottorf appreciated that it had achieved net zero energy on a previous project without using geothermal. "Geothermal is great if you can afford it," she said. Pottorf was also impressed that LPA/A had experience with air displacement ventilation. "I highly recommend it, particularly in a COVID-era as it will provide much cleaner air inside."
The building committee will meet again on October 7 to share final comments on the applications in preparation for the MSBA's Designer Selection Panel (DSP) meeting on November 2. Amherst had been scheduled for review at the September 14 meeting but had to postpone because the town did not properly advertise the request for proposals in the local newspaper.
Amherst will have three representatives — Morris, Schoen, and School Committee member Ben Herrington, who is also the Assistant Facilities Director for the schools — join the 13 appointed members of the DSP. The DSP meetings, which are currently held via conference call, are open to the public, and all discussions relating to applicants and the selection of designers are conducted in open session. Wood anticipates that on November 2, the DSP will shortlist three firms who will then be interviewed by the DSP on November 16. Immediately following the interviews, it is expected that the DSP will rank the top three choices and authorize Amherst to begin contract negotiations with the top choice.
The elementary school building project is widely expected to replace both Fort River and Wildwood school buildings with a consolidated school for 575 students in grades kindergarten through five. The consolidation will require that Amherst's sixth graders be moved to the middle school, and that some neighborhoods that are currently districted to Fort River or Wildwood be redistricted to Crocker Farm, which would be expected to accommodate 375 K-5 students.