Three Design Firms Shortlisted For Elementary School Building Project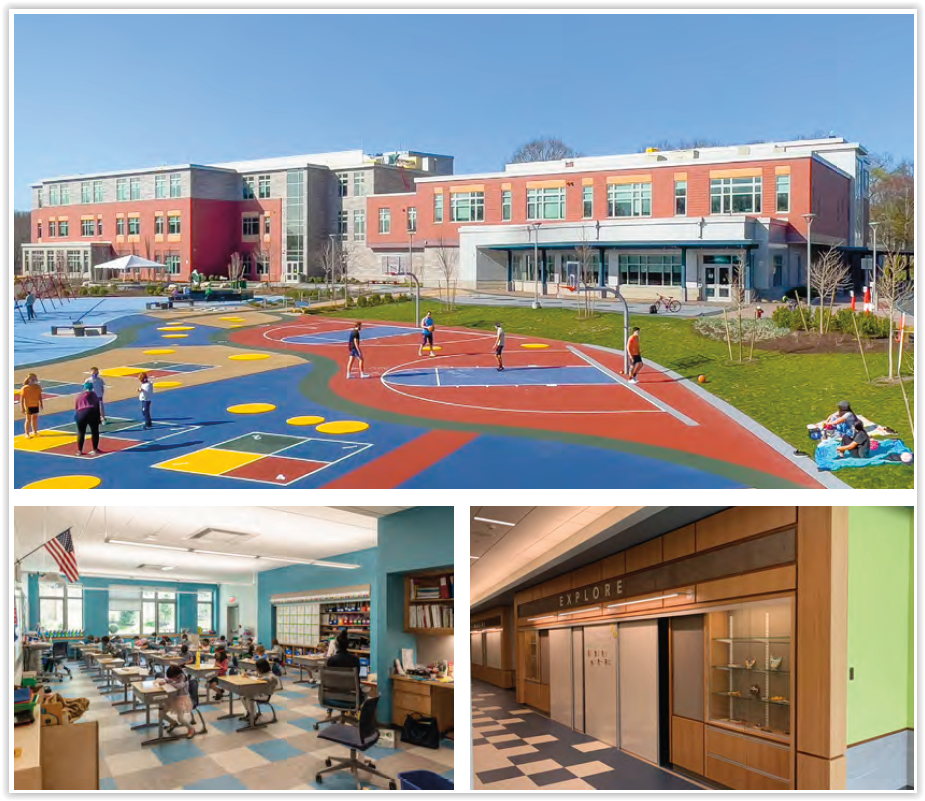 Three of the eight design firms that submitted applications for the Amherst elementary school building project have been shortlisted for interview. At the Massachusetts School Building Authority (MSBA) Designer Selection Panel meeting on November 2, the 13 representatives from the MSBA, along with three representatives from Amherst — Superintendent Michael Morris, Town Councilor Cathy Schoen, and School Committee member Ben Herrington — voted to advance DiNisco Design, Lamoureux Pagano Associates|Architects (LPA|A), and JCJ Architecture with Moody Nolan to the next stage.
The Amherst representatives first shared what they're looking for in a design firm: a focus on sustainability and achieving a net zero energy school, attention to cost of both the construction and of maintenance and operations, creating improved learning environments that consider the dual language and special needs programs, a focus on outdoor learning environments, and consideration of what each site (Fort River or Wildwood) could accommodate.
Of the three shortlisted firms, DiNisco was ranked the highest. Morris said that DiNisco's experience with school consolidation in Western Massachusetts [the Brightwood-Lincoln Elementary School in Springfield], designing for special education programs, and working in areas with wetlands, combined with significant MSBA experience, was very appealing.
Karl Brown, an architect with the MSBA, noted that DiNisco is the only applicant that is a Women's Business Enterprise. In addition, Brown said DiNisco's construction costs [in other MSBA projects] are below average, it has significant net zero energy experience, and is focused on the learning environment needs of children.
DiNisco designed the net zero energy Maria Hastings School in Lexington, MA, a 110,000-square-foot school serving 645 students in grades K-5, completed in February 2020 for $65 million. (Amherst is expected to construct a 575-student, K-5, net zero school.)
Schoen appreciated that DiNisco paid attention to the topography of the Fort River site in considering the ability to reach net zero. In their application, DiNisco wrote about targeting Triple Net Zero (zero energy, water and waste) and suggested that a three-story design may work best on the Fort River site.
Ranked second was LPA|A. For Morris, LPA|A's focus on sustainability and on site selection was a plus. Schoen found their submission very easy to follow and anticipated they would present clearly to the public, an important consideration for Amherst. Schoen reported that she had visited two LPA|A-designed schools and said the buildings and grounds were "beautiful."
Similarly, Barbara Hansberry, MSBA Executive Director designee, said she thought LPA|A had a very strong application. Regarding both DiNisco and LPA|A, Hansberry said, "once districts have worked with these firms, they can't say enough good things about them."
Brown noted that, like DiNisco, LPA|A has a very child-focused design, and said their schools are "typically very high-performing, energy and sustainability-wise."
JCJ with Moody Nolan ranked third. While many panelists expressed interest in the proposed partnership between the two firms, clarification was needed on how involved Moody Nolan would be. Brown noted that Moody Nolan is a Minority Business Enterprise based in Ohio with a small office in Boston, and the architect listed in the application is not registered in Massachusetts. Schoen, too, wondered about the roles each firm would play and suggested Moody Nolan was brought in for diversity. Brown also observed that JCJ was the architect on the previous Wildwood building project, without Moody Nolan, and wondered what motivated the partnership for this project.
TSKP Studio, the firm that worked on the Fort River and Crocker Farm studies, was ranked fourth.
Designer interviews will be held via Zoom on November 16 at 8:30am and are open to the public. Immediately following the interviews of the three shortlisted firms, the 16 panelists will score the applicants and the firm with the highest score will be recommended for selection.