Culture Club: HBO's New Comedy of Manners, The White Lotus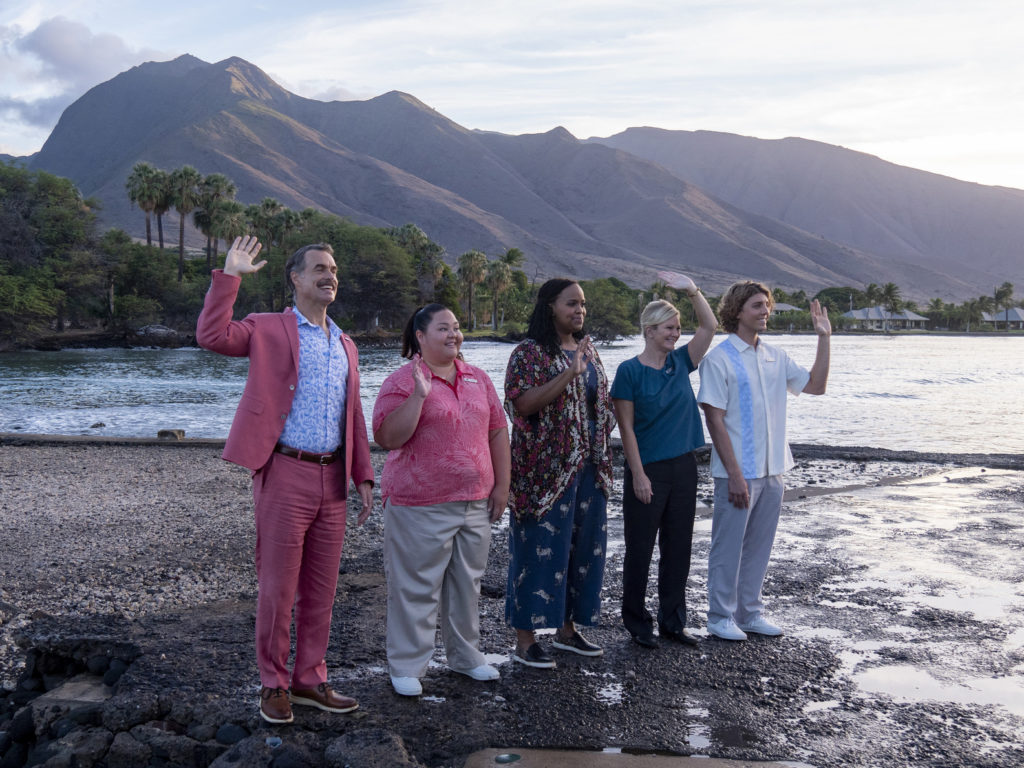 photo caption/credit:
Armond (Murray Bartlett) and staff await the arrival of guests on HBO's new comedy The White Lotus.
MARIO PEREZ/HBO PHOTO
This article was originally published in the Montague Reporter
Ah vacation. It's supposed to be time spent getting away from it all and leaving your worries behind, especially if you're staying at the kind of high-end, all-inclusive Hawaiian resort that the protagonists of HBO's new comedy The White Lotus are visiting. Unfortunately, personal shortcomings and the politics of privilege are not so easy to escape.
Mike White produced, wrote, and directed The White Lotus in a flurry of activity during late 2020. White, who wrote and starred in Chuck and Buck and The School of Rock, had his last HBO series, Enlightened, canceled after two seasons. He licked his wounds by, of all things, becoming a contestant on the reality TV show Survivor and came in second place. Given another shot at directing his own TV series, he's made the hit of the late summer season: an amped-up, satirical upstairs/downstairs story that skewers the arrogance of rich white people who can afford special treatment wherever they go.
The White Lotus follows a group of VIPs on a week's holiday. The six-episode series begins with a flash forward where we learn that someone has died at the titular hotel where they are staying. A useful if overused MacGuffin, trying to guess who will meet their end, becomes secondary to the show's wicked skewering of contemporary manners. White was clearly inspired by the cutthroat in-fighting of Survivor as well as the well-to-do life he leads in Hawaii, where he owns a home.
As our guests arrive on a privately-chartered boat, Armond, the hotel manager, waits with apparent eagerness to meet his clients' every need. He gives some advice to a new staffer. "Here self-disclosure is discouraged," he says. "The goal is to create for the guests an overall impression of vagueness. That can be very satisfying where they get everything they want but they don't even know what they want, or what day it is, or where they are, or who we are, or what the fuck is going on."
Along with White's incisive writing, much of the show's humor (and pathos) comes from the hilariously exaggerated performances of the cast. As played by Australian actor Murry Bartlett, Armond's shrimp-pink suit and forever-open arms are topped by a Tom Selleck moustache that can't contain his shit-eating smile, a smile that wears thin over the course of the week as he and several of his staffers become all too specific to some of their charges.
Primary among these is baby-faced bro Shane Patton, the spoiled scion of a real-estate empire, played by Greenfield native Jake Lacy. On his honeymoon with trophy wife Rachel (Alexandra Daddario), Shane is miffed that they haven't gotten the room his mother booked for them. Shane spends the week ignoring his new wife and relentlessly badgering Armond, who has an increasingly difficult time remaining vague.
Another of the VIPs, Tanya McQuoid, is played with Emmy-worthy aplomb by Jennifer Coolidge, best known for her appearances in the movies American Pie, Legally Blonde and the TV show 2 Broke Girls. Tanya has come alone to the White Lotus to scatter her mother's ashes. She lumbers around in chiffon muumuus, a bottle blonde with social anxiety whose eyes are perpetually asquint, her speech perpetually slurred from too much Botox and too many Cosmos.
When Tanya can't get the massage appointment she so desperately needs, spa manager Belinda (Natasha Rothwell) steps in to help. Instead of continuing to kvetch, Tanya wallows in Belinda's attention, groaning with pleasure and singing off-key during her holistic ministrations. It's one of many small examples where the show pivots from nasty to nice, offering redeeming glimpses of its antiheroes.
Tables quickly turn, and Belinda doesn't have the upper hand for long. The relationship between Tanya and Belinda, who is black, are a microcosm of both the show's humor and its pathos. While Tanya genuinely seems to like Belinda, she can only express her gratitude through money. When she suggests that she might give Belinda the funds to open a spa of her own, Belinda begins working on a business plan while bending over backwards to accommodate Tanya's whims with increasing desperation.
The final group of VIPs, the Mossbacher family, suffers from internecine fighting. Matriarch Nicole (Connie Britton), a high-powered CEO in the mold of Sheryl Sandberg, spends much of her vacation on one screen or another leaning in to work. Her husband Mark (Steve Zahn) lives in her shadow. Mark browbeats their teenage son Quinn (Fred Hechinger) into spending time with him – and away from Quinn's own panoply of portable screens – in a misguided attempt to be a good dad. Jealousy erupts between daughter Oliva (Sydney Sweeny) and her accompanying friend Paula (Brittany O'Grady) over love interest Kai (Kekoa Kekumano), a native Hawaiian who works at the hotel.
Colonialism's specter lurks around the show's edges. Hawaiians perform pseudo-ritual dances for the guests. Kai recounts how the land on which the hotel is built was stolen from his people. Paula, who is the only character of color among the VIPs, reads Frantz Fanon while sunning herself by the pool.
The Hawaiians are marginal characters at best. They're props for the projection of the characters' fantasies – as entertainment, as love interests. In moments of semi-introspection several characters acknowledge the legacy of colonialism, although in such blinkered ways that it only makes things worse. A late season plot twist, which I won't spoil, involves a harebrained scheme that ends with life-changing consequences for one of the show's least privileged characters.
Ultimately, The White Lotus is as much a tragedy as a comedy. Its humor comes from watching alphas crush betas, giving it an often-uncomfortable edge of cruelty.
This isn't lost on Armond. Late in the series, he sits with Belinda after their workday is done, sharing a bottle of wine and surveying the last of the guests finishing their dinners. Embittered by what he sees, Armond quotes a line from Alfred Lord Tennyson's poem The Lotos-Eaters: "Hateful is the dark-blue sky/Vaulted o'er the dark-blue sea/Death is the end of life; ah, why/Should life all labor be?"
Like Odysseus' men as recounted in Tennyson's poem, Armond longs to become one of the lotus eaters, spending the rest of his life leaving his own and his guests' troubles behind so he can enjoy at least some of the luxuries that they do. As White says in an interview appended after one of the episodes regarding vacation as a failed attempt to escape from one's troubles, "There really is no escape." What makes the show's critique of whiteness and class successful is White's recognition that this is even truer for the have-nots who serve the haves trying to get away from it all. Sadly, that the straight, white VIPs win out in the end is no surprise.
HBO has picked up The White Lotus for another season.

William Kaizen is an art historian and public art advocate. He chairs the Amherst Public Art Commission.