Town Council Discusses Successor Committee To Community Safety Working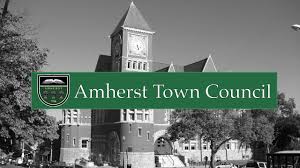 Report On The Meeting Of The Amherst Town Council, October 4, 2021

This is the second article on the five-and-a-half-hour town council meeting on October 4, 2021. The meeting was conducted on Zoom and was recorded. The recording can be viewed here.
The discussion of the Community Safety and Social Justice Committee begins at about 1hour and 25 minutes.
Present
Councilors: Lynn Griesemer (President, District 2), Alisa Brewer, Mandi Jo Hanneke, Andy Steinberg (At large), Cathy Schoen (District 1), Pat DeAngelis (District 2), Dorothy Pam and George Ryan (District 3), Evan Ross and Steve Schreiber (District 4), Shalini Bahl-Milne and Darcy DuMont (District 5). Absent: Sarah Swartz (District 1)
Staff: Paul Bockelman (Town Manager), Athena O'Keeffe (Clerk of the Council)

Highlights
debated the proposed charge of the Community Safety and Social Justice Committee (CSSJC)
embraced the idea of stipends for CSSJC members
held first readings of the Accessory Dwelling Unit and the Apartment zoning bylaws
proposed uses for American Rescue Plan (ARPA) funds
discussed intervention for accumulating trash on Fearing Street
Introduction Of The Proposed Community Safety and Social Justice Committee
With the Community Safety Working Group (CSWG) ending its term at the end of this month, its members are eager for a successor group  to guide the implementation of the CSWG's goals. The proposed successor committee will be called the Community Safety and Social Justice Committee (CSSJC) and will be composed of seven members, five of whom would be from the BIPOC community or other historically marginalized groups. CSWG members Ellisha Walker and Pat Ononibaku created a draft charge for the CSSJC, which can be read here.
Ononibaku, along with CSWG Co-chairs Walker and Brianna Owen, met with Council President Lynn Griesemer (District 2) and Town Manager Paul Bockelman last week to discuss the charge and their requests that committee members receive a stipend. They also presented their reasons for having five of the seven members be from underrepresented groups . They attended the council meeting to answer questions about the proposed committee.
All councilors expressed support for the creation of the new committee.
The CSWG members felt that the CSSJC should be a town committee, rather than a Town Council committee because it could be  established more quickly. The town manager would appoint the members regardless of whether it was a council or town committee.


Councilor Mandi Jo Hanneke (At large) was concerned about having a committee with 5/7 BIPOC representation in Amherst, which she pointed out is 70% non-Hispanic White. She supports a simple majority (4/7) but not a super-majority BIPOC. She also said she does not see why there would be a special appointment committee for this group, when there is already a Residents Advisory Committee that "usually" participates in candidate selection. She added,"While some of the sentences (in the charge) say the purpose of this [committee] is to support all members of the Amherst community… the sentence in middle … [mentions} helping the town to fully realize the resolution 'Affirming the Town of Amherst's Commitment to End Structural Racism and Achieve Racial Equity for Black Residents' adopted by the Town Council, December 2020. I get concerned that this committee would be focusing on safety for Black residents, not all BIPOC residents or, frankly, all residents in town… Community safety and social justice is a need for all residents, not just Black residents." She also worried that mentioning a BIPOC youth empowerment center and a multicultural center could obligate the town to fund it.
In response, Ononibaku said she did not know where to begin. "The Black community has not benefited from the resources of the town,", she said. "We have not been at the table with the dominant White majority," and the charge has to be strongly worded to be effective. Changing the 5/7 BIPOC composition¸ is a nonstarter," and added, "We [the CSWG] proposed the youth empowerment center and multicultural center, and you guys did not approve it. We put them in the charge so they don't disappear. We are tired of waiting. If the Town Council is really for social justice, show it to us tonight."
Walker added that the intention of the charge is to address all of the recommendations of CSWG, whether they be town funded or not, i.e. grant funded. This committee, she said, will have many issues to deal with to further Town Council goals of dismantling White supremacy here, and this will benefit every single member of the community. But racial and social justice needs to be rooted in the needs of Black people. "Those voices need to be amplified."
George Ryan (District 3) questioned language in the charge that says the CSSJC will ensure the creation of certain programs and should provide input to the Town mManager on the budgeting process. Alisa Brewer (At large) said that it is important for the committee to provide input in the budget process, and, in fact, more committees should do so. Walker added that the committee wants to make sure that the town adopts a robust translation service, which she said is a necessity because a. substantial portion of the Amherst community can't know what is going on if they don't understand the language.
Hanneke said that she learned, at the council's racial equity training last spring, that in order to move forward, one needs to ask questions. Then she went on to say that the town has tried to recruit diverse residents to serve on committees, although its attempt has not been very successful. She added that she is concerned that the charge seems to exclude Asians and LGBTQ residents, and added that she hopes they find a solution that doesn't have "racial quotas." To that, Ononibaku replied, "Stop dividing our community."
Councilor Pat DeAngelis (District 2) pointed out that she is a member of an underrepresented group because she is queer, and that she feels included in the charge, in a way that Hanneke does not.


Walker said that Hanneke's comments show the need for a multicultural center so that residents can learn about each other. Owen said that any center created should include input from the people it is designed to serve. And Councilor Shalini Bahl-Milne (District 5) reminded the other councilors that different constituents have different experiences, and different needs for safety, and for social justice.
Ryan commended Hanneke for her comments and told Ononibaku, Walker, and Owen that councilors "have a difficult job to consider all the implications of policies." Owen countered that it takes a lot of courage for BIPOC members to talk to this Town Council which does not include anyone who represents us.
Brewer and Cathy Schoen (District 1) asked that an annual report on the accomplishments of the CSSJC be given to the council. The not-yet-hired director of the town's new Department of Equity and Inclusion will be the town's liaison to the committee.
Discussion of Stipends For CSSJC Members
The CSWG representatives recommended that CSSJC committee members receive a stipend for their service on the committee. Ononibaku said she doesn't understand why people are asked to serve the town without compensation, but she and her colleagues are only dealing with the CSSJC. Members of the CSWG were paid $1,000 each for their time, which she said was woefully insufficient for the work they put in.
Although no amount was specified in the charge, Owen felt recommending stipends would be best for the successor group. Brewer wanted to be sure the matter is not forgotten, since advertising for people to apply to be on the committee will begin this week. Andy Steinberg (At large) wondered if providing stipends for committees is legal, and Bockelman responded that there had been no problem paying the CSWG members.
DeAngelis said she has been wrestling with the idea of a stipend because it could cause a ripple effect in the budget. Evan Ross (District 4) said he understands the need for a stipend, but that it would open the door for other committees. He said that the Affordable Housing Trust does not does not include any renters or people in affordable housing. He said that the CSSJC is a perfect place to start, but it should lead to conversations about the needs of other committees.
Ryan suggested creating a fund that anyone from any committee could draw from to meet their needs, but he could not support a stipend for only the CSSJC. Bahl-Milne agreed with the idea of a fund to enable more residents to participate in local government. Steve Schreiber (District 4) pointed out that even though Town Council stipends have not been increased, a diverse group of candidates are running for election.
Owen countered that a fund acknowledges needs of committee members but not their value of their diverse experiences or their time . Walker pointed out that to have the time to be here, one needs to have resources, and although she likes the idea of a fund, it is stigmatizing to have to ask for money.. She suggested providing the option of stipends across the board and allowing those who don't need the funds to opt out.
Lynn Griesemer (District 2) agreed with Walker that it is hard to ask for money. She would like to see the integration of stipends on all committees and hopes this is not the council's last discussion on the matter.
Bockelman said the issue of stipends is complex and that many communities are wrestling with it. Stipends are easier for the town to manage than a reimbursement fund. He acknowledged that the $1000 stipend for CSWG members was a pittance for the intense amount of work they did in a short time. Stipends are also recommended for the Resident Oversight Committee, which will be created to provide oversight of the Amherst Police Department. He recommended moving forward to create the CSSJC without resolving this issue now.
Brewer remarked that if they advertise that committee members "might" get a stipend, they will get a different pool of applicants than if they offer one. Walker agreed with her: knowing that there will be a stipend would influence who applies to be on the committee. After Griesemer said the council would not resolve the matter at this meeting, Brewer said she believes the town manager could find the money for stipends if he wanted to. Bockelman said he would advertise that stipends are being considered," whereupon Bahl-Milne and Dorothy Pam (District 3) urged him to say that stipends will be offered, not that they are being considered. [Editor's note: The posting on the town website now states that stipends will be provided.]
First Reading On Zoning Amendments forAccessory Dwellings And For Apartments
Planning Director Chris Brestrup said that none of the proposed amendments on rezoning the town parking lot behind CVS, mixed-use buildings, and parking and accessibility for multi-residential dwellings are ready to come before the council,  and  require additional public hearings because the 90-day time limit from the July 21 meeting will soon expire. The hearing to rezone the parking area is scheduled for the Community Resources Committee (CRC) meeting at 2 p.m. on October 26. The zoning  amendment about requiring parking for multi-residential buildings downtown will be discussed at the CRC meeting on November 9.


Pam said that "too much is being done to change zoning in too short a time" and that a different version of zoning changes is presented at every meeting. Schoen wanted to know why the change in the apartments zoning amendment [see below] doesn't trigger a new public hearing. Hanneke said that it is not required because the part of the amendment presented here was discussed at the July 21 hearing.
The council will vote on these proposed amendments at the October 18 meeting.
Accessory Dwelling Units
Planner Ben Breger presented the proposed changes to the Supplemental Dwelling Bylaw.(Section 5.011) that he had presented to the Planning Board and CRC about four months ago The proposed changes include changing the terminology from Supplemental Dwelling Unit to the more commonly used "Accessory Dwelling Unit" (ADU); eliminating the minimum allowed square footage and raising the maximum allowed square footage from 900 to 1,000 square feet; usually requiring only approval by right, rather than by special permit (thus avoiding a hearing and oversight by the Zoning Board of Appeals (ZBA);  and allowing either the ADU or the primary house to fulfill the need for one of the dwellings to be owner occupied. 
Steinberg said he knows of a house and ADU that are now student rentals. Brestrup said this arrangement would be in violation of the permit granted to the property for the ADU. The building commissioner could enforce the permit with fines, or the new owner could apply for a new permit as a converted dwelling. Steinberg and Schoen suggested that there be a deed restriction placed on each property with an ADU to warn a prospective buyer about the need for one of the dwellings on the property to remain owner-occupied.
Hanneke said that this council and this town likes to "demonize" students, but students "aren't the only ones who rent apartments," and she is not sure about adding a deed restriction. Bahl-Milne agreed that the more complicated things are, the more expensive it is for owners who rent their homes or ADUs.
For Darcy DuMont (District 5), however, it would be difficult to support this amendment without clearly linking ADUs and owner occupancy of one of the dwellings
Brewer worried about a stipulation that a freestanding ADU that would be more than 50% the size of the main house must have a special permit from the ZBA. She said that would inhibit the ability of owners of small houses to build "reasonably sized" ADUs. Brestrup said that size stipulation was to prohibit the appearance of two single-family homes on one lot, which is not allowed by the zoning bylaw.
The discussion will be continued until October18, when it will probably be up for a vote. Nine councilors must approve the amendment for it to be adopted.
Changes In Permitting For Apartments
Previous discussions about changing the apartment bylaw (Section 3.323) became complicated because of the implications of removing the current 24-unit cap on the number of units in apartment buildings. Therefore, the Planning Department decided only to propose a change in permitting at this time while it continues to study other aspects of the bylaw.
The current proposal, as presented by Planner Maureen Pollock, is to change the permit required from site plan review to special permit in the general business (BG) zone and the reverse — from special permit to site plan review — in the residential village centers (RVC) . This would provide more oversight for apartment buildings downtown, where buildings containing commercial space are more desirable, and less oversight in the village centers. 
Pollock said that the number of units in an apartment building would be limited by the dimensions on Table 3 of Article 6 and safeguards, such as the requirement for a 150-foot buffer between the apartment building and adjacent farmland.
Schoen said she prefers to retain the special permit process in both types of zoning districts because of the relative ease of combining adjacent parcels or using "footnote a" in the dimensional table to construct large buildings in village centers. She pointed out that townhouses and duplexes require special permits, and said the permit process should be consistent. Pam agreed, and queried the councilors about how it is justifiable to change the permitting process before establishing associated regulations..
In public comment, Janet Keller also raised this point, saying that there should be a coordinated process in amending the apartment bylaw in order to consider the whole picture and the impact of changing the apartments bylaw on various neighborhoods. She suggested that special permits apply to all new apartments.
Evan Ross (District 4) disagreed with Keller and others, suggesting the opposite, that more developments should be allowed by site plan review. He said that zoning changes have meant that some apartment complexes could not be built in their zoning districts today. He added that if we want to meet the recently passed goal for 850 affordable units to be built here in the next five years, as specified in the Comprehensive Housing Policy, we need to encourage the construction of apartments. He also said that if a developer used footnote a to make a larger buildings, it would require a special permit.
Bahl-Milne supported the zoning amendment, saying that it would correct a flaw in the zoning bylaw and make it more difficult to build apartments in the business area (BG) (and easier in the RVC–village centers). Hanneke asked where it was appropriate to have apartment buildings if not in the RVC?
This issue will also come for a vote at the October 18 meeting.
Uses For American Rescue Plan Act Proposed
Amherst will receive about $12 million in federal funds from the American Rescue Plan Act (ARPA) in order to mitigate economic effects of the pandemic. This is the successor program to the CARES Act which ends in December 2021. ARPA funds must be spent by December 2026. Finance Director Sean Mangano and the town manager consulted with department heads and committees about possible uses of the money, and now are asking for public engagement in Zoom listening sessions on October 13 at 8 a.m. and 1 p.m. and October 21 at 4 and 7 p.m., and on the Engage Amherst site.
Mangano said the town has looked at possible uses of the funds through the lens of "equity and sustainability." His presentation can be viewed here. There is at least one qualified census tract in North Amherst that would receive priority for funds. The town plans to allocate 80% of the funds in the first round and to save 20% in case new needs arise or if some programs are so successful that they deserve greater funding. The finance department will bring back a spending plan in November.
The current proposals allot 19% of the funds to public health and racial equity to expand mental health programming, fund a Diversity, Equity, and Inclusion coordinator, hire a public health nurse, and retain the four extra EMTs and COVID ambassadors.
Eleven percent has been allocated to homelessness for transitional housing opportunities. Ten percent is earmarked for expanding affordable housing stock.
The school department requested funds to cover the expense of moving the sixth grade to the middle school. Other funds will go toward youth recreation programming (7%), economic revitalization (6%) including construction of an accessible restroom downtown and small business start-ups, sustainability (5%) with the hiring of a sustainability coordinator, and resident emergency aid (4%) for a coordinator of transitional services and a senior center van. Childcare and early education (4%) includes plans for a preschool, afterschool care, and youth recreation, and a teen center.
Town infrastructure improvements, such as improving the wifi downtown and extending wifi to areas not well served, are another 4%. All requests need to be tied to stresses related to COVID and must be approved by the federal government.
Ryan and Ross thought that 6% for businesses is too small. Hanneke wanted to know why the schools requested funds when they have their own ARPA funds, and why the extra four EMS officers are only funded until 2023. Ross also criticized the omission of funding for an economic development director and asked if some funding could be used for the plan to completely reconstruct the North Common.
Bockelman pointed out that, even though Amherst has 10,000 more "residents" than Northampton in the census, it is receiving only $12 million as opposed to $21.7 million and said it is because Amherst is not a "metropolitan city."
Trash On Fearing Street
In councilor comments, Ryan wondered what the town can do about trash and litter on Fearing Street, especially on the weekends. Pam suggested posting signs that this is a family neighborhood, not part of the UMass campus. Schoen suggested having the UMass campus police watch the area on Friday and Saturday nights, and that UMass add appropriate off-campus behavior to its code of conduct. Hanneke asked for an update on the strategic partnership between the town and UMass, noting that there has been no report for almost two months.
The meeting adjourned at 12:03 a.m. The council will next meet on October 18 at 6:30