Public Comment: Better Funding Of Amherst Fire Department Urgently Needed To Address Dangerous Conditions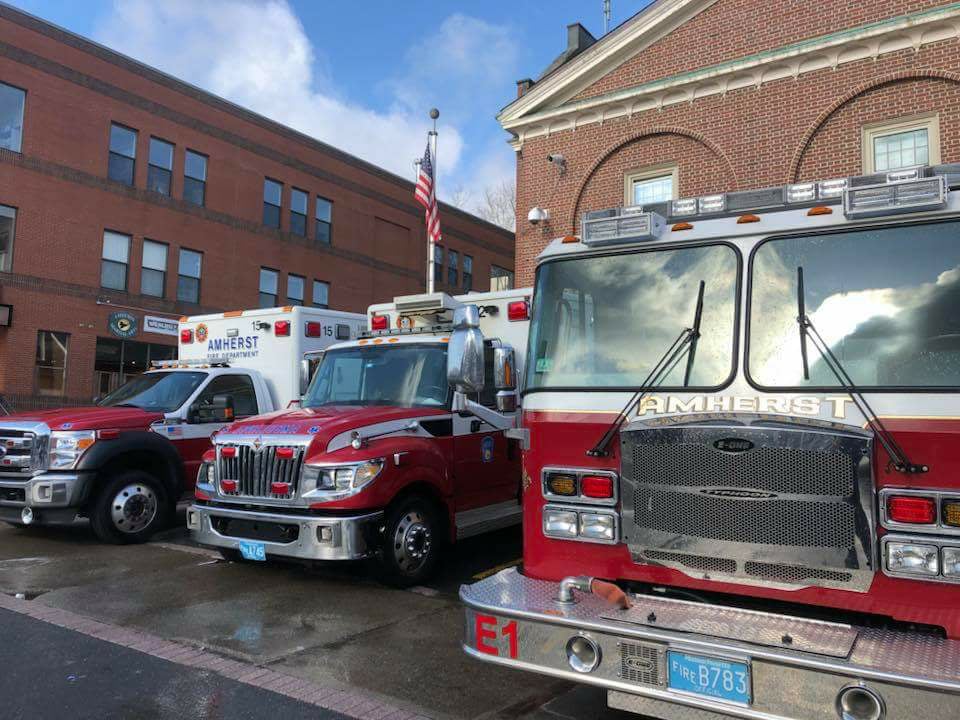 The following public comment was offered at the Amherst Town Council meeting of November 8, 2021.
My name is Ben Graham, I am the president of the Amherst Firefighters Union Local 1764. I am here today to urge the town council and the town manager to start the process of properly funding and supporting your public safety, specifically your firefighter/paramedics and your fire department. The Amherst Fire Department is drastically understaffed, undersupported and in need of help.

The Amherst Fire Department is responsible for the primary fire and EMS responses, life safety inspections, fire prevention and code enforcement for the town of Amherst. Your fire department is responsible for all hazardous and emergency calls for all 39,000 residents in the Town of Amherst plus the 39,000 students and staff at the three colleges located in town (Amherst, Hampshire and UMass). That means within the 27.7square miles in this town, the fire department is responsible for almost 78,000 people. We are also the primary ambulance and EMS provider for the towns of Pelham, Leverett, and Shutesbury increasing our response district to over 104 square miles and 82,000 people.

We attempt to cover these 82,000 people with a seven or eight person minimum for on duty staff at all times. Your fire department attempts to staff two fire engines or three ambulances with seven people. I say or in that previous sentence as we cannot physically be in two separate places at once, nor can we do the work of two people as one person. All of our apparatus are "cross-staffed", meaning it's essentially, one or the other.
For a fair comparison Northampton has 32,000 residents. The Northampton Fire Department ran a total of 7,394 emergency calls with 5,495 ambulance calls in 2019. The Amherst Fire Department covered 82,000 people and ran 5,741 emergency calls in with 4,192 Ambulance Calls in 2019. Our staffing problems also affect other communities and people suffer because of it. We were unable to respond to over 105 EMS calls and had to request mutual aid ambulances from other communities.
Northampton has a comparable call volume to Amherst but they have a minimum of 13 firefighters, almost two times that of Amherst. It's also worth noting they also have a hospital in their city, whereas our nearest hospital 8.5 miles away from our central fire station. Our call volumes in Amherst are tracking to be the highest they've been in the last three years, yet nothing has changed for the better. In fact things appear to be getting worse.

We have a 33 y/o ladder truck that needs to be replaced. Our ambulances are being replaced less frequently than what is acceptable. Our newest in service ambulance has over 80,000 miles on it. It was purchased in 2018.. We recently had to borrow one from Northampton for a week because three out of our five ambulances were being repaired or decommissioned.

I wish it was only our equipment that was being worn down and broken, and our fire stations that were too small, outdated and in unacceptable conditions. Our most valuable assets are wearing down and getting damaged, those firefighters who respond to the calls and get the work done. Too many of your firefighters are getting physically injured in a multitude of ways. They are suffering mental health injuries from performing their duties without enough help, and without working equipment.

On behalf of my fellow workers and the residents of Amherst, I urge the Town Council and the Town Manager to begin the process of increasing the staffing levels for the Amherst Fire Department, and increase the budget of the fire department so we can start to fix what has been ignored for far too long. The longer our issues continue, the more people will suffer and the more expensive it will be.

If anyone has any questions, please reach out to me. I have plenty more to share. I promise you that your firefighters want to work with you to ameliorate the Amherst public safety issues, but we can only do so much by ourselves.