Jones Trustees Laud Chris Hoffman, Kent Faerber At December Meeting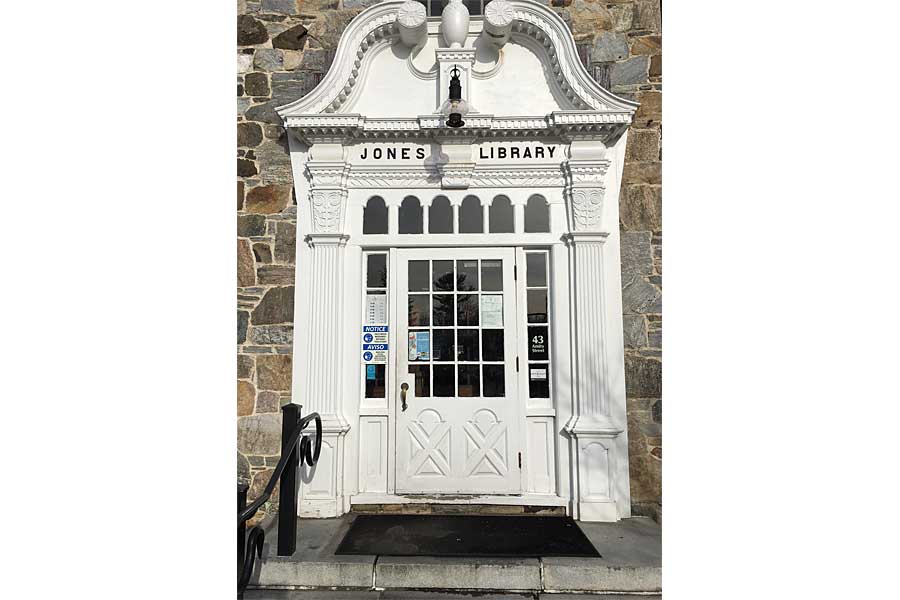 Report on the Meeting of the Jones Library Board of Trustees, December 13, 2021
Present
Trustees Austin Sarat (President), Alex Lefebvre (Clerk), Robert Pam (Treasurer), Lee Edwards (Vice Treasurer) and Tamson Ely; Library Director Sharron Sharry; Network Administrator Hank Allan
Meeting Agenda and Packet

Hank Allan asked if the meeting, which was being conducted over Zoom, should be recorded. Director Sharon Sharry said that she didn't see a need for recording.
Austin Sarat began his President's Report by noting that this was Chris Hoffman's last meeting after a ten-year tenure as trustee. Hoffman chose not to run in the November election in which the other four library trustees ran uncontested and newcomer Farah Ameen was also elected without opposition. Ameen will begin her term in January.
Sarat commended Hoffman for his knowledge of Open Meeting Law and his calm, judicious and insightful demeanor, in contrast with other trustees serving in his early days. "But for Chris Hoffman the Jones Library Board of Trustees would have followed the Titanic to the bottom of the sea," he ventured.
Trustee Tamson Ely echoed the description. "Chris gave me hope that if I ran for the board there would be at least one person there who had the best interests of the library, the staff and the Town at heart."
2023 capital needs are coming into focus as related by Ely who chairs the Buildings and Facilities Committee. The library has submitted a request to the Joint Capital Planning Committee (JCPC) for $24,000 for shelving for special collections, $46,000 for a new van and $10,000 for HVAC and other emergency repairs.
A group tasked with preparing a report on Amherst's historic structures, encompassing the Jones Library, will present its findings at a Historical Commission meeting scheduled for January 12.
In her Director's Report Sharon Sharry explained that library staff has found it challenging to enforce mask wearing, with some patrons being warned several times a day and becoming agitated. Sharry mentioned two groups that have presented mask issues. One is homeless people who come into the library for shelter and sleep. When they fall asleep their masks tend to slip off. However, she reported, when asked to position their masks correctly, these folks have generally been cooperative and apologetic.
The director has also encountered non-compliance among groups of young people working together who have resented being told to wear their masks. At Sharry's request, Town Manager Paul Bockelman will be sending the Town's COVID-19 Ambassadors for a daily visit to the library. Trustees expressed some concern that this would not be enough to solve the problem.
Another possible remedy, said Sharry, is the planned opening by the Town of the VFW Building on Main St. as a day shelter.
Austin Sarat closed the meeting by asking that the Trustees express gratitude to Kent Faerber for his persistent support of the Library Building Project. Faerber, former chief advancement officer of Amherst College, has served as co-chair of the Friends of the Jones Library Capital Campaign Committee and headed the Vote Yes for Our Library ballot committee leading up to the November 2 town wide referendum. He is also listed as a member of the leadership team of Political Action Committee Amherst Forward, and according to online records is past chairman of the Political Action Committee to Re-Elect Tamson Ely and Austin Sarat.
The decision was made to present Faerber with the gift of a book to be chosen by the director and inscribed by her and the trustees. "Don't take it from the library collection," Sarat added.