Library Referendum Passes By Nearly 2-1 Margin. Walker Wins Most Votes in Council Elections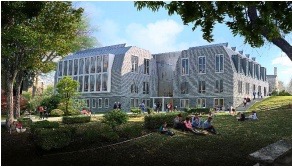 Amherst voters chose last night, to affirm the Town Council's decision to borrow $35.3 million for a major expansion and renovation of the Jones library. The final margin was nearly 2-1 in favor with an unofficial tally of 3187 voting yes and 1683 voting no out of 4962 ballots cast. The affirmation clears the way for the Jones to receive its first grant payment from the Massachusetts Board of Library Commissioners prior to the end of the year.
Town Council
Races for Councilor in Districts 1, 2 and 5 were uncontested as were positions for Jones Library Trustees.

If the unofficial election results stand up, there will be six new town councilors (out of 13 total) joining the council in January. They are Ellisha Walker (at large), Michele Miller (District 1), Jennifer Taub (District 3), Anika Lopes and Pamela Rooney (District 4), and Ana Devlin Gauthier (District 5). Walker, the co-chair of the Community Safety Working Group, led all candidates in all races with the highest vote total, 3164. Councilors George Ryan (District 3) and Evan Ross (District 4) failed to win re-election. Challenger Pamela Rooney defeated Ross by a margin of just three votes.

School Committee
In the contest for School Committee (SC), seven candidates vied for five seats. Incumbents, Ben Herrington, Peter Demling and Allison McDonald, the current SC chair, will be joined by Jennifer Shiao Page and Irvin Rhodes. This was Page's second run for a seat on the school committee while Rhodes had previous served as chair of the school committee. Heather Lord failed in a bid for re-election.
Other Contested Races
Incumbents Nancy Schroder, Michael Burkhardt, and David Williams all won re-election to the Amherst Housing Authority and Incumbent Carol Gray defeated Sarah Marshall for the position of electior of the Oliver Smith will.
A full listing of the unofficial results is provided below and can also be found here.

Look to the Indy throughout the week for additional coverage of the election.
11-2-21 BIENNIAL TOWN ELECTION RESULTS TOWN WIDE – UNOFFICIAL RESULTS
BALLOTS CAST 4962
| | |
| --- | --- |
| COUNCILOR AT-LARGE (Vote for Three) | |
| Robert E. Greeney | 1030 |
| Viraphanh Douangmany Cage | 1701 |
| Andrew J. Steinberg | 2617 |
| Mandi Jo Hanneke | 2661 |
| Ellisha M. Walker | 3164 |
| Vincent 1. O'Connor | 1087 |
| | |
| | 0 |
| | 0 |
| All Others | 27 |
| Blank | 2599 |
| TOTAL | 14886 |
Ballots Cast x 3
| | |
| --- | --- |
| DISTRICT 2 COUNCILOR (Vote for Two) | |
| Lynn Griesemer | 944 |
| Patricia C. De Angelis | 865 |
| | 0 |
| | 0 |
| | 0 |
| | 0 |
| | 0 |
| | 0 |
| | 0 |
| | 0 |
| All Others | 17 |
| Blank | 818 |
| TOTAL | 2644 |
Pcts. 2 & 6 Ballots Cast x 2
| | |
| --- | --- |
| DISTRICT 1 COUNCILOR (Vote for Two) | |
| Michele Miller | 295 |
| Cathy A. Schoen | 351 |
| | 0 |
| | 0 |
| | 0 |
| | 0 |
| | 0 |
| | 0 |
| | 0 |
| | |
| All Others | 8 |
| Blank | 408 |
| TOTAL | 1062 |
Pets. 1 & 3 Ballots Cast x 2
| | |
| --- | --- |
| DISTRICT 3 COUNCILOR (Vote for Two) | |
| Dorothy S. Pam | 227 |
| George E. Ryan | 190 |
| Jennifer Lynn Taub | 238 |
| | 0 |
| | 0 |
| | 0 |
| | 0 |
| | 0 |
| | 0 |
| | 0 |
| All Others | 3 |
| Blank | 154 |
| TOTAL | 812 |
Pcts. 4 & 10 8allots Cast x 2