Letter: Amherst Firefighters Union Opposes Extension Of Chief's Tenure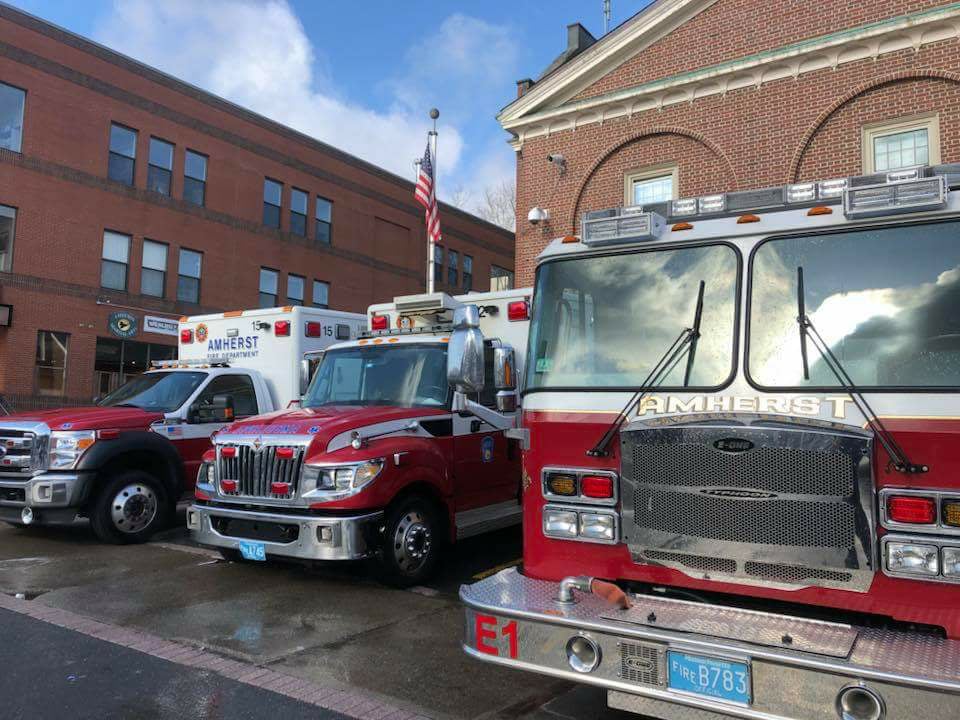 The following letter was sent to members of the Amherst Town Council on December 20, 2021. That evening, the Council voted to extend the tenure of fire chief Tim Nelson.
The Amherst Firefighters Local 1764 is writing to you in opposition of the proposal by the Town Manager to extend Chief Nelson's tenure at the department beyond this April when he reaches the state mandatory retirement age for firefighters. We believe this is the wrong move for Amherst and poses a risk for Chief Nelson, the Fire Department, and the Town. The increased risk to firefighters from occupational illness such as heart disease and cancer is one of the fundamental reasons the mandatory retirement age was set to sixty-five. Additionally, petitions for these extensions are overwhelmingly seen in smaller departments, often call or volunteer, where there can often be no one else able to take the reins and run the department.
The Fire Chief's position does not appear to be publicly posted and there has not been a wide search for a new fire chief. It is hard to feel that there was a legitimate attempt to fill this position properly. There has been no information provided regarding the justification or intent of this proposal. The inability to plan coupled with a lack of transparency are not valid reasons to petition our state legislature to circumvent state laws regarding mandatory retirement.
In Chief Nelson's tenure at the Amherst Fire Department, we have seen a dramatic and steady erosion of morale across all ranks. One of the results of this erosion of morale has been an alarmingly high turnover rate. No less than fourteen members of the department have resigned or have taken an early / reduced retirement during the Chief's tenure. These departures have cut across all ranks and experience levels, including three captains and two senior firefighters / paramedics with over twenty years each at the department. The majority of these members have cited an inability to continue working for Chief Nelson as one of their reasons for leaving. Most troubling is the increasing pace of these departures over the last three years.
Chief Nelson cultivates a fear-based work environment, imposing unnecessary stress on the department by his erratic, unpredictable and unapproachable demeanor. His interactions with subordinates are regularly inappropriate, harassing or confrontational, a pattern especially true for the female members of the department. This behavior is well documented and known to the Town Manager and our human resources department. A motion to extend Chief Nelson's tenure suggests this behavior is endorsed by the Town. The toxic work environment created by this behavior seems unlikely to undergo substantive change without a change in leadership.
In Chief Nelson's twelve years in Amherst, we have made no progress in our single biggest challenge, namely our critically low staffing levels. This continued lack of staffing regularly and routinely puts both firefighters and members of the public at increased risk as we operate well below industry and regional standards. We are also operating the oldest ladder truck in the Commonwealth, when it is in fact operational, in an area with one of the densest concentrations of residential high-rise buildings in the state. Other area departments have been applying for and receiving AFG and SAFER grants to help offset costs to their budget. Under Chief Nelson we have received no such grant awards and, due to his lack of transparency, the Local is often left wondering if we have even applied for these funding sources.
Chief Nelson's lack of communication poses significant operational challenges. In the past two years he has held a total of just four staff meetings with department officers, often on short notice. During any two-year cycle this would be a hindrance to department leadership though, in these last two years in particular, this lack of leadership
approaches negligence. His lack of a regular presence also poses challenges as mid-level officers are left wondering where he is and when he will be available to handle the routine questions that come up when operating an emergency response organization.
In summary; your firefighters are imploring you to vote down or at least table this proposal for the failure to plan for a foreseeable event by applying for a variance to a reasonable state mandate designed to keep firefighters healthy, safe and secure in their retirement. Chief Nelson has had twelve years to develop and grow our department. In that time, we have seen a record number of resignations and retirements, a decrease in our operational readiness, diminished departmental morale, an increasing difficulty in attracting applicants and an appreciable drop in our standing amongst area departments. It is time for a change in departmental leadership. Your firefighters and citizens simply can't wait another 17 months to 5 years to see that change.

Ben Graham
Ben Graham is President of  Amherst Fire Fighters Local 1764