Planning Board Begins Consideration Of Solar Bylaw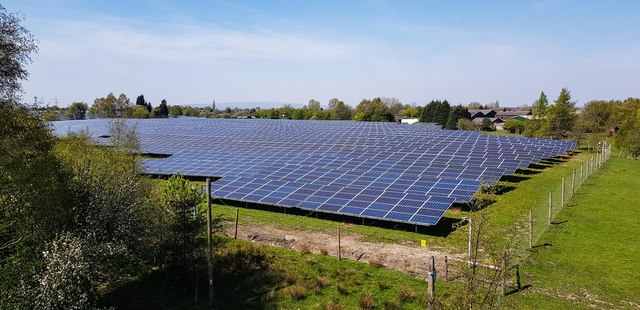 Report on The Meeting of the Amherst Planning Board, January 5,2022.
This meeting was held over Zoom and was recorded. The packet for the meeting can be viewed here.
Present: All Planning Board members. Andrew MacDougall joined at 7:45 p.m.
Staff: Christine Brestrup, Planning Director, and Pam Field-Sadler, Assistant
Developing A Solar Bylaw For Amherst
Chair Doug Marshall stated that this discussion was a first conversation on the topic of a solar bylaw. The Planning Board invited Dwayne Breger, Director of the UMass Clean Energy Extension, and Steve Roof from the town's Energy and Climate Action Committee (ECAC) and a Professor of Earth and Environmental Science at Hampshire College. In addition, the packet for this meeting contains a lengthy letter from the ECAC on page 26, a sample bylaw from the Massachusetts Department of Energy Resources, and examples of solar bylaws from Shutesbury and Belchertown. Town Councilor Pat DeAngelis (District 2) also developed a draft bylaw that is included in the packet.
Roof and Breger thought the town should do a solar siting study before creating a bylaw. Breger said that UMass is starting to do its own study and is willing to work with the town. Roof said the town needs to know how much solar it needs to meet its climate action goals and to develop an inventory of possible sites that are not restricted wetlands, heritage sites, or land under agricultural or forestry protection. He said that most of Amherst's forested land is protected from solar development. He said information on potential sites could be gathered by GIS (geographic information study). Public input needs to be encouraged as well.
Brestrup felt that in order to save time, it would be good to put together a framework for the text of the bylaw, but to leave out some of the specifications on size and location until the study is done. Most of the Planning Board agreed with her. Thom Long wanted the bylaw to specify how the town will regulate the use of private land for solar and the ability of residents to profit off of their land. Marshall felt it was important to have a conversation on where we want solar and where we don't want it. State law does not allow "unreasonable" limits on solar development, unless it is damaging to health and the environment, but this law might be eased by pending legislation.
Janet McGowan asked if solar is "the" solution for reducing the use of fossil fuels in New England. She wondered about wind, geothermal, and hydro power. Roof replied that the Pioneer Valley is not a viable site for wind power, although the state might meet its climate goals largely by increasing off-shore wind farms. Geothermal is being used in Amherst, but has more limited utility than solar.
Brestrup said she is working with Sustainability Coordinator Stephanie Ciccarello to obtain funding for a solar study. Breger and Roof said they might be able to offer advice on a study or contribute a student intern from UMass.


Public Comment
Paul Robinson voiced his disappointment that the Planning Board did not recommend a temporary moratorium on large scale ground mounted solar installations at its December 15, 2021 meeting. He disagreed with the assertion that a moratorium was "pointless because there are no projects currently in the pipeline" and noted that a moratorium would be harmless if there are no projects in the pipeline. Michael Lipinski said he is "scratching his head" about how the Planning Board can support doing a solar siting study but not a moratorium on projects while the study is being done.
Michael DiChiara, a member of the Shutesbury Planning Board, recommended that the town differentiate between small- and large-scale solar projects, suggesting that small arrays of an acre or less could be approved without extensive hearings. Brian Katzman urged the town not to rush to cut down forests, but to use the built environment first. He pointed out that efficiency of solar arrays will improve over time, so more energy will be obtained from less area.
Jack Hirsch pointed out that solar arrays are temporary structures, built to last only 20–25 years. Sharon Weizenbaum felt residents' voices were not heard in the discussion of the temporary moratorium and hopes their views will be taken into account in the development of the bylaw.

Janet Keller and Eric Bachrach spoke of the importance of protecting drinking water sources and private wells. Phil Rich stressed that a bylaw should include protection for abutters. Jenny Kallick encouraged the Planning Board to incorporate the land use principles in the Master Plan in the discussion of a bylaw. Renee Moss felt that "doing our fair share" should include taking care of our forests.
Ciccarello suggested that the town form a Solar Bylaw Working Group consisting of members of ECAC, Planning Board members, and other residents with expertise in the field. Lenore Bryck said that, given the complex ecosystems of forests, formulation of a solar bylaw should include input from ecologists, hydrologists, and other experts, in addition to those specializing in energy. She also said that a bylaw should consider effects of solar development on the region, not only the town.
Brestrup said that a lot of information regarding solar energy has been forwarded to her. She said people are concerned not only with erosion and run-off from solar arrays, but also about possible leakage of chemicals from the panels and batteries. Planning Board member Jack Jemsek said that contaminants leaking from arrays "are not a concern." He added that solar projects must be designed and built responsibly and that a bylaw must address protections for the environment.
McGowan suggested that all comments received regarding the issue be placed in the solar bylaw part of the Planning Board website. Brestrup said the department will work on doing this.
The Ongoing Saga Of Planning Board Minutes
A number of times over the past year the Planning Board has debated how detailed meeting minutes should be. The filing of several Open Meeting Law complaints over missing minutes this fall brought the discussion to the forefront again, and the conversation continued at this meeting with five sets of 2021 minutes needing to be approved.
Marshall said that Open Meeting Law requires that minutes include a summary of the discussion. He said many towns have very brief minutes, though they do recognize those members of the public who speak. He said he would rather have staff working on preparing for actual meetings than working on the minutes.


Brestrup said Town Council minutes are relatively brief, yet are approved with little discussion.
Maria Chao said she would like the board to be more discretionary about accepting edits to draft minutes. She said the edits take a lot of staff time. She felt minutes should be succinct and not include every comment made, adding, "We have a lot of great things to do, and we shouldn't have to take a lot of time on minutes."
Jemsek said he "agrees 100%" with Chao that the minutes do not need to be a transcript, but MacDougall noted that a transcript might take less time to write than a summary, which involves judgment about which facts to include or exclude.
Minutes from February 17, February 24, and December 15 were approved without further discussion. McGowan added a number of edits to the July 14 minutes because it was a long meeting where four zoning amendments were discussed, and said she did not consider the draft composed by Marshall sufficiently complete. Chao said, "These are the kind of minutes I want to avoid." But MacDougall pointed out that McGowan already did the work and the minutes are now complete and accurate. The amended minutes for July 14 passed 6-0-1 (Marshall abstained).
The minutes for the July 28 meeting were also long, because they included four decisions and their associated conditions. Brestrup wanted to know if board members wanted all of the conditions included in the minutes. McGowan noted that the conditions attached to the decision are often more difficult for an observer to find than the meeting minutes are. Thom Long said that if the conditions are read at the meeting, they should be included in the minutes. The July 28 minutes were then approved unanimously.
Subdivision Plan Filed For 446 And 462 Main Street
John Wrobeleski, developer of Center East Commons, the newly built mixed-use building at 462 Main Street, filed a preliminary subdivision plan for the creation of four building lots and an associated cul de sac street, which, if constructed, would involve razing the new 24-unit building. Tom Reidy, attorney with Bacon, Wilson law firm, explained that the purpose of this plan is to freeze the zoning of the site so that Wrobeleski would not need to comply with the newly passed mixed-use building amendment, which requires a minimum of 30% of the ground floor area to be nonresidential. Reidy said that "it has been hard" to lease the available commercial space at 462 Main Street, and Wrobeleski plans to demolish the existing building at 446 Main Street, possibly for further development. The new zoning amendment also limits the number of same-size units in a mixed-use building to 50%.
Reidy added that this subdivision would never be built. Its sole purpose, he said, is for the zoning purposes. Once a definitive subdivision plan is submitted, the zoning is frozen for eight years and the property would not be subject to any subsequent changes in the Zoning Bylaw.
The plan was approved by the Planning Board without objection. Any further development of mixed-use buildings at the site would require a Site Plan Review.
Archipelago Investments Withdraws Subdivision Plan For 11 East Pleasant Street
After several motions to delay consideration of a preliminary two-parcel subdivision on East Pleasant Street, Archipelago has determined that it can comply with the stipulations of the new mixed-use building bylaw in terms of inclusionary zoning and minimum nonresidential space, and therefore requested that their application be withdrawn without prejudice. The withdrawal was accepted without the addition of "without prejudice" by a 6-0 vote. (MacDougall had not yet joined the meeting.)
The meeting adjourned at 9:59 p.m. The Planning Board is next scheduled to meet on January 19 at 6:30 p.m.