Fire Department Acquires Its First Hybrid Ambulance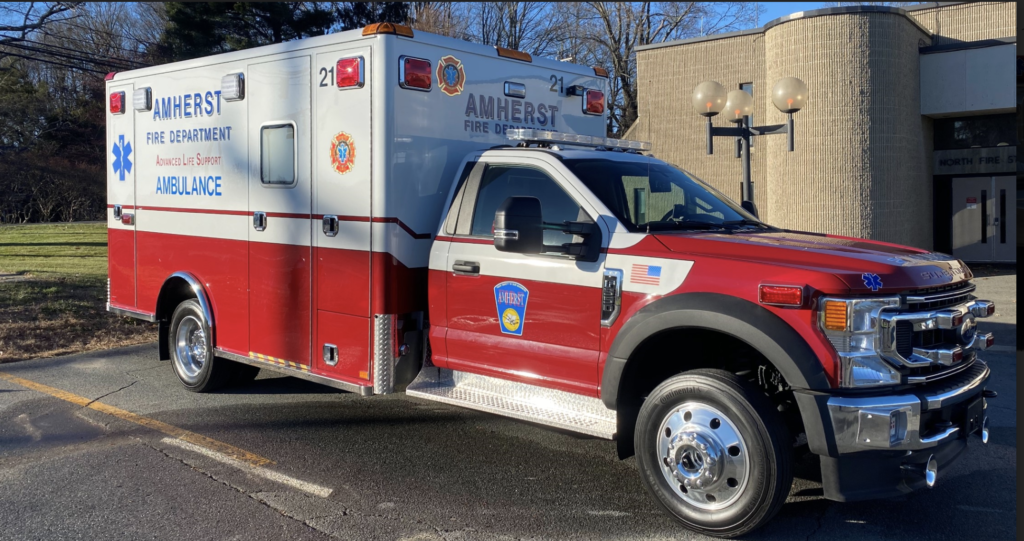 Source: amherstma.gov
The Amherst Fire Department has its first hybrid ambulance: a custom Horton ambulance built on a 2021 Ford 4WD chassis. The new unit replaces a 2011 International ambulance and is the 5th in the town's fleet. This ambulance is assigned as the "A-1" unit responding out of the central fire station.
The new ambulance is considered a hybrid vehicle because it incorporates an idle mitigation system designed to turn off the diesel engine when the vehicle is idling. The ambulance switches over to a battery power system that keeps all essential systems, such as emergency lights, radios, and heat/AC, functioning.
Since ambulances and fire engines typically spend more time idling than actually driving, this system is considered to be a more sustainable model, significantly reducing emissions. It is projected to pay back its initial cost within 5 years of operation, based on savings for fuel and engine maintenance.

The idle mitigation system cost an additional $25,000. This cost was paid for by a Massachusetts Department of Energy Resources (DOER) Green Communities Competitive Grant, which was secured through the work of the town's sustainability coordinator, Stephanie Ciccarello.

This is one of the first hybrid ambulances to be used in Massachusetts. As the department prepares to order a new fire engine this year and another ambulance next year, the plan is to incorporate the same idle mitigation system into those vehicles to continue working to meet the town's sustainability goals.