Jones Library Building Committee Takes Shape. Meetings Will Be Recorded And Posted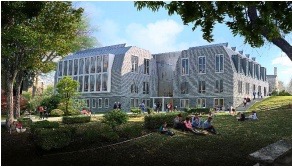 Report on the Meeting of the Jones Library Building Committee, January 12, 2022
Present
Paul Bockelman (Town Manager), Sean Mangano (Finance Director), Anika Lopes (Town Council), George Hicks-Richards (Library Facilities Supervisor), Alex Lefebvre (Library Trustee), Austin Sarat (Library Trustee), Sharon Sharry (Library Director), Christine Gray-Mullen (resident), Ken Guyette (Owner's Project Manager from Colliers).
In written public comment before the meeting, Amherst resident Terry Johnson requested that Jones Library Trustee meetings and Jones Library Building Committee meetings be recorded and posted to the web.  Town Manager Paul Bockelman responded that all Building Committee agendas, minutes, packets and video recordings would be posted to the Jones Library Building Committee website, maintained by the town.  Regarding the Trustee meetings, Director Sharon Sharry replied, "It's up to the Board of Trustees if they want to record their monthly meetings."
Newly elected Town Councilor Anika Lopes attended the meeting as the designated council representative.
The group decided to postpone electing a chair until after the committee is fully formed, as they are now down a member.  Bockelman agreed to chair the meeting in the interim.
Finance Director Sean Mangano reported that the Town will be receiving the $13.87 million dollars in grant money from the Massachusetts Board of Library Commissioners (MBLC) in installments after each of five milestones. Amherst has received between two-plus million dollars for meeting the first milestone of signing the MBLC contract.
Two financing approaches are being considered: spending grant money as it comes in or spending borrowed town funds and letting grant receipts accrue interest. The second option is currently being favored. An important factor is cash flow and how the relative timelines of up to four Town building projects will line up.
Ken Guyette of Colliers Project Leaders will be serving as the renovation/expansion Owner's Project Manager. He described his role as applying his company's technical expertise to keep the building project moving forward swiftly and expeditiously. He sees his first task as receiving and reviewing with the committee a proposal from Finegold Alexander Architects to undertake design work. The Building Committee expects to meet monthly after the early phases of the project but will be meeting every two weeks for now. The next committee meeting is scheduled for Thursday, January 27 at 4:30pm.