Public Voices Enthusiasm For A Temporary Moratorium On Large Solar Arrays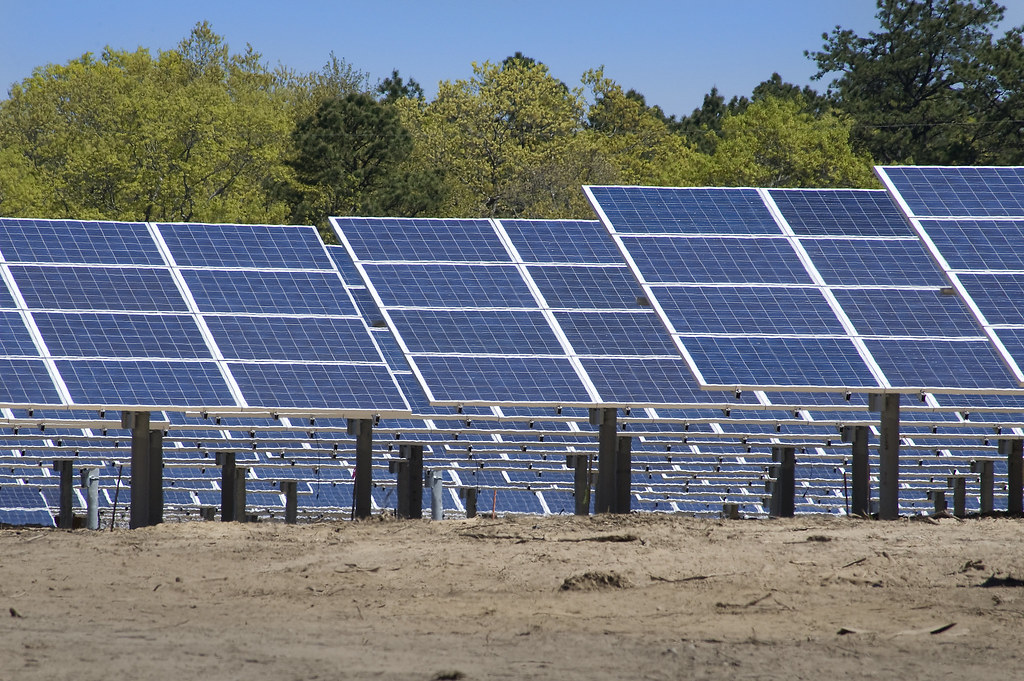 Report On The Public Hearing Of The Community Resources Committee, January 10, 2022
The meeting was conducted over Zoom and was recorded. All council committee meetings will be held over Zoom until April 1. Full council meetings will be held in person, but no public attendance will be allowed. The public can join over Zoom or by phone.
Present: Community Resources Committee (CRC) members Shalini Bahl-Milne (District 5), Pat DeAngelis (District 2), Mandi Jo Hanneke (at large), Pam Rooney (District 4), and Jennifer Taub (District 3)Moratorium sponsors: DeAngelis, Lynn Griesemer (District 2) and Ana Devlin Gauthier (District 5)
Staff: Assistant Town Manager Dave Ziomek, Planning Director Chris Brestrup, Sustainability Director Stephanie Ciccarello, and Clerk of the Council Athena O'Keeffe.
Sixty-eight members of the public attended the hearing.
CRC Chair And Vice Chair Elected
Since this was the first meeting of the Community Resources Committee (CRC) in this session of the Town Council, the committee had to elect a chair and vice chair. Council President Lynn Griesemer (District 2) conducted the election of the chair. Pat DeAngelis nominated previous chair Mandi Jo Hanneke, and Jennifer Taub nominated former Planning Board chair and newly elected councilor Pam Rooney. Hanneke was re-elected by a vote of 3-2 with DeAngelis, Hanneke, and Shalini Bahl-Milne voting for her. Taub then nominated Rooney for vice-chair, and she was elected unanimously.
Public Hearing On Temporary Moratorium On Large Scale Solar Arrays: Bahl-Milne Discloses Possible Conflict Of Interest
Prior to the opening of the public hearing, Hanneke stated the order of the proceedings. First, she would ask for any disclosures from councilors. Then the sponsors would give a brief presentation of the proposed bylaw followed by questions from committee members, then questions from the public. Afterwards, the committee would hear public comments for the moratorium and then comments against it. Finally, the council would continue its discussion and possibly delay deliberation on the matter until its next meeting. 
(Public hearings are capped at three hours in length. If the hearing is not completed in the allotted three hours the committee can vote to continue the hearing to another date.)
Bahl-Milne acknowledged a friendship with a developer of a proposed large-scale solar array, but said this relationship would not affect her ability to judge the proposed moratorium fairly.
Sponsor Presentation
Article 16 proposes a temporary moratorium on any large-scale ground mounted solar photovoltaic installations producing 250 kilowatts or more of power until May 2023 or until the town adopts a solar installation bylaw. The hearing began with a presentation by the sponsors. The original two sponsors, DeAngelis and Griesemer, were joined by newly elected councilor Ana Devlin Gauthier, who has previously served for three years on the Conservation Commission.
Griesemer emphasized that the proposed moratorium will not affect solar on rooftops or parking lots, but only large-scale ground mounted arrays on undeveloped land. She said that unlike surrounding towns such as Pelham, Shutesbury, Leverett, and Belchertown, Amherst does not have a solar siting bylaw, and this brief moratorium would give the town a chance to develop one. DeAngelis added that the town needs to balance the need for non carbon- based energy with ecological considerations, and a bylaw would guide the selection of sites to avoid the environmental disasters from erosion and run-off that some nearby communities have experienced.
Devlin Gauthier stated that the existing Zoning Bylaw is vague about solar arrays. There are no specific guidelines. Projects are approved by the Zoning Board of Appeals or the Planning Board by special permit or site plan review. The Conservation Commission only has jurisdiction over wetlands, vernal pools, and streams, not over other ecological parameters that would be affected by construction of a solar array.
A moratorium, she said, would permit the town to study its energy needs and develop specifications for solar siting. While the bylaw is being developed, developers of a proposed project could file a Preliminary Subdivision Plan that could "freeze the zoning" and exempt them from having to meet the requirements of the new bylaw. A temporary moratorium would prevent this loophole from being utilized. It would not prevent developers from beginning the approval process by doing preliminary steps, such as a wetlands survey.
In response to questions from CRC members, Planning Director Christine Brestrup said that the projects affected would be about one acre or more. She also said that a solar siting study for the entire town would require funding and would probably take six months to a year to complete. Sustainability Director Stephanie Ciccarello clarified that the Nitsch Solar Engineering Study was very limited in scope and only dealt with town-owned property, not the whole town.
Bahl-Milne voiced concern that a moratorium might prevent the town from achieving the climate goals in the Climate Action and Resiliency Plan (CAARP) developed by the Energy and Climate Action Committee (ECAC), but Devlin Gauthier noted that the CAARP recommends the creation of a solar bylaw.
In response to a question, Griesemer said that she would welcome a modification to the proposal in order to permit construction of solar canopies during the moratorium period.
Questions From Members Of The Public
Rani Parker wanted to know if the solar siting study would include effects of solar arrays on environmental, socioeconomic, and health aspects of the community. Ciccarello responded  that  it would include a complete consideration of all factors.
Elisa Campbell asked how the town can cut its carbon emissions in half by the end of the decade if large solar projects are not allowed for the next 18 months. Devlin Gauthier replied that a solar bylaw will take the town's carbon emissions goals into account and that one shouldn't assume that it would limit development of solar energy in town.
Lenore Bryck commented on the planned solar siting study rather than the proposed moratorium. She said she hoped the goals of the study can be posted on the town website and that the study can include scientists in related fields, not just in energy, and will be coordinated with statewide goals and programs. Ciccarello said she was advocating to create a working group of those with varied expertise in order to develop a solar bylaw and that there would be a public process to encourage feedback.
Janet Keller worried about the impacts of large scale solar developments on water resources, especially drinking water supplies. Devlin Gauthier said the Conservation Commission is responsible for much of this protection, but the town needs a more comprehensive picture, which a solar siting study would provide, and Ciccarello said she hopes the bylaw working group would include the wetlands administrator and/or a member of the Watershed Protection Committee.
Matt Roehrig and Phil Rich said they could not understand why anyone would oppose a moratorium. Roehrig cited a  letter from ZBA chair Steve Judge to the Planning Board for its December 15 meeting, stating the difficulty that the ZBA has in evaluating proposed large solar projects and the need for a consistent set of guidelines to protect both the town and developers. Devlin Gauthier said that the most common argument against a moratorium is that it limits the immediate development of solar energy when we need it most. She explained again that the moratorium will  not limit solar energy but will enable its development to be "responsible, robust and equitable."
Steve Roof thought the language in the proposed temporary moratorium "gives a negative connotation" to solar energy. He asked if the sponsors would be willing to change the wording to formally acknowledge the importance of solar energy in mitigating climate change. All three sponsors agreed to amend the language to be more positive about solar power.
Comments From Members Of The Public
Twenty residents spoke in favor of the moratorium, two in opposition. Each member of the public was permitted to speak for two minutes.

Ira Bryck said that the town needs time to develop a solar bylaw that will provide clarity, and avoid litigation and a battle of attorneys. He pointed out that Michael Pill, attorney for W D Cowls in the recently proposed Shutesbury Road solar project, has previously argued against large-scale solar installations proposed in Agawam and Hatfield saying that they were opposed by the neighborhood.
Gerry Weiss stated that there are many pluses to the moratorium and almost no minuses. He said, "If you believe we need a bylaw, why would you oppose a moratorium? If it's worth creating a bylaw, it's worth waiting to get it right." He also stated that Bahl-Milne should recuse herself from this deliberation and vote because of her friendship with W D Cowls owner Cinda Jones, which he said is a conflict of interest.
Nan Dill said the time invested now to develop a bylaw will pay off for generations to come.
Sharon Weizenbaum wanted to hear from those who are opposed to the moratorium, and singled out Bahl-Milne. She added that we should not harm ourselves to meet a climate goal.
Diana Stein said a moratorium is a prudent action to take to develop a bylaw and reduce the risk of conflict with applicants. She said the town is not now sufficiently protected from adverse effects caused by solar development. Eric Bachrach agreed that projects are now being evaluated without clear guidelines, so a moratorium is needed to develop these guidelines. He also pointed out that the state legislature is considering revising the restrictions that have protected the development of large-scale solar projects for the past 36 years.
Corinne Demas said she strongly supports solar energy, but that does not mean that a developer can install solar wherever he/she wants. She pointed out that some projects are driven by the profit motive, not by benefit to the climate, and that the town needs to explore the ramifications of each project.
Kitty Axelson-Berry brought attention to the fact that the town's Master Plan, which was renewed by the council last year, includes preservation of forested lands as an important goal, and that the CRC should immediately begin development of an implementation committee as required by the plan as far back as 2011 and long overdue. She stated that implementation of the Master Plan would help with questions like whether this moratorium should be put approved.
Lenore Bryck noted that over 40,000 acres of forests in Massachusetts have already been converted to solar, but this conversion is a relatively new process whose implications for disruption of the ecosystem have not been thoroughly studied.
Janet Keller voiced support for robust conservation in addition to development of solar energy projects.
Jane Scanlan-Emigh of Sunrise Amherst noted the harmful effects of unregulated solar development and the environmental costs of deforestation in the construction of large solar arrays. She stated that It can take hundreds of years for a forest ecosystem to recover.
Michael Hussin of Pelham pointed out that environmental concerns "don't always obey borders," and that a development in one town can have unforeseen consequences on neighboring towns. Therefore, he supports a moratorium
Support was also voiced by Meg Gage, Phyllis Lebanowski, Barbara Ford, Rani Parker, Charlotte Mullen, Martha Hanner, Jack Hirsch, Kathleen Bridgewater, Paul Robinson, and Renee Moss.
Speaking against the moratorium were Elisa Campbell and Steve Roof. Campbell said she is conflicted about the moratorium, not against it. She is concerned that Amherst is contributing to the global climate crisis. She added that the people suffering the most from climate change are not the ones who caused it, so we need to do our fair share to combat global warming. Roof stated that global warming is caused by burning fossil fuels, which also causes asthma and premature death. He supports developing a solar bylaw, but he does not think that a moratorium will make a bylaw better, and will delay a decrease in the use of fossil fuels. He said that Amherst has not been "lucky" in the solar projects it has already approved. It has been "prudent." The permits issued were based on "thorough evaluations using the expertise of relevant boards and committees."
CRC Postpones Deliberation Of The Moratorium Until The Next Meeting
Hanneke had some questions on the timing of the moratorium and the development of a solar bylaw. She said the May 2023 deadline for the moratorium is now only 15 months away, not 18 months as when it was proposed last November. She wanted to know how long it would take to develop a solar bylaw and to do a townwide solar siting study, and the likelihood that the moratorium would need to be extended. Brestrup and Ciccarello both felt six months to a year would be enough time to do the study and develop a bylaw. Brestrup also noted that the developers of the Shutesbury Road solar project might bring the project back in the spring and if a moratorium is not in effect they might  try to freeze the zoning so as not to have to comply with the solar bylaw when it is developed and passed.
Bahl-Milne said that according to the Massachusetts 2050 plan for carbon neutrality, Amherst will need about 335 acres for solar energy production. She said she worries about a moratorium causing a delay in meeting climate goals, and reiterated remarks that burning fossil fuels has disproportionately negative impact on poor communities. She pointed out that there are conflicting views on the moratorium, such as between Steve Judge of the ZBA and Steve Roof of ECAC.
A file of publications and presentations provided by Smart Solar Amherst regarding solar installations, especially in relation to development on forestland is included in the CRC packet.
The public hearing was closed at 9:40 p.m. The CRC will deliberate on the moratorium at its next meeting which is scheduled for Thursday, January 27 at 6:30 p.m.