Opinion: Just Because You Say It Does Not Make It So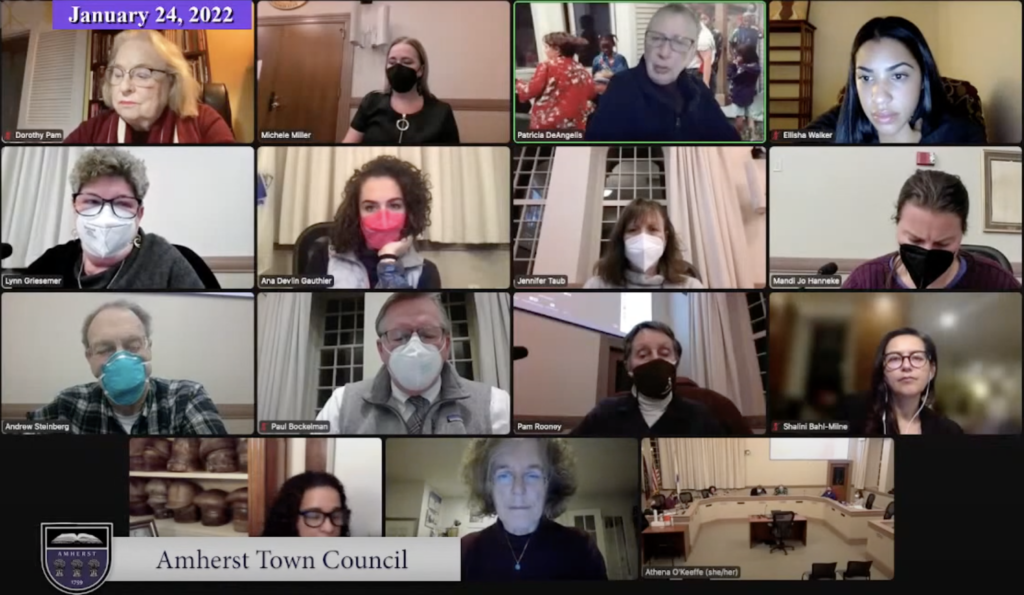 At the January 24 Town Council meeting, Councilor Mandi Jo Hanneke (at-large) again asserted that the council should meet in person because children have been attending school in person since April 2021 and there is minimal evidence of transmission of COVID-19 in school. 
There are several flaws in this argument, which Hanneke has used at several meetings (see e.g. here and here) in the past to push for in-person meetings. Not the least of the problems with the statement is that data do not exist to support the claimed lack of transmission of COVID-19 in schools, especially in the time of the Omicron variant. According to information released by the Amherst schools, there were 187 COVID cases among students and staff from January 3 through January 24. There were 20 cases in the schools for the month of December, and 67 students and staff were positive at the end of winter break. Although the town is doing contact tracing, they are not contacting everyone who tests positive, and specific information is privacy protected. I have not been able to find any data collected by the state or the town that would reveal where these positive cases originated, whether at school or home, so I doubt if Hanneke has that information either. We do know that students congregate without masks when eating in school, and not all are completely vaccinated.
Friends of my grandchildren (not in Amherst) have contracted COVID when others in their families have not, leading one to believe they acquired it at school, despite mask mandates at their school. And last week in Massachusetts, 28,151 students and 4,758 staff members in the public schools newly tested positive for COVID (see also here).
In addition, contact tracing and quarantining or requiring a negative test for close contacts (Test to Stay) are not recommended in the newly issued policies of the Department of Elementary and Secondary Education (DESE), with the change to weekly antigen testing being instituted in most districts this month. Amherst schools will be doing weekly pooled samples.
All this is to say that Hanneke is making a statement for which there does not appear to be any supporting published data. If she does have data not available to those in public health departments, she should make it public and cite her source.
Another problem with her argument is equating in-person attendance at school with in-person attendance at Town Council meetings. There has been clear harm to the mental health and educational progress of students as a result of long-term remote schooling. Although Hanneke and Councilor Andy Steinberg (at large) stressed their preference for in-person meetings, they can hardly claim the same benefits and tradeoffs to in-person council meetings as in-person schooling.
Also, in making their arguments, Hanneke and Steinberg ignored the risks that staff members with young children or vulnerable family members would be taking by needing to be in-person to support council meetings. They are entitled to evaluate their own comfort level for risk, but they and the four other councilors who voted with them, two of whom (Anika Lopes (District 4) and Shalini Bahl-Milne (District 5)) were attending remotely, essentially decided on the risk level to which the technical staff and Town Manager will be exposed.
Yes, under the adopted policy, councilors can opt to attend meetings remotely, as six did at this week's meeting, but the lack of concern for some of their fellow councilors and support staff who may feel subtle pressure to be present in Town Hall despite risk factors, as well as making claims about diminished risk for which there appears to be no support is shameful and selfish.
Maura Keene
Maura Keene is a retired obstetrician-gynecologist and a staff writer at the Indy. Her four children are graduates of the Amherst schools. She has lived in Amherst since 1982.