A Better World Is Possible:  The Corsi-Rosenthal Box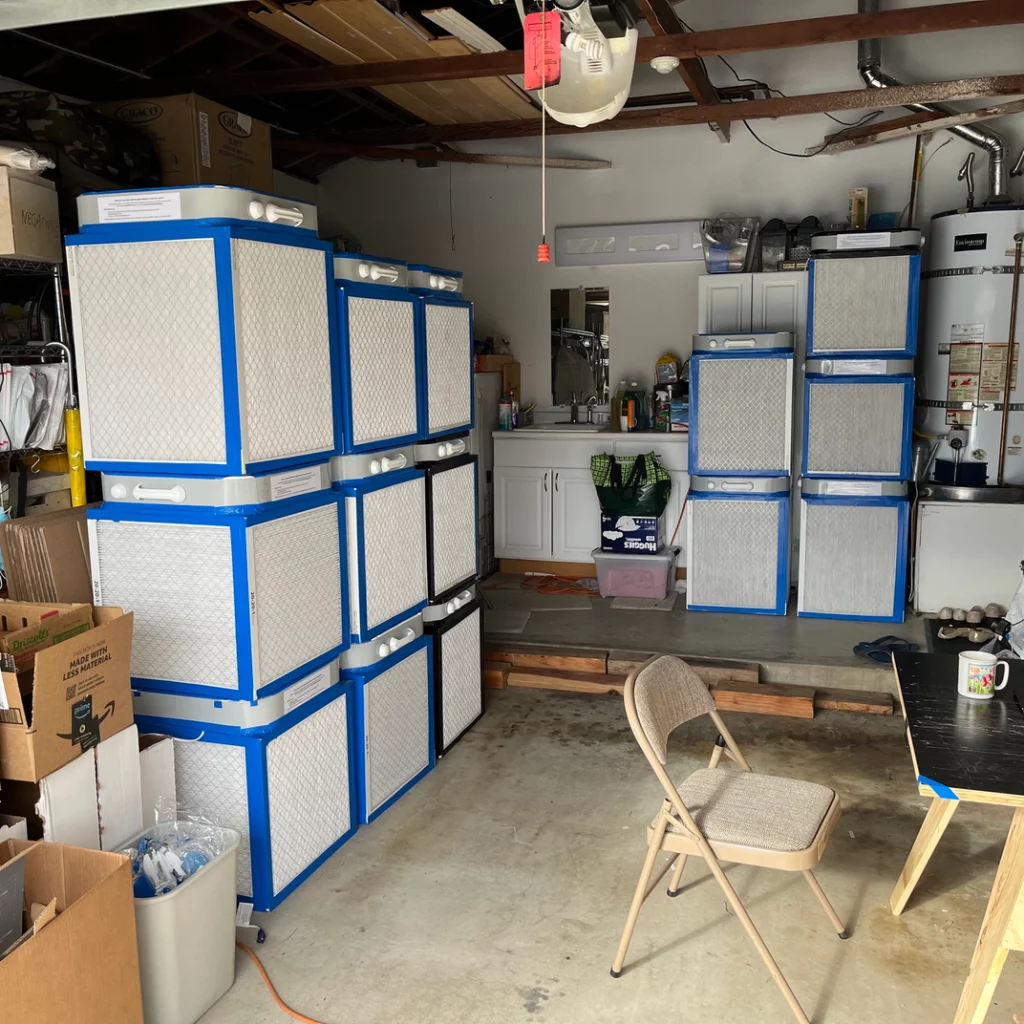 Early in the COVID -19 pandemic, scientists figured out that COVID-19 is an airborne virus and its spread indoors can be significantly reduced through good ventilation and air filtration. Two engineers, Richard Corsi and Jim Rosenthal, devised an easily constructed, do-it-yourself (DIY) air filtering system that could be built cheaply (under $100/unit) and that could significantly reduce levels of airborne viral particles in indoor settings by as much as 90%. The boxes can be used to augment existing air filtration systems or have a significant impact on their own. The device consists of five merv13 hvac filters and a box fan, held together by duct tape.  Corsi and Rosenthal posted their plans on social media.  The plans and the inclination to build the boxes went viral and over the next year and a half, volunteers fabricated thousands of boxes that were donated to schools, college campuses, offices, municipal buildings, and other places where people congregate.   The boxes became known as Corsi-Rosenthal boxes. Emerging studies suggest that they are especially effective in diminishing the spread of COVID-19 in schools.  The viral spread of the Corsi-Rosenthal box is testimony to what can happen when a good idea is widely and freely shared and, according to Smithsonian Magazine, an inspiring story of community resilience in the face of disaster.  In addition, the Corsi-Rosenthal Box FAQ notes that this inexpensive grassroots solution helps to ameliorate profound inequities in health risks between wealthy school districts with modern buildings and budgets than can accommodate the installation of expensive HEPA air filtration systems and resource-poor districts that often have older buildings with poor air filtration and for which installing HEPA filtration in the classroom is a budgetary impossibility.
Some Background (source: Wikipedia)
In August 2020, Richard Corsi, an environmental engineer and the incoming Dean of Engineering at the University of California, Davis (UC Davis), spoke with Wired reporter Adam Rogers about an idea he had for combining multiple store-bought filters with a box fan to improve the efficiency of home-made air filter designs. Rogers contacted Jim Rosenthal, the CEO of filter manufacturer Tex-Air Filters, who had collaborated with Corsi at the University of Texas and in the Texas chapter of the Asthma and Allergy Foundation of America, to run some tests on a single air filter attached to a box fan. Inspired by Corsi's idea to use multiple filters, Rosenthal later came up with a 5-filter design. Rosenthal named it after Corsi, although after a New York Times article mentioned the boxes by that name, Corsi tweeted that Rosenthal really deserved the credit, and that he preferred the name Corsi–Rosenthal Box.
The original Corsi–Rosenthal Box design consisted of five furnace filters, preferably of MERV13 or higher, which formed the sides and bottom of a cube. A 20 inches (500 mm) box fan is placed on top and duct taped to the filters, sealing the system so that air is drawn through the filters, up and out of the box. An updated design, also known as a Comparetto Cube, uses four filters and a cardboard base that can sit directly on the floor. Rosenthal later improved the design further by adding shrouds made of cardboard or similar materials to cover the corners of the box fan to improve efficiency and reduce backflow.
The filtration units can be assembled in around fifteen minutes, last for months, and cost between US$50 and $150 in materials.
According to Douglas Hannah, writing in Smithsonian Magazine, analyzing social media and news coverage gives a sense of the scale of the Corsi-Rosenthal box phenomenon. As of January 2022, more than 1,000 units were in use in schools, with thousands more in homes and offices. More than 3,500 people had used the hashtag #corsirosenthalbox on Twitter, and tens of thousands more contributed to the online conversation. News articles and explainer videos on YouTube had collectively accumulated more than 1.9 million views.
Efficacy (souce: Wikipedia)
Airborne virus particulates range in size from 1 to 50 microns (μm). Rosenthal used his HVAC company's testing equipment to run an informal test of the design, in which he found that around 60% of 1 μm particles were removed by the system, and almost 90% of 10 μm particles were removed. Clean air delivery rates (CADR) of a US$75 design were estimated at between 165 and 239 (depending on fan speed) in an August 2021 case study by UC Davis researchers. In October 2021, Corsi told GBH News that "People are now reporting 600 cubic feet per minute (280 L/s) in clean air delivery rates. That's phenomenal. That's actually better than a lot of the more expensive HEPA-based portable air cleaners"cleaners". A study of a home-built air purifier to remove wildfire smoke, using a box fan and filter mounted in a window, showed that particulate matter between 1 and 10 μm in size was reduced by about 75%. Wired wrote that this study may be suggestive of the efficacy of similar filters to filter virus particles similar in size to the particles studied.
Counts
I could not find any definitive listing of the total number of Coris-Rosenthal boxes in general use. This is to be expected as the construction and distribution has been the result of small, grassroots projects.  But anecdotal reports are suggestive. According to The School Library Journal, as of mid-January, a team from the  UConn School of Nursing had deployed 100 units to West Hartford Public Schools. As part of a second-semester class, students in UConn School of Engineering are building 200 more units to give to the Coventry Public Schools, and the UConn  School of Medicine is building another 100 for the Hartford community, including school systems. The engineering students will also run tests on their air cleaners and analyze the data as part of their academic work. Such projects have proliferated on campuses around the country as well as among municipal community service projects.  Such volunteer efforts are happening across the country. So an estimate of many thousands of boxes in use seems reasonable.
Additional Resources
How to build a Corsi-Rosenthal Box (with video).  See also here.

Smithsonian Magazine – Corsi_Rosenthal as a grassroots response to the pandemic

The Corsi-Rosenthal Box FAQ


---
A Better World Is Possible is a mostly weekly Indy feature that offers snapshots of creative undertakings, community experiments, innovative municipal projects, and excursions of the imagination that suggest possible interventions for the sundry challenges we face in our communities and as a species. The feature complements our regular column by Boone Shear, Becoming Human. Have you seen creative approaches to community problems or examples of things that other communities do to make life better for their residents that you think we should be talking about? Send your observations/suggestions to amherstindy@gmail.com. See previous posts here.