Jo Comerford, ACLU Push For Permanent Remote Access To Public Meetings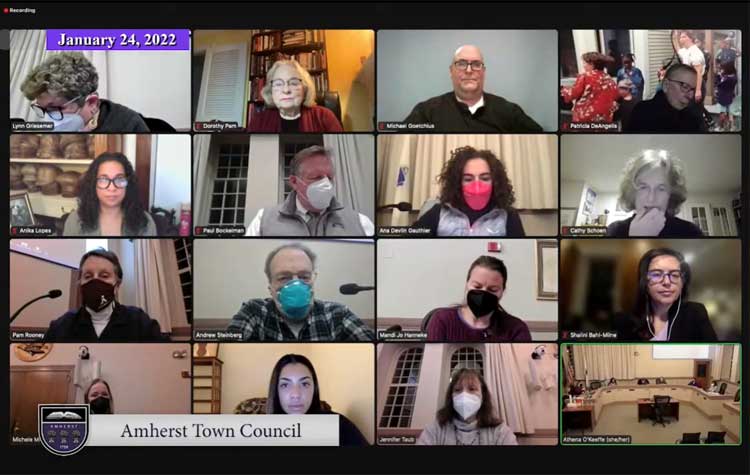 With the lifting of mask mandates and this Sunday's wrapping up of Sunshine Week, a national initiative to promote open government and freedom of information, politically engaged citizens may rightfully be turning their attention to the future of remote access to government meetings.
On Feb. 12 Massachusetts Gov. Charlie Baker signed special legislation extending permission for government bodies to conduct open meetings remotely through July 15, 2022. Since first being authorized in the state in March 2020, virtual public meetings have become recognized as a real boon to open government. With the introduction of Zoom webinar technology, public meeting participation has increased, board members can go on vacation and still attend meetings, reliance on carbon-emitting cars has been reduced, the need for participants to allow time to travel and find a parking place has been eliminated, and citizens can attend meetings and make public comments in their pajamas if they wish. This is all in addition to the original impetus for the rule change — promoting public health through social distancing.
A side benefit to virtual government meetings is that video recordings are easy to produce and publicize. If these recordings are posted on YouTube, which is a common practice in Amherst, meeting transcripts are automatically generated. The public no longer has to wait weeks or months for official meeting minutes to learn what has transpired at government meetings.
A plan to make remote access to government meetings permanent and strengthen recent changes to the Open Meeting Law is now pending in the Massachusetts Legislature. An Act to Modernize Participation in Public Meetings will require both in-person and remote access to government proceedings. The senate version of the bill, S.2082, is co-sponsored by Amherst's State Senator Joanne Comerford, while 3rd Hampshire District State Representative Mindy Domb is one of sixty-two petitioners behind the house version, H.3152.
Among groups endorsing the legislation are the Massachusetts Municipal Association, the New England First Amendment Coalition, the Massachusetts Newspaper Publishers Association, Common Cause and the Massachusetts Chapter of the American Civil Liberties Union (ACLU).
Declaring that "Remote Access = Equitable Access," the Mass. ACLU offers an action page helping citizens urge their legislators to support the bills.
A related bill, An Act Updating the Open Meeting Law to Support Remote Participation (S.2104/H3213), with co-sponsors including Comerford and 1st Franklin District Representative Natalie Blais, stipulates that "Documents used for any such [remote government] meeting should be made available to the public before or at the time of the meeting of the public body."
This requirement raised an objection from Amherst Town Councilors Lynn Griesemer and Mandi Jo Hanneke and former councilor Alisa Brewer. In a memo dated April 12, 2021, they expressed concern about "the ramifications" and asked Comerford and Domb to replace the wording with "Documents used for any such meeting should be made available to the public members of the public body before or at the time of the meeting of the public body." It is not known whether, after an additional year of conducting remote meetings, Griesemer and Hanneke continue to hold this opinion.
The Town of Amherst's embrace of remote meetings has largely been exemplary. Zoom links are posted in the public meeting notices and included in agendas, packets of meeting materials are easy to find on each Board or Committee web page, and meetings are routinely recorded with videos posted to the Town's YouTube channel the following Friday. Town Council, Planning Board, Finance Committee and School Committee recordings are managed by Amherst Media.
Local School Committee transparency during the remote meeting period has also been good. Though the Boarddocs platform to which the schools migrated their meeting archives beginning in June 2021 takes some getting used to, the information is there. The School Committees also led the way in making publicly available all public comments received. The Town Council implemented a public comment portal in September 2021.
The transparency practices of the third division of Amherst government, the Jones Library, leave room for improvement. Agendas and packets for meetings of the Board of Trustees and its subcommittees are listed on the Library's Agenda Center page. Posted packets often omit materials that have been emailed to board members prior to a scheduled meeting. And after a one-month trial in November 2021, the Board of Trustees has discontinued video recording its meetings.