Shabazz Resigns From Board Of Registrars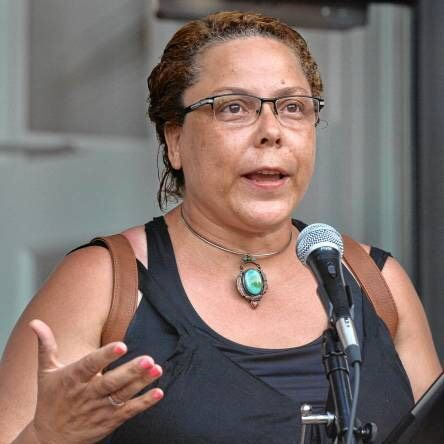 In a memo dated March 7, Town Manager Paul Bockelman appointed Demetria Shabazz to the town's newly created Community Safety and Social Justice Committee (CSSJC). Shabazz responded to the appointment by saying that "it's an exciting moment to work with a group of people to shape and define this much-needed service in our community that is growing from the ground up. Our town is on the cutting edge of human empathy in these times in how we are developing new, people-centered way of creating safety and justice for all. I am eager to join with the other members of the CSSJC to support the work of our new Diversity, Equity, and Inclusion (DEI) Department, the Community Responders for Equity, Safety, and Service Program (CRESS), and, more broadly, the needs of every community member, especially the disabled, the most vulnerable, the neurodiverse, our immigrants and LGBTQIA folx, as well as indigenous people and those of African, Asian and Latinx heritage."
For Shabazz, the appointment to the new public service role is a bittersweet development. In the same letter appointing her to the CSSJC, the Town Manager asked her to step down as Chair of the town's Board of Registrars (BOR). He states that he determined that state law (MGL Chapter 51 Section 25) prohibits her from continuing to serve on the BOR while holding another town office.*
Section 25 states that anyone appointed as a registrar cannot hold another "office" either elected or appointed, in the city for which they are a registrar, but they can serve as a member of a home rule charter commission or be a member of town meeting.
Shabazz has resigned from the BOR, and regrets having to leave at the very time when she had begun to work with Town Clerk Sue Audette to create an election FAQ that would make town election procedures more transparent for voters. Shabazz noted that while she had unfinished business on the BOR, she prioritized appointments to the CSSJC because that committee is in a position to have a substantial positive impact on the town in its relationship to two newly organizing efforts in the town. She was part of a grassroot wave of residents calling for change as well as in the research leading to the recent governmental decisions regarding equity, justice, safety and community-building in Amherst.
At the time of her resignation, Shabazz was the Chair of the BOR. She was elected to that position after she convinced Audette to compare Amherst to other towns and find out at the state level if the town clerks typically held the position of BOR chair; a stance that the BOR had taken since the Clerk's office disqualified a large number of signatures on the voter veto petition to reconsider borrowing for the Jones library expansion and renovation in May of 2021. (see also here). Audette eventually scanned the practices in other towns as well as researched previous town clerk policies and confirmed that a chair should be elected from the BOR. Shabazz said that the role of the board is to ensure that elections happen in a fair and orderly fashion and she hopes that whoever is appointed to replace her will be an advocate for transparency.
Co-founder and executive director of Seven Generations Movement LLC, Shabazz's consulting firm helped inform the deliberations of the Community Safety Working Group which made the recommendations the Town Council and Manager acted on in creating the CRESS program and the new DEI position being searched for now. A director of the CRESS program was recently hired and both units will go into operation this year. To follow the work of the CSSJC see the website on the Town of Amherst at https://www.amherstma.gov/3639/Community-Safety-Social-Justice-Committee