Amherst Invitational Ultimate Disc Tournament Returns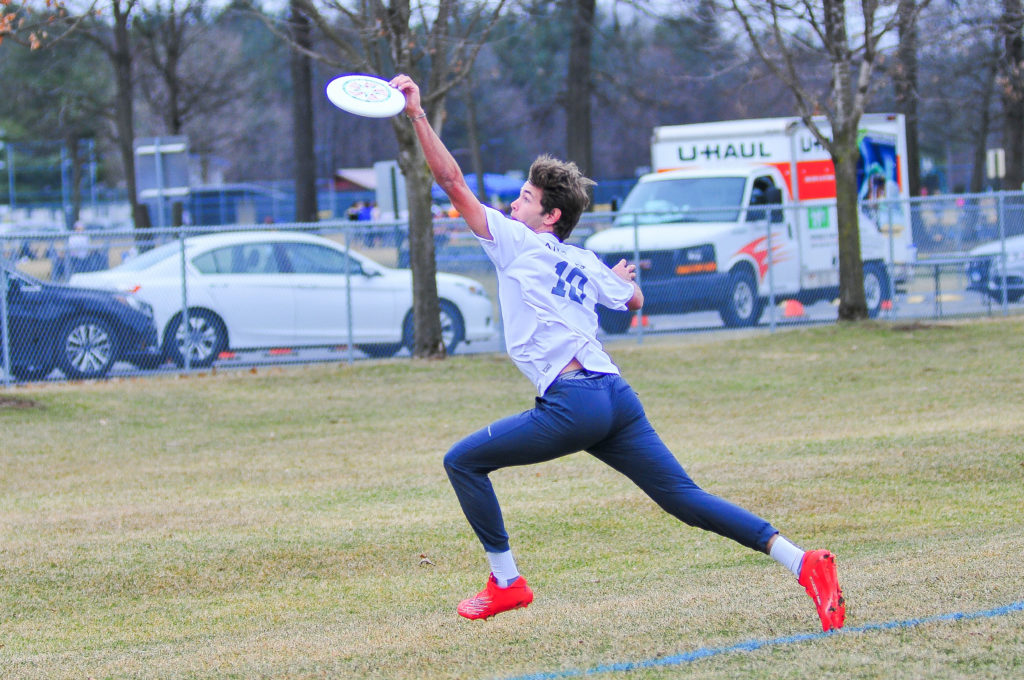 This Ultimate Frisbee Tournament Brings 26 Teams To Play In Granby On May 7 and 8, 2022

Source: Amherst Ultimate
Twenty-six teams, including all of the nationally-ranked teams from Massachusetts, will be coming to play at the Amherst Invitational Ultimate Tournament on May 7 and 8. This year all games will be played at the MacDuffie School in Granby.
Amherst Regional's own boys' varsity team is ranked 3rd in the country by Ultiworld, a website devoted to the sport of Ultimate Frisbee. Amherst Regional's girls team is ranked 9th in the country by Ultiworld. Other top ranked boys' teams at the tournament from Massachusetts include Lexington (14) and Four Rivers Charter School of Greenfield (16). On the girls' side, the Four Rivers team is ranked 7th.
Other local teams include Northfield Mount Hermon girls, Northampton High School boys and girls, Pioneer Valley Chinese Immersion Charter School (Hadley), and Monument Mountain High School.
Amherst has two teams in the girls' division, both its varsity and junior varsity. In the open division, there are four teams; varsity, junior varsity A, junior varsity B and Amherst Middle School.
The last Amherst Invitational tournament was held in May 2019. It was not held in 2020 and 2021 due to COVID. Amherst boys won in 2019.
Amherst boys' coach Joe Costello said he is optimistic for his team this year. The team has played in two college-level tournaments so far this year and been successful. At the Northeast Classic in Saratoga Springs, the boys won all of the eight games played, including defeats of Yale University and Amherst College. The team chose not to participate in the finals, feeling eight games was enough for one weekend and wanting to avoid further injuries, Costello said.
In the second tournament, Lemony Spring in Warwick, RI, Amherst boys collaborated with Northampton High School's boys' team as a way to increase skills and dismantle cross-town rivalry, Costello said. They were less successful at this tournament, but all the games played were close, he said.
Amherst girls' coach Dan Kaplan said this is a rebuilding year. He said he is impressed with his team's great attitude.
"They are excited about playing Frisbee together, supporting their teammates, and improving together as a team and as individuals. They are very competitive. They want to win and they want to be happy,'' Kaplan said.
Where And When To Watch
The tournament events will start Friday, May 6, at 7 p.m. with a demonstration game featuring professional women and non-binary players as well as players from the Amherst High girls team. This game will be played at the Amherst Regional field. The game will also feature ARHS alumna who have gone on to play professional ultimate Frisbee.
On Saturday and Sunday at MacDuffie School in Granby, spectators are encouraged to watch the action and entry is free. Games will be at 9 a.m., 11 a.m., 1 p.m. and 3 p.m. on both days. The 1 and 3 p.m. games on Sunday will be the girls and open division finals.
For those who aren't familiar with the game, points are scored by passing the disc down a football-sized field and into the other team's end zone. It is not unusual to see a player leap into the air or dive to the ground to catch or block a disc. There are no referees. Players themselves call the fouls and when there is disagreement, they work it out through discussion of the rules.
For more information, contact tournament co-director Jim Pistrang (Amherst Regional Middle School coach) at 413-237-5710 or at jim@jpcr.com. More information is available at http://amherstultimate.org/amherst-invite/