Letter:  Follow The Science.  Fort River Is The Best Site For A New School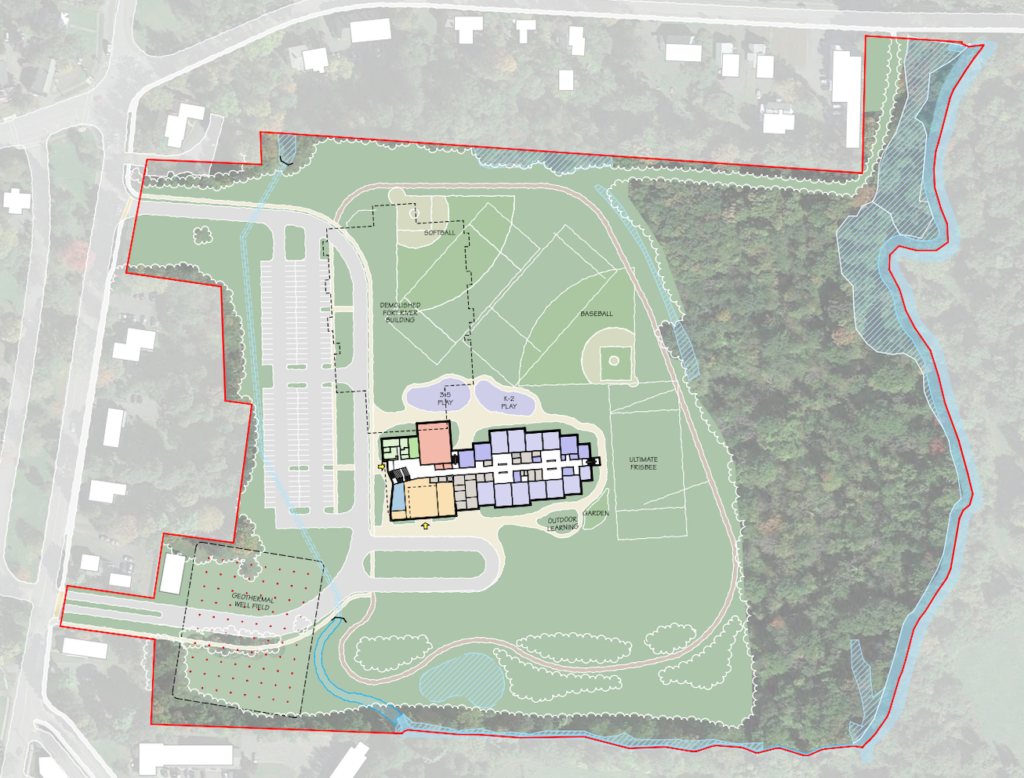 The following letter was sent to the Elementary School Building Committee on May 13, 2022
For the reasons detailed below, I want to strongly advocate for choosing Fort River as the site for the new elementary school.
Outdoors
Science tells us to encourage kids (and adults!) to spend more time outside, not on screens or passively observing nature through windows. Fort River is far superior to Wildwood in providing copious, green outdoor space, including many acres of playing fields. The easiest and best way to get more daylight is to actually go outside! 
Kids need outdoor space now more than ever, and there is plenty of it at Fort River that would be accessible to all and provide learning opportunities that Wildwood simply can't match because of the steep slopes to the north, east, and south. There will be many diverse environments right on-site, both natural and engineered to manage stormwater – an educational opportunity in itself. There will be multiple playing fields that can be used for games (ultimate, soccer, softball, etc) as well as room to run around or sit in the sunshine with classmates. All play areas will be safer and healthier as, unlike at Wildwood, they can be completely separated from traffic, driveways, parking, and the emissions from the vehicles using them. If/when the next pandemic strikes and that warrants shifting to outdoor classrooms, there is more than enough room to accommodate as many tents or other outdoor areas as desired – you just can't do that on the size-limited WIldwood site.
If you visit Fort River after school hours, you will see scores of people using the playing fields, both for organized sports and informally as a place to meet old and new friends. It is a much used and needed resource for the town. The Fort River school and grounds would continue to be gathering places for all of Amherst, a vibrant green space with excellent indoor facilities to complement that. If Fort River is not chosen for the school however, these community fields are very much at risk because the town may sell, lease, or use this property in ways that limit access to it or fail to maintain and improve this resource. Although it is not the specific charge of the ESBC, its decision about the site will likely impact whether this resource remains a town asset or not.
Site Work
The geotechnical and civil engineer consultants have provided clear and compelling evidence that Fort River and Wildwood share similar, and solvable, issues with groundwater, soils, and stormwater. The approaches to addressing these problems are different in some aspects (raising the grade at Fort River versus replacing more than 10 feet of fill, excavating part of a treed hillside, and adding a retaining wall at Wildwood). Other recommendations are very similar – the possible need for rammed aggregate piers, drainage, and diversion of stormwater in bioswales, moisture barriers, etc. 
Comprehensive floodplain mapping studies were completed between 2009 and 2017 to update decades-old maps. LIDAR and aerial photography were used to produce much more precise and accurate data on topographic lines and hydrologic analyses were conducted to determine peak discharge (including that of the Fort River). The resulting maps have been subject to review for several years now. The old map did not conform to the science. That is why the new maps show the floodplain's actual position that corresponds to the topography of the site and the course of the river and brook, far from any anticipated construction areas. The "wetness" of the fields — common to many playing fields around Amherst — has to do with poorly-draining soils that can/should be mitigated with improved drainage.
DiNisco is now the third design firm that has advised the town that building at Fort River is not only feasible, but building at sites just like Fort River is commonplace throughout our river valley. UMass, other school districts and municipalities, private owners, and businesses have all built in similar conditions. We can, and should, too.

Climate Action
Amherst should be proud of its Net Zero Bylaw and other climate goals. The construction of a 50+ year municipal building is exactly the opportunity we must take to turn those promises into reality.
The consultants have made it clear that to reach the goal of Energy Use Intensity 25, ground source heat pumps (GSHP) must be employed as part of the HVAC system. This will provide a building that is more energy-efficient, needs fewer solar panels, and requires less frequent maintenance than air source heat pumps. Essentially, they have advised that if you can do GSHP, you should do GSHP, and the projected lifetime costs are essentially the same. GSHP is an upfront investment that the science tells us is worth it. UMass and Smith College have come to this conclusion, and so should the Town.
It is also clear that geothermal well fields are far easier to site at Fort River. Using the Wildwood site would either require complicated and costly construction phasing to be on-site, or an agreement with the Regional School District to use their middle school fields. It is not clear whether the MSBA even allows the latter and, even if it does, whether a contract is feasible, financially advisable, or subject to future risk. Additional geotechnical analysis and mitigation of this poorly draining field would also be required, and will almost certainly be outside the scope of MSBA reimbursement.
In short, there are many hurdles at Wildwood that I believe make GSHP there unrealistic, which would suggest that air source would likely be the system used. If the committee were to choose Wildwood with the promise of GSHP but then pivot to ASHP (because of higher complexity and costs at this site) after the preferred solution was locked in, it could be viewed as a bait-and-switch tactic.
Traffic
The traffic study has pointed out the benefits of having two driveways from the school onto the adjoining town streets. Fort River already has that and DiNisco's team has demonstrated that adding a second driveway at Wildwood is not feasible due to the steep slope and limited sight lines on Strong Street. The only improvement that might be possible for Wildwood is a roundabout at the one entrance which will not correct this deficiency. It would also come at significant cost to the town and without MSBA support. 
People who live in south-east Amherst would need to traverse the intersections near South East Street whether they were traveling to Wildwood or Fort River. Therefore, the recommended improvements here would likely need to happen no matter which site was chosen. On the other hand, the traffic improvements recommended at Wildwood would not be necessary if the school were sited at Fort River.
Summary
The studies and science are clear and compelling. Fort River offers many advantages that are simply not available at Wildwood. Rather than going to great lengths to make Wildwood less problematic or, worse, compromise on climate and outdoor learning, I urge the Elementary School Building Committee (ESBC) to select Fort River for the new school. 
It is critical to make a decision now that will enjoy the support of the broadest possible audience. Furthermore, the only way to guarantee the continued use of the much needed fields at Fort River as a community resource is to choose this site for the school. All the advantages of a new building will be available at Fort River and with none of the sacrifices and compromises necessary at Wildwood. The ESBC, representing the interests of the school and the town, has the power to bring us together now in support of this project. Choosing Fort River for the school site is one very important way to do that. 

Maria Kopicki

Maria Kopicki is a resident of Amherst.