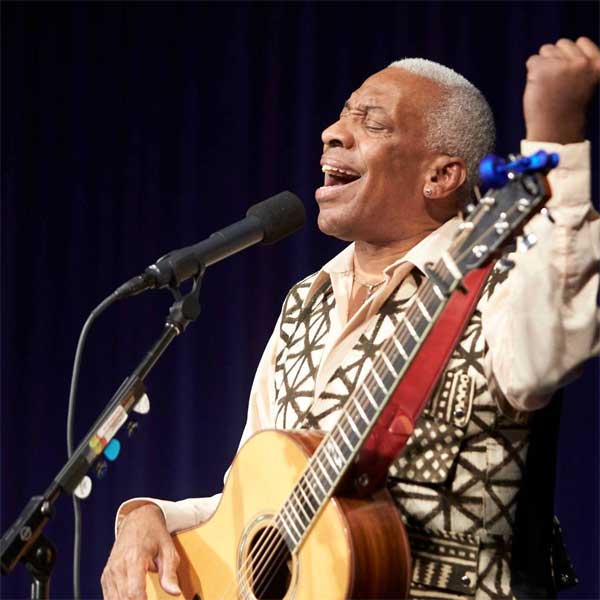 On Saturday, June 4 at 7pm, the venerable Pioneer Valley Folklore Society Song & Story Swap will feature veteran folksinger and social activist Reggie Harris as special guest. After online participants have been invited to share a song or story on the topic of Perseverance, he will give a 45-minute concert.
Reggie Harris is a singer-songwriter, storyteller and world-renowned song-leader who is a powerful interpreter of the global music narrative. An inspirational entertainer and concert artist, Reggie is recognized for using his art to advance inclusion and the struggle for human rights using the lessons of history as a base. As an expert on the music of the Underground Railroad and the Modern Civil Rights Movement he is at home on stage as performer, lecturer, or leading discussion in seminars or in the classroom.
Known for over 40 years as one-half of the prominent duo, Kim & Reggie Harris, Reggie continues to crisscross the country, carrying the message of joy, unity, tolerance, and peace through the powerful medium of live music.
The June 4 Song & Story Swap will be conducted as a Zoom online meeting. To register for the event, go to https://pvfs.us/register-for-swap or visit https://pvfs.us and click on the "Register" button at the top of the page.
The Zoom event is limited to 100 attendees. The swap will also be broadcast over YouTube Livestream at https://pvfs.us/livestream-swap beginning on June 4 at 7pm.
The Song & Story Swap, now in its 27th year, is hosted by Amherst musician Paul Kaplan and is open to members of the public of all ages. Admission is free, with a suggested minimum donation via virtual tip jar to the artist of $7.50.
People of all ages gather to share stories and songs that are traditional, newly written, or of personal experiences. You can tell, sing, or lead everyone in singing, or request a song or story. Listeners are welcome.