Letter: It's Time To Step Up And Save Democracy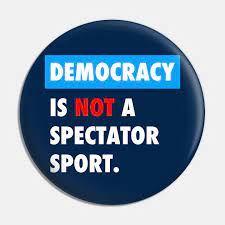 Even though we knew it was coming, how outraged were we, when the word came down that SCOTUS took our reproductive rights away? Last week I wrote a letter to the Amherst Indy, full of steam and self-importance. Of course, writing an angry letter has limited satisfaction: it's like hitting a wall, hoping the wall will be deeply hurt.
It's clear that we are viewing an atrocity of political overreach, with more ugly chapters and losses to come, in real time. So, we are going to have to get creative. And we are already seeing some creativity on behalf of women: plans for mobile medical units on red state borders with abortion pills; support from the DOJ to protect interstate travel for women, residents of (momentarily) "safe" states creating underground passages and safe houses, etc.
I wish it were enough that 2/3 of the nation is on the side of reproductive choice, but it isn't. We have to impress upon the Democratic leadership to stop being so polite and agreeable while wrinkling their noses at this catastrophe. The GOP has long been plotting to turn this country into a white supremacist Christo-fascist state in broad daylight; the time for action was decades ago. In addition to lighting a fire under mainstream Democrats, we also must endeavor to recruit a large number of the 80 million NON-voters to participate in this club in which we are all members. America is a club with rights and privileges: members must pay their dues and stop being by-standers.
Without the non-voters joining with the voters, I shudder to think what will happen to legitimate votes in the shadow of gerrymandering, voter suppression, intimidation, and registration purges. So each of us has to reach out to the indifferent and the hopeless, and present the mission: help save democracy! We do not have the luxury to hear anyone callously say: "Democracy? Oh well – I wasn't using it anyway." We each have to do something – write cards to voters, make calls, donate to Planned Parenthood and/or candidates who support our humanity, help with voter registration in a purple state. Remember what Gandhi reminded us: "Whatever you do in life will be insignificant but it is very important that you do it because you can't know. You can't ever really know the meaning of your life."
Reluctance and resistance are natural. It's been written that someone once asked, "Let this cup be taken from me". Whether true or not, it's an inspirational story, someone feeling unworthy to a mighty task nevertheless showing up for duty. But if we are a democracy, we are all deputized by this crisis. We, the posse for rights restored, will do small things, but we'll do them together. I'll see you on the front lines.


Dinah Kudatsky
Dinah Kudatsky is a resident of Amherst