School Building Committee Chooses Design-Bid-Build Procurement Method, Considers Sustainability Certification And Site Plan Options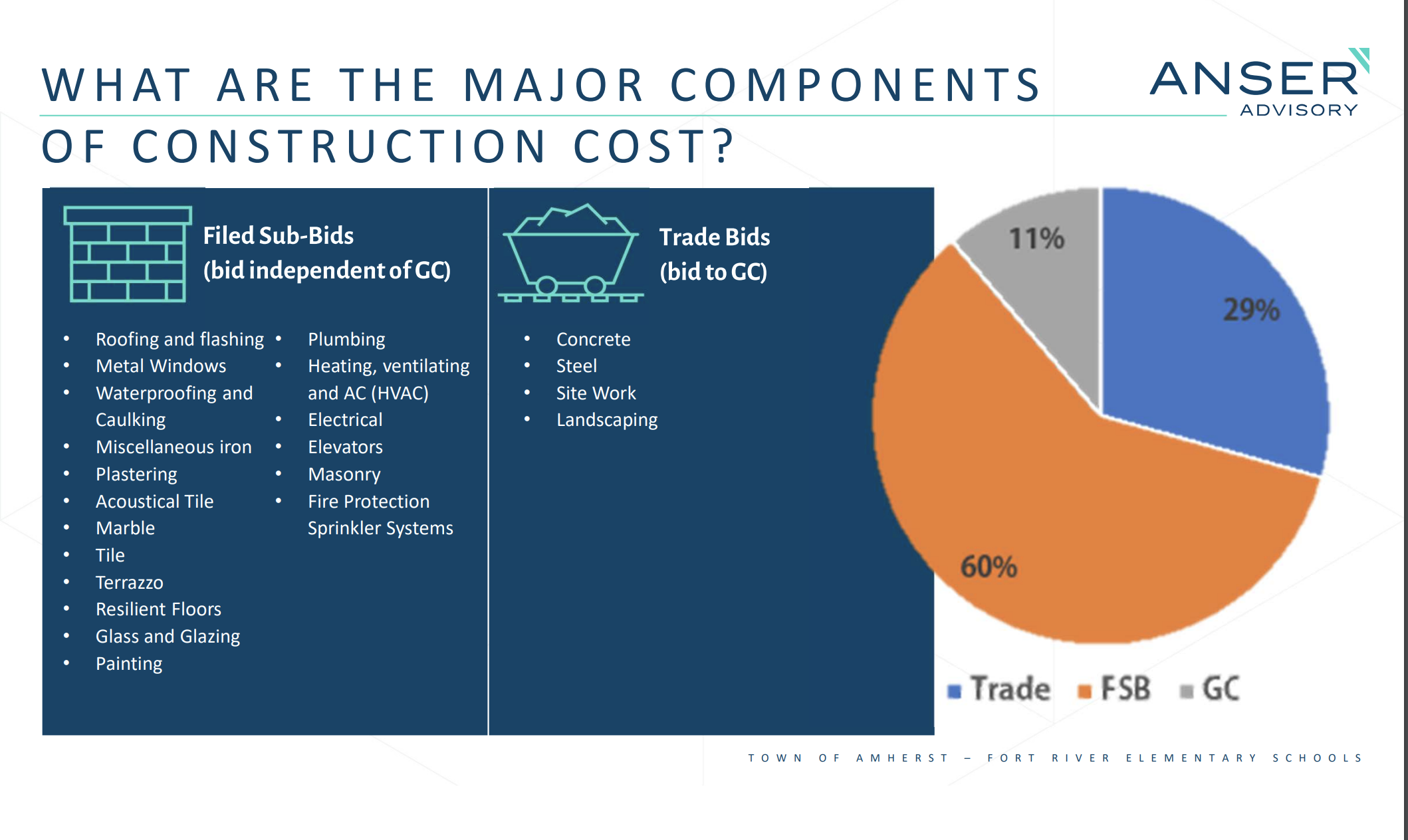 The Elementary School Building Committee selected the Design-Bid-Build (DBB) procurement method for Amherst's project at their July 29 meeting. Also discussed at this meeting were the two possible sustainability building standards and some new options for site plans at the Fort River site.
The committee had discussed the two procurement methods (DBB and Construction Manager at risk, or CMR) at their previous meeting on July 15. Those presentation materials are available here. DBB was described as the "traditional method" in which the lowest price offered by qualified bidders is awarded the construction contract. The plans and specifications of the designers must be met by the builders. In the CMR method, the builder develops those plans with the design team and offers a guaranteed maximum price for the completed project. DBB is well suited to less complex, new construction and has a lower base contract cost while CMR is generally favored for those involving phasing, occupied buildings, and challenging logistics and is associated with higher total project costs. Both Anser (the Owner's Project Manager, or OPM) and DiNisco (the designers) have experience using each method.
Committee members were unanimous in their vote for DBB, citing the large difference in cost estimates ($97M for DBB and $106M for CMR). Design lead Donna DiNisco emphasized that the design team would provide explicit construction documents and would hold the contractors accountable for their work. OPM Margaret Wood indicated that they may bring on an additional team member to make sure that work involving the geothermal wells and photovoltaics are coordinated properly.
The Massachusetts School Building Authority (MSBA) requires that its projects be either LEED-S (Leadership in Energy and Environmental Design) or NE-CHPS (North East – Collaborative for High Performance Schools) certified. LEED credentialing is more commonly known/used with a process that is familiar to contactors and is more streamlined in terms of documentation. NE-CHPS is geared specifically for schools and mandates policies, operational processes, and curriculum with a more intense and generally longer review process. The presentation materials describing the credentialing options can be found here. DiNisco indicated that certification costs for the two options are similar (~$20,000). The ESBC will need to select which one they will pursue in the coming weeks.
Tim Cooper of Dinisco presented some additional site layout options having to do with the location of outdoor play structures and learning spaces, playing fields, and on-site roadways for pick-up/drop-off. These drawings are also available in the presentation materials. The committee will discuss site layout further in future meetings.
The video of the meeting can be viewed here. The committee's next meeting is on August 12 at 8:30am.