Affordable Housing Forum Previews Projects For East Street School And Belchertown Road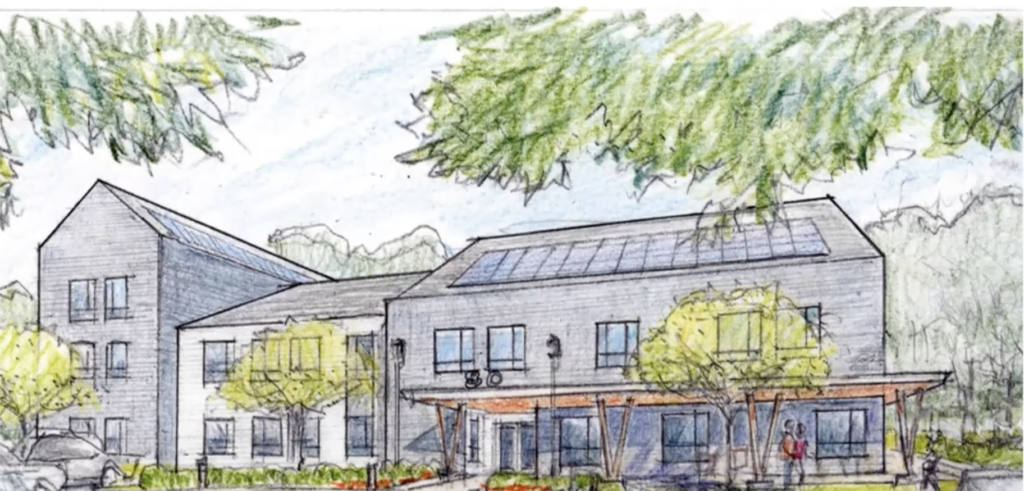 Amherst Municipal Affordable Housing Trust (AMAHT), the League of Women Voters of Amherst, and the Amherst Affordable Housing Coalition sponsored a forum on affordable housing September 13 to update the public on AMAHT's initiatives and to introduce the planned affordable housing projects at the East Street School and on the town owned property at 72 Belchertown Road. The Forum was held on Zoom and was recorded. The recording can be viewed here.. About 40 members of the public attended.
AMAHT co-chair Erica Piedade provided an introduction to the trust and a summary of its missions. She stated that low-income renters are being priced out of the Amherst market and of those who do rent in Amherst, 57% pay more than 30% of their income in rent. Because of high rents, Amherst has seen a marked decline in young families with children over the past 20 years. The 2019 Housing forum recommended the creation of 250 housing units for low-income residents, including 50 homeownership opportunities and 50 units for seniors. Although some new units have been created and others are in process, this goal has not been met.
Piedade stated that AMAHT's goals are to foster the growth of affordable housing in Amherst, support the homelessness prevention initiative, and promote sustainability in housing. She urged residents interested in the trust's activities to join the trust's mailing list by submitting their name and email address to staff liaison Nate Malloy at malloyn@amherstma.gov
East Street School And Belchertown Road Projects
Way Finders has been selected to develop affordable housing on the town-owned properties at the East Street School and Belchertown Road. Way Finders was founded 50 years ago and currently manages over 800 units of affordable housing in Western Massachusetts, including 27 units at Butternut Farms, which opened in Amherst in 2011 and 42 units at Olympia Oaks which was completed in 2014. According to President and CEO Keith Fairey, Way Finders also supports 200 unhoused individuals and gives support to 5500 households in the area. Need for housing support rose markedly during the pandemic and with the expiration of many support programs as the pandemic wanes.
In addition, Way Finders worked with the Donahue Institute to create the Greater Springfield Housing Analysis in 2021 which showed the need for 17,000 more housing units for low income residents in the area. As an example, Fairey said that there were 1500 applicants for a 38-unit project completed in Holyoke last year.
Way Finders Senior Vice President and Property Asset Manager Faith Williams pointed out the ancillary services offered by Way Finders to its residents. She said Way Finders works with local organizations such as the Amherst Survival Center, Amherst Recreation, Baby Berk, Amherst Public Schools, the Jones Library, and Healthy Hampshire to provide needed services to its tenants. It also sponsors a first time homeowners' program, and tenant and landlord education. Williams said that residents of the new projects will be selected by lottery, and those not chosen will remain on a waiting list.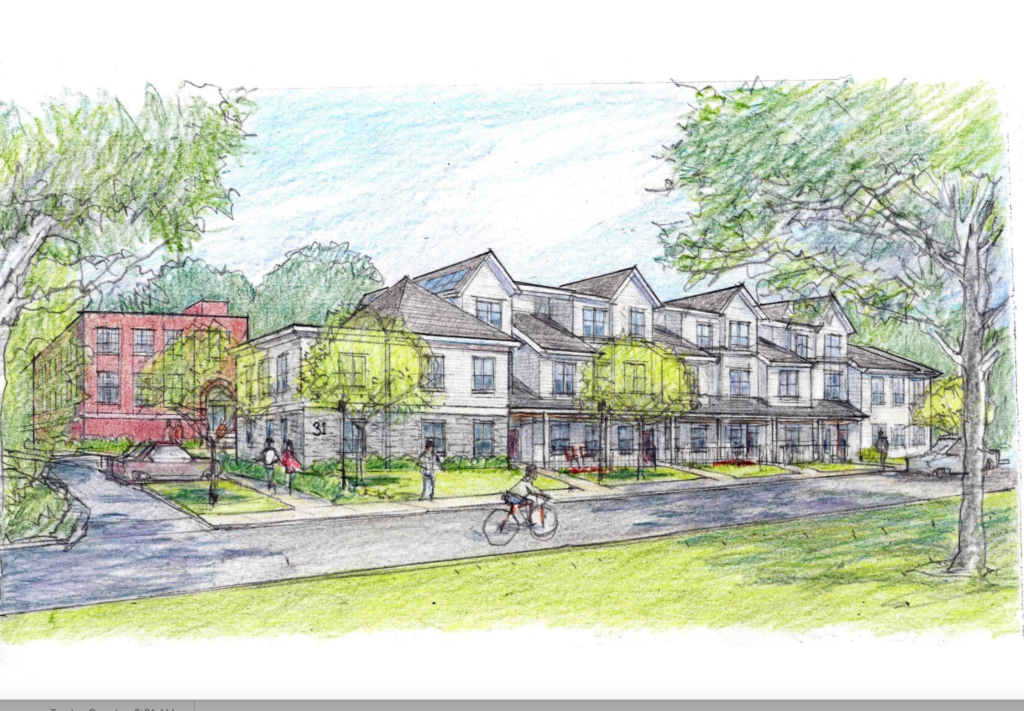 At the East Street School and Belchertown Road Project, there will be 70 units of one-, two-, and three-bedrooms, 29 units at the East Street School and 41 on Belchertown Road. Both buildings will meet passive house standards and have rooftop solar panels. The architecture firm is Narrow Gate Architecture. Center for Eco Technology is consulting on the sustainability.
Of the 70 units, 18 will be for those earning 30% of area mean income (AMI), 27 for those earning 60% of AMI, 15 for workforce housing (100% of AMI), and 10 at market rate. Tenants in the affordable units will pay 30% of their income in rent. All utilities are included in the rent.
To proceed, Way Finders must obtain a comprehensive permit from the Zoning Board of Appeals. They are applying for funding from the Department of Housing and Community Development. Hopefully, construction will begin in 2025 for occupancy in 2026 or 2027.
Architects Bob Wegner, Andrew Bengtson, and Sarah Briggs reviewed the preliminary designs for the two buildings. At the East Street site, the existing school was incorporated into the design with a new addition at the front of the site. The traditional New England style is meant to blend with the surrounding neighborhood. The Belchertown Road site is planned to have a single building in the New England barn style. In response to previous suggestions from AMAHT members, the 50-space parking lot has been moved to the rear of the building. Both sites have community space, both indoors and outside.
Martha Alvarez, a resident of Olympia Oaks and a member of the Way Finders Board, praised the organization for its support over her many years of residence. Francine Rodriguez, Director of Family Outreach of Amherst, emphasized the need for projects such as those presented at this forum. She said that families are being pushed out of Amherst because they can't afford to live here.
In response to questions from the audience, Fairey said that Way Finders has not decided on whether Amherst residents will be given preference for the new developments, but will work with the community to formulate a policy. He said that households composed of only full-time students are not eligible for these projects. To the concern that there is not enough workforce housing being created, he said that the Greater Springfield Housing Analysis showed the most need among very low-income households, but these projects will include tenants with a mix of incomes.