A Gallery of Voices From The Joint Meeting Of The Town Council And The CSSJC, November 1, 2022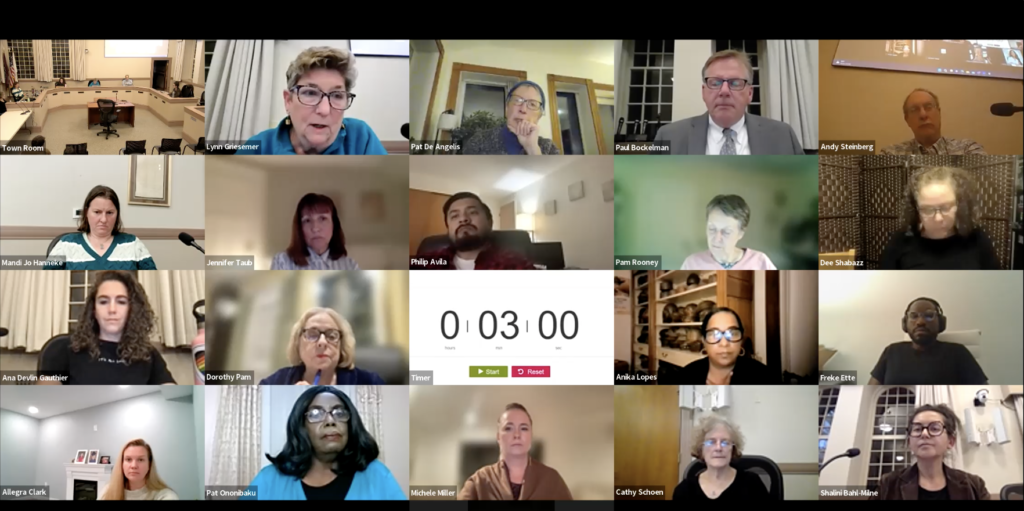 Forty-one people spoke during the public comment period of the joint meeting of the Town Council and the Community Safety and Social Justice Committee (CSSJC), some only once, others several times. Most were voices that have been heard frequently in town forums on the Amherst Police (APD), but a handful were speaking in public on issues of policing here for the first time. There seemed to be consensus among the speakers that there had been injustice in the July 5 encounter between police and a group of mostly BIPOC youth and it needs to be addressed, and the resulting harm repaired. Many stressed the need for an apology. All called for some kind of action from town government. Several spoke passionately and on occasion contentiously, revealing persistent rifts within the council and between the council and the town. While all assembled agreed that there is a need for some kind of intervention in an incident that is increasingly polarizing, the council was not able to agree to take any concrete action. The discussion will continue at the next Town Council meeting on November 7.
What follows is a selection of quotes from Monday evening. They are not contiguous but represent a sampling of what was said at the meeting. We have excluded comments on the particulars of the seven motions that were made. These can be found largely in part 2 of the recordings.

Members of the public were restricted to three minutes each time they spoke and were allowed to speak in both of the sessions reserved for public comment. Members of the CSSJC and the Town Council did not have an enforced time limit but were asked to be mindful of the time and the number of people who wished to be heard, and they were.
The meeting was a hybrid format with people present in both the Town Room of Town Hall and participating over Zoom. Members of the CSSJC, Town Council, and town staff were visible to the Zoom audience. Members of the public who spoke were not. The meeting was recorded. The recordings can be viewed here (part 1) and here (part 2).
The most contentious points of the evening revolved around questions about how much harm was experienced by the youths now known as the Amherst 9 and their families, whether the CSSJC and its predecessor, the Community Safety Working group, had done a sufficient job of informing the council about what kinds of interventions are necessary and possible, whether the CSSJC and the CSWG speak for the BIPOC community, whether the council has enough information to act, whether the police are being treated fairly, and budget priorities.

A full report on the meeting can be found here.
The Mood
Lynne Griesemer (Town Council President, District 2): "I want to take a moment to reflect on the way in which our last meeting unfolded, and especially the way in which it ended. One of my jobs as president is to make the process work. Our last meeting was not a good example of that. The motion to postpone [consideration of] the motion on the floor caught me a bit off guard, and I struggled in the moment to come up with the best procedural response. The Charter's Section 2.10(c) requires the debate on the motion to cease immediately — that much much was clear. And in retrospect that motion need not have stopped the discussion. Admittedly it may have been quite difficult to have further discussion without getting into the substance of the proposed motion. But I should have pursued that option. In addition, all councilors have the right to speak to their motion and in this case speak to their right to exercise Section 2.10(c). of the charter, based upon rules of procedure. In addition, any councilor has a right to question and or appeal the ruling of the person chairing the meeting. Because I didn't allow for either of these, I believe a difficult situation became even more tenuous. For all of these reasons I am apologizing."
Rani Parker (Amherst resident): "I've been really feeling that in order to reconcile, there's a need for somebody to apologize — because without acknowledgment of responsibility and without apology, I don't see how we're going to get to reconciliation, and in my mind that's really the larger goal. I just want to say how pleased I am that that was modeled quite unexpectedly by our council chair today at the start of this meeting. It's not so hard to do, and it really does help us all be able to talk to each other and set aside any anger. So I want to thank Lynn for that opening. It really makes me feel optimistic."

John Bonifaz (Amherst resident, attorney): "We need accountability when we see this kind of police misconduct. The entire police force is tainted by such actions as happened on July 5. And while I appreciate the apology of the council president at the start of this meeting, she owes another apology to [CSSJC member] Pat Ononibaku, who was abruptly cut off by the council president [when she called for Police Chief Scott Livingstone to consider resigning at the October 17 council meeting]. The First Amendment prohibits any public official from engaging in viewpoint discrimination. Stropping Miss Pat's public statement was a violation of her First Amendment rights. An apology is owed to her as well."
Mandi Jo Hanneke (Town Councilor, at large): "I'm hearing for the first time, and maybe that's my fault, what the CSSJC and the people in the community are asking for. Now that [I] know what's being asked of us, we can have a serious discussion of what we can do."

Ellisha Walker (Town Councilor,at large): "I worked for a year on the Community Safety Working Group (CSWG) to try to tell you these things [see CSWG final reports here, here and here] so it's really insulting to be told that you're just hearing this for the first time. This conversation fails to honor perspective. In this town we don't believe people who have perspectives that are different from ours. I have spent my entire life in this town, and I have seen this happen so many times. This incident is not the unique experience of a few people. This has happened before and will continue to happen — this happens too much and it happens to my friends and my family. We don't have to have this conversation anymore. We just need to do something."

Shalini Bahl-Milne (Town Councilor, District 5): "Since we only have a 53-second video of this incident and no others, we may be missing the context in which the police made that statement [telling the youths that they have no rights]. The cops were following the protocol, asking for ID, and the youths refused to provide it. We need to understand it in this context — the cop didn't mean that the kids didn't have rights but that they had lost their rights because they refused to provide ID."
Debora Ferreira (member of the CSSJC): "I'm Frustrated. I don't understand why it's so hard for the police to [be accountable], to [give] an apology, to establish a victim's compensation fund. Why do we get an instant reaction to Pat [Ononibaku]'s request for resignation [of Police Chief Scott Livingstone] and a councilor shutting down discussion [Mandi Jo Hanneke's actions at the October 17 council meeting] but we can't get any movement on accountability? (note: Ononibaku did not request Livingstone's resignation. She requested that he consider resigning). And that needs to happen before we can get on with the healing…. You [the Town Council] wrote this statement about the town being anti-racism and then when something happens you won't stand by those words. Are we going to do what we need to do — showing that these kids do have rights and that they have a respected place in this town? […]And what do we need to do to have you believe us, that our people are traumatized by the police over and over again? We show you the harm that is done repeatedly, and you don't believe us."

Bahl-Milne: "I keep hearing that the CSSJC represents the Black community [but] as we have already seen and heard, there are other voices, there are other people. So I just want to make that clear that when you say that BIPOC people have spoken that, yes, a few people have spoken, but, as we have seen, a few other perspectives have come in from Dr. Faison, Dr. Patricia Romney (see below), Dr. Shirley Whitaker, and we've heard from Dr. Irv Rhodes in the past, and including myself as a BIPOC person. And any time I say something that is a different point of view, I am discounted, I am rebuked, and I do not feel heard, so to say that this committee [CSSJC] has spoken [so the BIPOC community has spoken], I am sorry that they have not. And the reason we're not hearing more people again is because people do not want to go through this."

Philip Avila (Chair, Amherst Human Rights Commission): "I want to talk to the point of protocol and procedure and systemic racism. We can have things in place that may make sense. Yet the protocol is different for others, and i'll give you an example for my own personal [experience]with the APD, as a resident of this town. I work in this town, and our alarm system goes off pretty often because people put in the wrong code. It goes off and it triggers a police response, and you [have to] show your ID. You verify who you are, and then you move about your day. I was sharing this information with a fellow colleague of mine, who was white, and I told her this – that you know, you're gonna need your ID. You're gonna need this to make sure they know you are who you say you are. [But she wasn't asked for an ID]. So I went around to my colleagues, ones that I trusted, and at first I thought it was possibly a gender thing. I thought maybe, you know, I might be a scary male walking around, so maybe that might be it. Then I went to my white colleagues that are male and they said, no, never shown an ID. I was the only person in the building that had to show an ID, and I don't know the reason why, other than that it has to be the color of my skin. And so, therefore, if it is a protocol to ID someone. [after] an alarm triggering, that is going to make sense to me. Yet that protocol is not practiced on any of my white colleagues. It's only practiced against me, a person of color. And so with that I just want us to reflect on systemic racism as an overall issue of the town…"
Defining And Redressing Harm
Much of the commentary focused on the harm that resulted from the encounter with the police and the need to redress that harm. Several people responded to Dr. Pat Romney's statement that the harm experienced by the youths was not physical and hence, was minimal.

Dr. Pat Romney (Amherst resident, diversity consultant) (Editor's note: Romney was not at the meeting and her statement was read by Bahl-Milne): "My review of the July 5th video, showing the interaction between Amherst youth and Amherst police who were called to the scene by a noise complaint, leads me to the conclusion that there were errors made. Those errors have been acknowledged by the APD. Still, the outcome was just what I would want for my children. No physical abuse, no arrests, parents called, and children safely at home. It's hard for me to understand how that isn't good enough. It is hard for me to understand how this can be compared to the experiences of groups like the Central Park 5, who were beaten, wrongly convicted, and jailed for between 6 and 13 years.
"The town has a DEI director, a Black woman attorney, with many years of experience doing work on equity and inclusion.
"She conducted an investigation and concluded that the police did not abuse their authority, yet her conclusions are ignored or repudiated. Who does that serve? The Town Council, CSSJC, Human Rights Commission, African American Reparations Commission.  The DEI office is now involved with the issue. I have no objection to oversight, but I wonder what community needs are not being met, while much of the energy is focused on this one incident. Specifically, I would like to see us move toward the Residents' Oversight Board that has been proposed. This Board will have the authority to oversee matters such as these. I have been an Amherst resident for forty-one years, and I'm troubled again and again and again by our community's propensity to divide into adversarial camps. The refusal to engage in dialogue focused on bridging differences in the interest of community and justice, leaves everyone feeling victimized and results in little advancement towards justice and the common good. We need to do better."

Gabriel Davila Bustamante (Amherst resident, student): "I'm responding to Pat Romney's comment that no one was physically harmed. This doesn't mean that something wasn't wrong. Right now we don't have sufficient accountability for our police. That's a trivialization of what happened. Rights were violated. We need a change in how police are held accountable. And a change in the makeup of town officials who haven't taken this sufficiently seriously and who have shown little inclination to do anything."
Davila said, earlier: "I have lived in Amherst my whole life. I am calling in from college today. We should be able to be proud of our town. Residents of the town have been raising this problem for months. There needs to be action. There needs to be accountability. There needs to be a fundamental change in the way we approach policing in our town."
Dee Shabazz (Co-chair, CSSJC): "Trauma is the lasting emotional response that often results from living through a distressing event. Experiencing a traumatic event can harm a person's sense of safety, sense of self, and ability to regulate emotions and navigate relationships. We are coming up on November 5th, four months since the July incident. This is clearly not what the Town Council has charged us [CSSJC] with doing.
"Indeed, this exercise is a waste of time if there is no commitment to change, change the policing practices and the culture of this town government. These young people may be still processing the July event and in terms of trauma, according to an author on the subject, Kiera Imani, it is "any experience that negatively impacts how we see God, ourselves, or others." The youth, particularly the African heritage youth, involved in the July 5th incident exist in a world of racial trauma already, and then this event happens where they are detained, rounded up, identified, sat on a curb, and told they have 'no rights' — what do we know about the trauma this added to their lives?
"A 2020 study in JAMA [Journal of the American Medical Association] found that 44% of the Black participants reported symptoms persistent with depression and anxiety, and only one in three Black Americans in need of mental health care receives treatment." JAMA Psychiatry reported that suicide rates among Black Americans doubled during the pandemic.
"This protracted process amounts to a diversion of the real work of the CSSJC concerning equity, community safety with the APD, and the town manager. We are here tonight to support the repair and a process of resolution because it is emblematic of the work we have taken on regarding community safety and moving the community toward equity. Chief Livingstone has already spoken with us a couple of times, and he may truly believe his narrative, but it does not comport with the video, recent comments from parents especially Mr. Stewart, and more importantly the young people regarding July 5th."
"The chief's narrative reflects his support of his officers and that is in part why we are here in this moment. He has expressed some regret over the erroneous statement of the officer, but that does not amount to an apology that recognizes what took place, problematic practices, and the recognition of harm to the youth and their families — and now, as this drags on, the harm to this community. All we have heard besides admitting an erroneous statement is that of speculation [such as] '…had they left the young people alone, we would have had a larger problem.' The chief may believe this, but other facts have emerged that express a different version of events. What we do know is that the recent reports from the DEI and the APD neglect to include the perspectives and realities of the young people. A representative from the CSSJC, Mrs. Pat Ononibaku, appointed as a spokesperson and authorized to speak on behalf of the families to the town manager and APD, has not been invited to meet to this date with the DEI, the town manager, or APD. The town may feel that they can ignore this trusted member of the community but again it is ignoring the wishes of the families. In the end we want a speedy resolution and repair that centers the young people and their families — and we want the town manager or town council president to explain why that is not possible."

Hanneke: "No one on the council has said that the youth have not been harmed. I'm not clear on what kind of harm merits compensation. Are they saying that every interaction with police causes harm and if so, does that mean that everyone who has such an interaction deserves compensation? How is the police saying something erroneous to the youths different from any other interaction with the police?"
Lauren Mills (member, Amherst Board of Health: "I want to tell you about a book I read on the impact of microaggressions on young women. It says microaggressions do not just hurt your feelings, they have other damaging consequences on your mental and physical health because of the ongoing stress they cause. You exert time and energy thinking about them. Therefore, it is important for you to recognize microaggressions and learn how to respond to them…. Microaggressions are directed at people based on disability, gender identity, sexuality, and so forth."

Dorothy Pam (Town Councilor, District 3): "The work we've been doing has been a good thing. But it's a great mistake to underestimate the effects of trauma and anxiety. There has been so much minimization of that by telling the kids and the parents that it wasn't a big deal. Their trauma is really important and it needs to be addressed. The problem is not going to go away unless we do something positive about it. And that means we need to treat the harm that was done to the kids seriously."

Letter of William Stewart Criticizing Police Report
Jennifer Taub (Town Councilor, District 3): "We ought to seek a consensus on the facts of the incident. I always felt we were not getting the whole story and this was amplified when we received Mr. Stewart's letter [see Stewart's letter here). We might have responded differently had we had this information sooner. And in combInation with the Hampshire College incident, it may be suggested that police protocols may be problematic.

Failures Of The Town Council And Calls To Action
Cathy Schoen (Town Councilor, District 1): "We can build on the good work we have done. We have done some good things. We've put a million dollars into CRESS. We have a great DEI director and we need to give her the support and time that she needs to do this work. We have a reparations fund that is building a long-term endowment."
Brianna Owen (co-chair, Community Safety Working Group): "You keep self-congratulating on all you have done with CRESS and DEI but you won't commit to fully funding them. Amherst is not equitable. Not everyone feels safe here, not everybody feels represented, not everyone feels free to speak. People in this town have been brutalized physically, emotionally, and mentally by the police department, by town staff, by community members, and by each of the councilors that have tried, and continue to try, to minimize the trauma experienced by underrepresented folks in this community. Denial is not the way to change. Denial is not the way to change. Denial is not the way to change."

Pat Ononibaku (member, CSSJC): I run a company and am the CEO, and if something goes wrong, it's my responsibility to see that it's fixed. We had an incident in our town on July 5th. But there was inaction. The problems were ignored. Why? Because black people don't count. The youths' story has been validated by a white parent from Leverett. We've known this for some time but when I raised the issues that this white parent brought forth, no one believed me. Our town manager has not shown leadership. Our police chief has not shown leadership at the APD, standing by his officers and blaming the youth. Why is it so difficult to apologize? Why is it so difficult to produce a comprehensive report? A substantial number of black people in this town have no confidence in the chief."

Bahl-Milne: "The Town Council is not equipped to deal with this so let's give it to the DEI [Director of Diversity Equity and Inclusion] and give her the support that she needs to get a Resident Advisory Board started."

Zoe Crabtree (Defund 413Amherst): "I am concerned that CSSJC's concerns have been minimized over the last several months. I speak In support of the kids and the CSSJC. Incidents like this should be handled by CRESS [the town's civilian responder department]. The police should issue an apology. The town should demand full accountability, and do a full independent investigation, and establish a victim's compensation fund. They should offer a know-your-rights workshop."

Kathleen Anderson (Amherst resident, former member of the Amherst School Committee): " I am disappointed in the white members of the Town Council for allowing this behavior to take place. Now it's time to stand up and hold the police accountable. White people should be ashamed that this is still happening in this town and they need to stop it."

And later:"…I'm one of the coordinators for community dialogues around race and class. White people ought to be participating in these conversations, like the Stolen Beam discussion being sponsored by the JCA and the Jones [Library] . It's time that we became a town of anti-bias, anti-racism — and not a continuation of that."

Philip Avila: "That kind of goes back to what Andrew [Finance Committee Chair and at large Town Councilor Andy Steinberg] was [talking about]- money and the council, and it's kind of key, saying which one does the council hold more valuable right now? We have money going to the [Jones] library right now. We have money going to the school. We just got a grant to have money go to the sidewalks. When are we going to focus on the racial issues of this town? And where are we going to find the money and the time to deal with that?"
Allegra Clark (co-chair, CSSJC): "There are three specific things that the CSSJC had asked for in regards to [the incident}, one being the Victim Compensation Fund, one being accountability through releasing any investigative reporting, and one being an apology. And I think the previous speakers were absolutely right that, you know, [The APD] inviting somebody [the parents of the Amherst 9] for pizza so that you can apologize, and then not apologizing because [they didn't join you for] pizza doesn't make much sense.
I wanted to share that there are additional demands that CSSJC had put forward back in July, and those are more related to the structure and practice of policing as a whole, and, you know, not just related to this July 5th incident, but to everything that goes on with the police department in this town…. The remaining 'asks' that we had put forward in July [were] to freeze all further police department hiring including any vacant positions until CRESS has been operational for at least six months; to determine whether CRESS would be a more appropriate way to engage the community; envisioning sessions to help heal from systemic and structural inequities; create the resident oversight board to increase police accountability in the community; establish protocols and use the CRESS department for all non-violent community calls; eliminate pretext stops,. meaning reduce the opportunities for contact between the police and BIPOC drivers; and create a youth empowerment center for BIPOC and all youth under the DEI Department to provide positive opportunities for youth in the community."

Dee Shabazz: "So we're coming up on November 5th, four months since the July incident concerning what you all have charged us [the CSSJC] to do. That is, this is clearly not what we were supposed to be doing, right? Indeed, this whole exercise could be seen as a waste of time if there is no commitment to change, to look at the policing practices, and to change the culture of this town government."

Ellisha Walker: "Saying we don't know what can and can't be changed is just wrong. We spent a year working with LEAP [the Law Enforcement Action Partnership] (look here and here) and we made recommendations over a year ago — concrete recommendations with consultation with professionals in law enforcement. We do not need more research and the call for it is frustrating. We're acting as if we don't have the power to do things that we have the power to do. There are a lot of things that we can do. We can identify which policies and procedures are preventing us from moving forward and we can change them. Ana's [Devlin Gauthier's Motion #7) recommendation is a perfect starting place for that. I suggest a combination of things that have been suggested tonight. This conversation has been frustrating. I don't want to hear about how expensive this is. That's a matter of priorities. Priorities are a matter of perspective. We are missing the perspective of the people that these things are happening to. This conversation is urgent to the daily lives and well being of many people and that's not how it is being framed."

Conclusion
Martha Hanner (Amherst resident): "The number of people who have showed up tonight indicates how much concern there is."