Changes Coming To Approval Process For Restaurants And Bars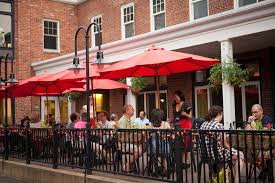 Report On The Meetings Of The Amherst Planning Board, November 2, 2022 And The Community Resources Committee, November 3, 2022
These meetings were conducted over Zoom and were recorded. The Planning Board (PB) meeting can be viewed here. The Community Resources Committee (CRC) meeting can be viewed here.
In introducing the planned zoning bylaw changes, Senior Planner Nate Malloy said the Planning Department sought to simplify approval of restaurants and bars in town that was added to the zoning bylaw in 2001 in order to encourage economic development. The temporary easing of requirements during the pandemic with Article 14 showed that the town can successfully approve many of these establishments using approved criteria applied by the building commissioner. During the pandemic, Mexicalito, Garcia's, and The Drake opened, and the Spoke was expanded, all with administrative approval alone.
The proposed improvements to the bylaw involve changes to Articles 3, 5, 11, and 12 of the zoning bylaw. The current separation of restaurants and bars into separate classifications is to be eliminated, so that restaurants and bars that serve food can be approved by Site Plan Review or the building commissioner if there are only minor external changes to a building. Bars that do not serve food (e.g. The Moan and Dove), nightclubs (e.g. Hazel's Blue Lagoon), and establishments with a capacity of more than 250 will require a special permit from the Zoning Board of Appeals (ZBA). 
These changes apply in the five zoning districts in which all of these establishments are allowed: the general business (B-G), limited business (B-L), village center business (B-VC), neighborhood business (B-N), and commercial (Com). The new proposal still limits restaurants in the B-N to a maximum capacity of 30. They must also stop serving alcohol at 9 p.m. and be at least 100 feet from residential buildings.
The proposed revisions eliminate time of operation as a criterion for obtaining a Special Permit. Currently, establishments that stay open after 11:30 p.m. need a permit from the ZBA, but Malloy said that these permits are routinely granted to restaurants that want to expand their late-night hours if there have been no complaints filed against them. He and Building Commissioner Rob Morra felt the additional three to six months required to get the ZBA permit has discouraged businesses from opening in Amherst, and they felt they could adequately evaluate applications using the criteria developed over the past 20 years of experience. Any proposed change in hours would require reevaluation of the approval granted to the establishment.
To obtain administrative approval, an establishment must meet 10 requirements spelled out in Article 3.352, including a detailed management plan that specifies hours of operation, trash management, queuing, signage, lighting, outdoor dining, noise management, deliveries, and response to complaints. No work can commence without the written approval from the building commissioner, who can consult with the Historical Commission or the Design Review Board if needed.
Both the PB and the CRC expressed general approval of the proposed bylaw changes, but expressed some reservations. PB member Janet McGowan worried about the lack of notification of abutters and public hearings with administrative approval, especially with elimination of the 11:30 p.m. closing time as a requirement for a special permit. This was echoed by CRC member Pam Rooney, who noted that in the B-L district, some restaurants are close to homes and late-night establishments could be disruptive to nearby residents. Rooney also wanted alcohol service to be added to the conditions that need to be evaluated in the approval process. Morra pointed out that any establishment wanting to serve alcohol must receive approval from the Board of License Commissioners.
PB member Bruce Coldham and others thought that a 250 capacity was too large a threshold for requiring a special permit. Coldham said he thinks establishments with a capacity of 175 or 200 or more should have to go through the special permit process.. Of existing restaurants, only the Hangar has a capacity of over 250. The Monkey Bar and Ginger Garden have capacities of between 200 and 250.
CRC Chair Mandi Jo Hanneke felt the 100-foot distance from residences in the B-N district was too restrictive, and that hours of operation and size were more relevant. She pointed to the town's goal of creating walkable neighborhoods as a reason to allow more eating establishments in the B-N zone.
In public comment, Gordon Greene, who lives in North Amherst, said he is often bothered by loud music from North Square. He advocated limiting recorded music outdoors, except at special events. Morra pointed out that North Square did go through an extensive public approval process. He added that his department receives more complaints about downtown establishments than from any other part of town.
Because of the remaining questions about the proposed bylaw changes, the PB voted 4-2 (Marshall and Thom Long voting no and Johanna Neumann absent) to continue the discussion at its November 16 meeting. Members will submit their concerns to Malloy in the interim. The CRC also continued its examination of the bylaw changes until the November 17 meeting.