Plans For Private Dorm On Olympia Drive Progress. Changes To Flood Plain Maps Accepted.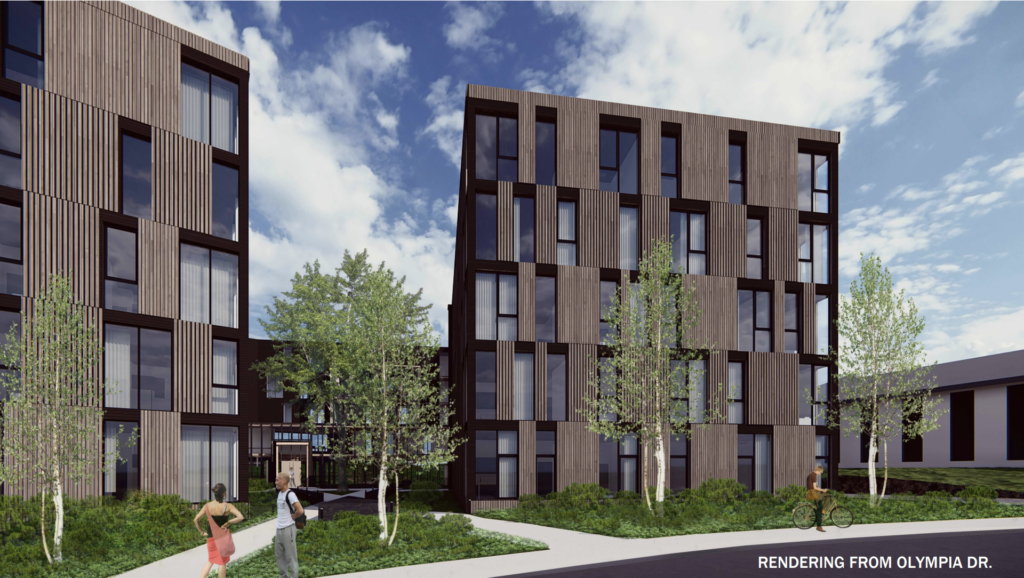 Report On The Meeting Of The Amherst Planning Board, November 2, 2022

This meeting was held over Zoom and was recorded. It can be viewed here.
The changes to permitting for bars and restaurants discussed at this meeting will be combined with the comments from the Community Resources Committee meeting on November 3 and reported separately in this issue.
Present
Doug Marshall (Chair), Bruce Coldham, Janet McGowan, Karin Winter, Thom Long, and Andrew MacDougall. Absent: Johanna Neumann
Staff: Chris Brestrup (Planning Director), Nate Malloy (Senior Planner), and Pam Field-Sadler (Assistant)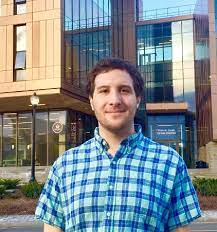 Breger To Leave Planning Department
Planning Director Chris Brestrup announced that Planner Ben Breger has accepted a position with the Massachusetts Department of Transportation and will be leaving the Planning Department. Breger, an Amherst native, has worked for the town for the past two and a half years and served as staff liaison to the Historical Commission and the Local Historical District Committee. Brestrup emphasized that his presence will be missed. The Planning Department will be looking to fill his position in the near future. I
Plans For Private Dorm On Olympia Drive Near Approval
Kyle Wilson of Archipelago Investments brought updated plans for the company's proposed apartment-style dorm at 47 Olympia Drive for further discussion. The Planning Board had previously discussed the project on August 3 and had concerns about parking, traffic control, and bicycle storage at the site. Because the site borders the Wildwood Conservation Area and associated wetlands, the Conservation Commission must also approve the plans. The new plans were adjusted to comply with new wetlands regulations for stormwater drainage and setbacks.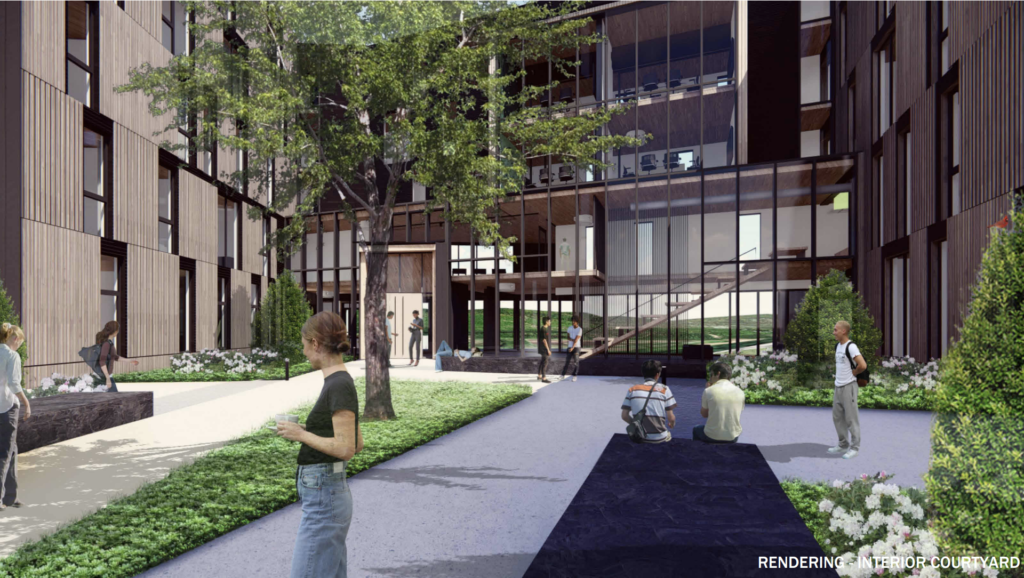 This is Archipelago's second apartment-style dormitory on Olympia Drive. The new building will have 68 units and will house about 230 UMass students. When the fraternity/sorority subdivision on Olympia Drive was established in 1969, owners of the included properties were deeded rights for inhabitants to use the five UMass parking lots in the area. Because of this agreement, Archipelago wants UMass to issue parking permits to its tenants of 47 Olympia Drive, as they have done for the similar building Olympia Place at 57 Olympia Drive.
Planning Board members Bruce Coldham and Janet McGowan were concerned that even so, the arrangement would not provide sufficient parking for the tenants. McGowan noted that a letter from Nancy Buffone, Vice Chancellor for University Relations, indicated that the UMass lots were full last year, and if so, there would not be any spaces for the new tenants. But Wilson argued, "It is a choice between parking and housing, and we chose housing." Planning Board Chair Doug Marshall agreed, saying that Archipelago "wants to put a whole lot of money into building a building and entrusts that UMass will provide the needed parking. I don't see a problem." He added that Olympia Drive is a good spot for student housing as opposed to neighborhoods near the campus. In public comment, Jennifer Taub pointed out that students who drive cars from their hometowns to campus need a place to park them, even if they don't use them to get to class.
Although the location is close to the UMass campus and has frequent PVTA bus service, Planning Board member Karin Winter wanted the buildings to provide covered bicycle storage and possibly charging stations for electric bicycles, which are not in the current plans. Wilson said that the PVTA bus to campus comes every 10 minutes, so people should not need to ride their bicycles. Winter also advocated for dedicated bicycle paths to get to campus. In public comment, Pam Rooney suggested that, since Archipelago says it does not need to provide any parking for its tenants, perhaps the Planning Board could require the company to establish bicycle paths and provide electric bicycle charging stations in the UMass lots near the proposed building.
Wilson said the building will be built to LEED Gold standards with energy saving fixtures. He emphasized that the Conservation Commission is requiring that all disturbed areas surrounding the building be restored with native plants and that Archipelago is required to pay into the Wetlands Mitigation Fund because the building coverage exceeds the 20% allowed by zoning.
The hearing on the project was continued until November 16 so that Wilson can get more information about bicycle storage and parking.
Floodplain Maps And Overlay District Recommended To Town Council
Amherst finally received approval from FEMA for updated floodplain maps that were created using GIS technology with one-foot contour lines. The previous maps date to the early 1980s and were developed with United States Geological Society topographic maps and 10-foot contour lines. The new maps and the associated bylaw creating a floodplain overlay district (article 16) delineate the 100-year floodplain, that is, areas that have a one percent chance of flooding every year, and regulate activities in these areas. Without the acceptance of the new maps and bylaw, residents would no longer be eligible for federal flood insurance.
Changes to existing buildings or uses, or new development in the floodplain must be reviewed by the town's wetlands administrator to determine if Conservation Commission approval is needed. Proposed development must obtain relevant state and federal permits, in addition to the local permits required.
The new maps are interactive, so that one can zero in on a particular area of interest. The maps and bylaw changes had already been reviewed favorably at the October 27 meeting of the Community Resources Committee and also recommended for adoption by the Planning Board without objection.
Proposal To Create Dedicated Bicycle Paths
Winter suggested that the Planning Board work with the university, colleges, and developers to create a network of bicycle paths that are not in the roadway throughout town. She noted that this kind of path is common in Europe and much safer than the on-street paths that we have now. Coldham suggested tying the approval of parking waivers requested by developers to the promotion of bicycle travel.
Marshall thought the Planning Board could look at a map of the town and determine where bicycle paths are needed and then include these in granting permits. Brestrup noted that the Transportation Advisory Committee has developed a bicycle and pedestrian network plan based on a study they did in 2019. She will send a link to that study to Planning Board members for consideration.
Public Comment: What Is The Status Of Downtown Design And Parking Garage Study?
Elizabeth Vierling wanted to know how the recent $75,000 grant for downtown streetscape design coordinated with the request for proposals for downtown design standards. She also asked if there was any progress in evaluating the Boltwood garage for expansion or determining other sites in town for a parking garage besides the lot behind CVS. She noted that the building being constructed by Archipelago at 11 East Pleasant Street does not have enough setback from the street to permit the planting of a decent size shade tree.
Senior Planner Nate Malloy said that he hoped the streetscape grant would coordinate with the RFP for design standards which has yet to be submitted. The RFP includes the need to obtain input from community members. As far as the Boltwood garage study is concerned, the town is drafting a contract with Desmond Design of Boston to examine the feasibility of expanding the garage. The Planning Department has not yet looked at other sites in town for a parking garage.
The meeting adjourned at 10:17 p.m. The Planning Board will next meet on November 16.