Deferred Maintenance Catches Up With Jones Library As Boiler Catches Fire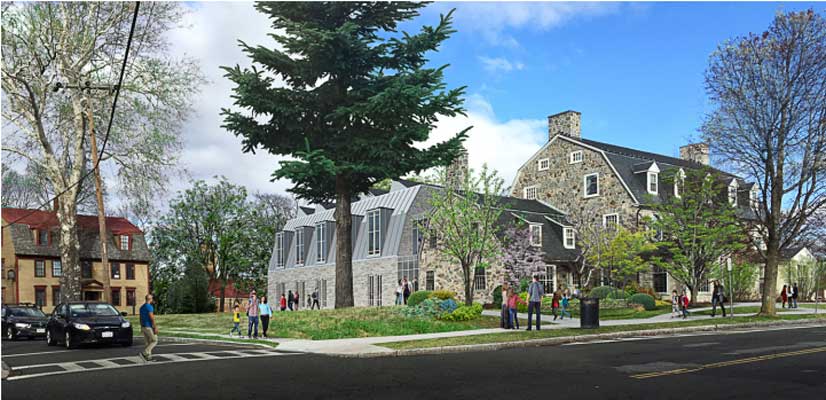 Trustees Reject Proposal To Seek Help From UMass To Develop A Plan "B"
Jones Library News Highlights For The Week Of December 12, 2022
50-year-old Boiler #4 Not Salvageable After Flameout
Jones Library Director Sharon Sharry recently notified the Board of Trustees that on November 27 staff smelled smoke and found flames shooting out of one of the building's four boilers.
Springfield-based HVAC contractor Harry Grodsky & Co. was called in for damage assessment and repairs. Library leaders learned that Boiler #4, estimated to be 50 years old, was damaged beyond repair. The remaining three boilers have been rewired to supply the building's full heating demand.
Reporting for the Buildings & Facilities Committee at the December 14 Board of Trustees meeting, Alex Lefebvre explained that due to supply chain issues, getting a new boiler installed could take close to one year. The Jones Library is currently scheduled to close at the end of November 2023 when services will be moved to an interim location, followed by putting the building project out to bid, and 18 months of demolition, renovation and expansion work.
She suggested that it makes sense to proceed to the next decision point in February 2024 when the Town Council will review construction bids and determine if continuing the library building project is financially feasible. "The best case scenario is that the remaining three boilers last the remaining 11 months," she said.
Director Sharry agreed with Lefebvre, adding that "I actually have a piece of melted boiler metal on my desk because it's really quite fascinating."
Lefebvre said that the Buildings & Facilities Committee will continue talking about a repairs-only Plan B at their December 20 meeting and will address what would happen if the three functional, but aging boilers don't last through next November.

Trustee Treasurer Bob Pam commented that there are commercial grade heat pumps that can be fitted into a hybrid fossil fuel-based heating system that might replace the broken boiler and which could be utilized in "a Plan A, a Plan B, or the town could reuse them elsewhere."
Todd Holland of the Library Sustainability Committee responded that he thought that heat pumps are a great solution, but they carry technical considerations. Holland, who is currently employed by UMass and is working to convert the entire campus to heat pump technology, explained that heat pumps are generally limited to heating water to 120 to 140 degrees, and boiler-based heating systems typically require water heated to 160 to 180 degrees. The ability to meet electricity demands required by a heat pump system is another consideration.
Holland is hopeful that heat pumps being developed by Mitsubishi that use CO2 refrigerant to make higher temperature water will be available in the marketplace soon.
Trustees Reject Proposal To Seek UMass Advice on Building Repairs
Bob Pam followed the broken boiler discussion by advancing a motion:
"In contemplation of the potential need for a Plan B in the event of rejection of the renovation and expansion of the Library, we should seek to interest UMass classes and groups with appropriate training to take on reviews of the HVAC system and atrium glass roof in the interest of generating ideas on how to upgrade them to more sustainable and energy-efficient replacements."
Pam, who has been a consistent advocate for taking development of a Plan B alternative to the uncertain building project more seriously, remarked that the University of Massachusetts includes areas of expertise that might help plan repairs to the library roof and HVAC system. He cited for example the Center on Energy Efficiency & Renewable Energy which provides free services to industrial, commercial and municipal clients. Pam has also explored avenues of assistance with Mechanical and Industrial Engineering Department Head Sundar Krishnamurty.
Pam's colleagues were less than enthusiastic. Trustee Farah Ameen said, "I like the idea that we as the Buildings & Facilities Committee have been slowly discussing a Plan B, but I just feel like [Pam's proposal] is sort of jumping the gun. I'm keeping my fingers crossed that this project will go through."
Trustee Tamson Ely expressed concern over diverting attention from the building project. "There's merit here," she said, "but I'm not sure the timing is right because of all the work that's being done on Plan A." She also referenced an undisclosed letter from UMass professor and former Town Councilor Steve Schreiber that that led her to have reservations about entrusting advisory work to upperclassmen and graduate students.
The Board voted down Pam's motion 4-2, with Ameen, Ely, Lefebvre and Lee Edwards voting no and Pam and President Austin Sarat voting yes.
Deerfield And Westborough Voters Go To Polls To Decide On Library Project Funding
Funding for two Massachusetts grant-funded library building projects went to town wide votes this month, with one passing and one being denied.
On December 6 Deerfield voters approved 909-707 a debt exclusion Proposition 2 ½ override to pay for renovating and expanding the town's Tilton Library. The project will enlarge the building from its current 4,366 square feet to 12,784 square feet. This contrasts with the Jones Library project that will expand the building from 48,000 to 63,000 square feet.
Deerfield Town Meeting had previously authorized borrowing $12.3 million for the project which is supported by a $4 million Massachusetts Board of Library Commissioners (MBLC) construction grant. The 20-year loan to complete the renovation is projected to increase the tax bill of the average Deerfield single-family home between $146 and $244 per year until the loan is paid off.
The annual burden on Deerfield taxpayers is partially mitigated by contributions from tax-exempt Deerfield Academy. The private school is reported to have contributed several hundred thousand dollars in lieu of taxes in the past. The academy also provides machinery and expertise to maintain Frontier Regional High School's all natural grass playing fields.
For the second time, Westborough Town Meeting on December 10 rejected borrowing $36.7 million to fund renovation and expansion of the Westborough Public Library. A borrowing authorization vote in October failed to muster the necessary two-thirds supermajority, gaining 327 votes for and 171 votes against.
Last week a citizen's petition of 200 registered voters brought the borrowing authorization back to a Special Town Meeting for reconsideration. This time around the outcome was a much stronger rejection of the project with 529 votes in favor and 715 against. The rejection came despite the building project having been awarded a $9.4 million grant from the MBLC.
The Worcester Telegram reports that Westborough citizens raised concerns over rising costs of the project and found the proposed library to be unnecessarily large for the needs of the town. Residents also questioned library project proponents' contention that base repairs would cost about $19 million.
"One resident," the article says, "compared the proposal to telling someone with car troubles that their only option is to purchase an expensive luxury vehicle instead of tuning up the car or shopping around for more affordable replacement vehicles."