Amherst Educators Walk Out For A Fair Contact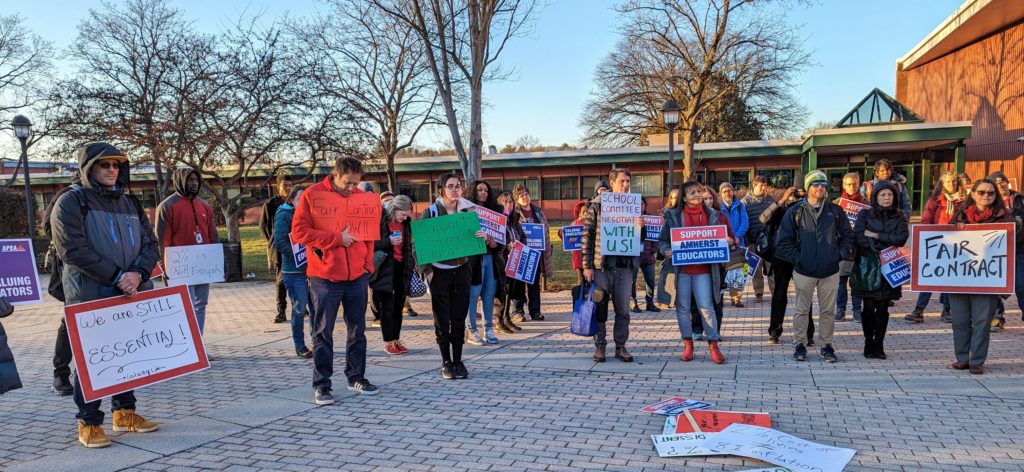 Source: Amherst Pelham Education Association
Teachers, para-educators and clerical staff of the Amherst-Pelham Education Association (APEA) walked out of their schools at the end of the contracted work day on Monday (1/9) and held brief rallies outside each of the schools to protest the lack of progress in their negotiations for a new contact and to demonstrate what their adoption of"work to rule" might look like. The action took place at the high school, the middle school and the four elementary schools in Amherst and Pelham. This was the same day that the APEA negotiating team met with the district mediator again to negotiate their unfunded contract. Amherst educators have been working under an expired contract since the beginning of the school year, and in negotiations since January, 2022.
When APEA members walked out, it was the end of their contracted work time with students. The district and the profession often puts demands on educators to work beyond our contracted work hours, so the APEA wished to make a small demonstration of the impact their efforts have on the functioning of the schools. This is a simulation of what "work to rule" would look like if the School Committee continues to refuse to meet in person with the union, instead of through lawyers, who are expensive to the taxpaying community.
Look here for additional reporting on the walkout in the Daily Hampshire Gazette.