Fundraising Deadline Looms For High School Track And Field Project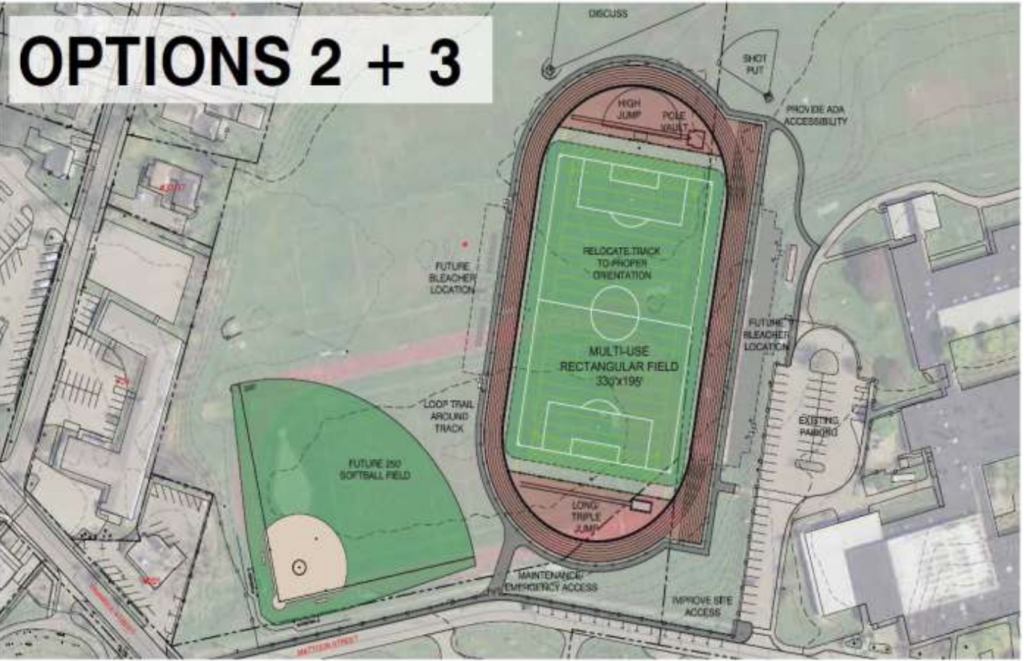 Editor's note: look here for an update on this meeting and a commentary.

The Regional School Committee (RSC) will meet this Thursday, January 12, at 3 p.m. to determine whether required funding for the Track and Field Project at the high school has been secured. The motion passed by this committee on March 15, 2022 stipulated that, in addition to the $1.5 million already authorized, $2.2 million would need to be raised on or before January 16, 2023 in order for Option 3 (reorientation/expansion of the high school track and field using artificial turf) to proceed.
The meeting posting only lists the amount of funding secured so far from municipal sources, which is more than $300,000 short of the requirement set last March. A mention of funding raised by the Amherst Hurricanes Athletic Boosters does not include an amount and their "listing of donations" has not been posted. When asked via email to provide this information, School Finance Director (Doug Slaughter) responded, "They haven't shared fundraising info with me. The Boosters are aware of the scheduled Regional School Committee meeting and the need to present funding information to them for that meeting."
It is unclear what standard the school committee will use to make the determination about the status of the funding. The original motion states that if the specified amount of funding has not been raised, the plan reverts to Option 1 which involves only resurfacing of the track.
Notably, the impending funding milestone is up to $2.3 M short of the updated estimate provided by Town Manager Bockelman to include cost escalation ($5-6 M). There has been no cost estimate that accounts for the specific products espoused by the Boosters, replacement/disposal costs that are required every 8-10 years, or specialized maintenance equipment necessary for artificial turf.
Also included in the RSC meeting packet is a motion to rescind the original motion and replace it with Option 2: reorientation/expansion of the track and interior field using natural grass. Previous funding authorizations by the Amherst Town Council and Community Preservation Act Committee would need to be reaffirmed for this option. Combined with the still pending requests for funds from Pelham, Leverett, and Shutesbury, this would bring the total funds available to the original estimated cost of Option 2 ($3.7M). The Pelham Community Preservation Committee, which voted against funding for the artificial turf option, has already indicated that it would be open to this, and the Amherst Town Council's authorization of $900,000 in Free Cash is already secured as the vote specified that it could be used for a grass field option.