Amherst History Month By Month: The Bowker Auditorium At UMass Amherst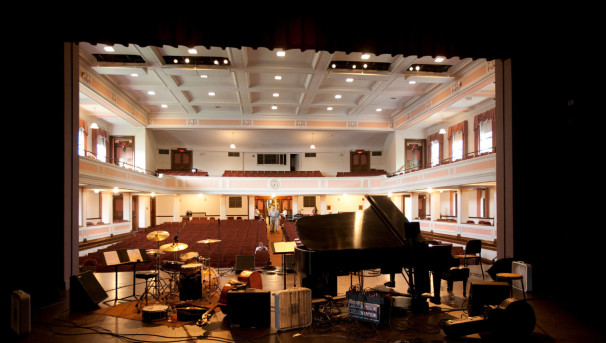 "Neath the elms of dear old Amherst
stands our college fair,
hail to thee our alma mater,
Stockbridge men go there.
Working ever, falter never,
onward toward our goal,
give your best to [dear] Old Stockbridge,
Body, Heart, and Soul."

~The College song
Bowker Auditorium is one of the hidden treasures of the UMass Amherst campus; if you have never been there, I encourage you to visit. For a start, the theater is quite grand and yet intimate in scale – a world within a world. Sometimes, when I usher there, I try imagining myself in a painting by Edward Hopper showing lonely usherettes in a '20s era movie theater or perhaps a painting by Marie Cassatt of theatergoers in the loges at an historic Parisian venue. Loge seats in the Bowker are nostalgic in feel while upstairs, balcony seating is much grander than it appears from below.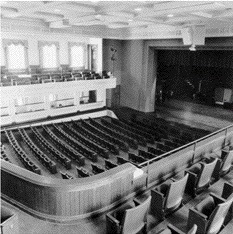 Bowker offers an inspiring series of performing arts programming, open to all, and it has long been used by student and community groups, orchestras and theatrical ensembles as well as performers from further away. Nothing much these days beats a live theater or music performance.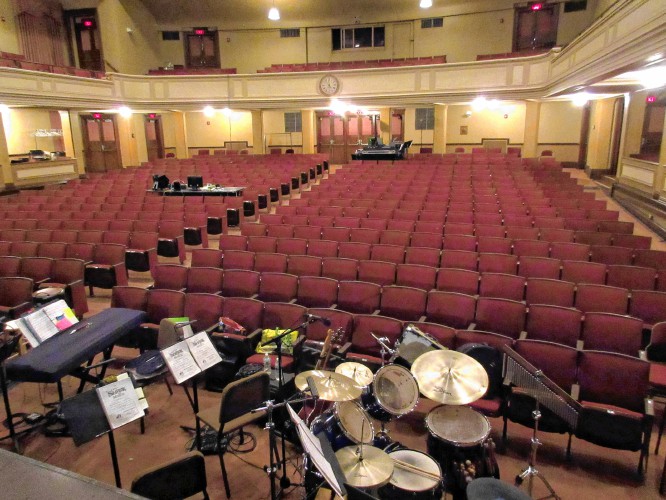 Bowker is additionally this wonderful lens through which we can learn more about the rich beginnings of what was once Mass Aggie (UMass began in 1863 as the Massachusetts Agricultural College and was intended then to support the higher education of the state's families of mechanics and farmers.) The auditorium is housed inside Stockbridge Hall, built between 1914-15, by the Boston architectural firm of James H. Ritchie, and contains labs, and classrooms as well as other spaces needed for the department. To the left of Stockbridge Hall is Flint Laboratory and to the right Draper Hall.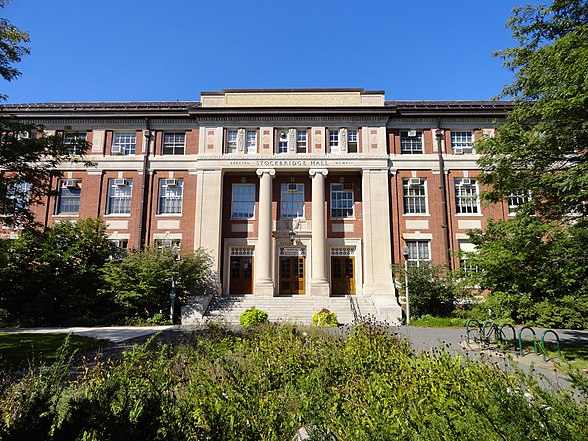 At the time of construction, of this group of new campus buildings, UMass faculty was comprised mainly of botanists, farmers, chemists and "literary types" teaching at Old South Collage because agriculture was the main focus of teaching, research and learning. By the 1890s, the historic campus pond was created by damming the Tan Brook, originating by Wildwood Cemetery. A theater for the school was also envisioned as the campus experienced a large growth spurt at the turn of the century.


If you were a student after 1915, you would see these three buildings forming a curve and facing a central green. If you needed accommodation then, the first student dormitory was built on what is now the main campus parking garage (see my last column article on Brutalist architecture). The Stockbridge Hall, Flint and Draper still convey the concept of a school within the college as a whole. Each building is designed in what is known as the Georgian Revival Style, popular in the late 1800s and early 1900s. The three-bay entrance to Stockbridge Hall is grand and imposing. Today, the Stockbridge School of Agriculture – a college within the University – is a vital reminder of the early ideals of the campus.
Bowker has had a rich concert history, but it has also served as a commencement site after World War II.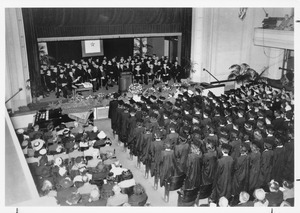 Bringing the Bowker Auditorium into the 21st century has been recently accomplished by UMass, and dressing rooms, showers, a green room, wardrobe and rehearsal space have been created inside by taking over some of the older soil science labs. But the timing of this article is also intended to promote a community theater event that is surfacing this January since lockdown from Covid-19. As Larry Steinhauser says, "Our town has put on an amazing musical theatre production at UMASS BOWKER Auditorium in January. The Amherst Community Theatre, like the rest of the world, had COVID cancel this musical each of the past two Januarys. But this year it is full steam ahead and this amazing production is set to happen from January 19 through January 29, What is so heart -warming is the cast being so intergenerational as the ages range from 7 to mid 70's. This year's production of "The Little Mermaid" will be most colorful with extremely creative costumes bringing creatures of the sea to your viewing eyes. This link will take you to the ticket page. ~