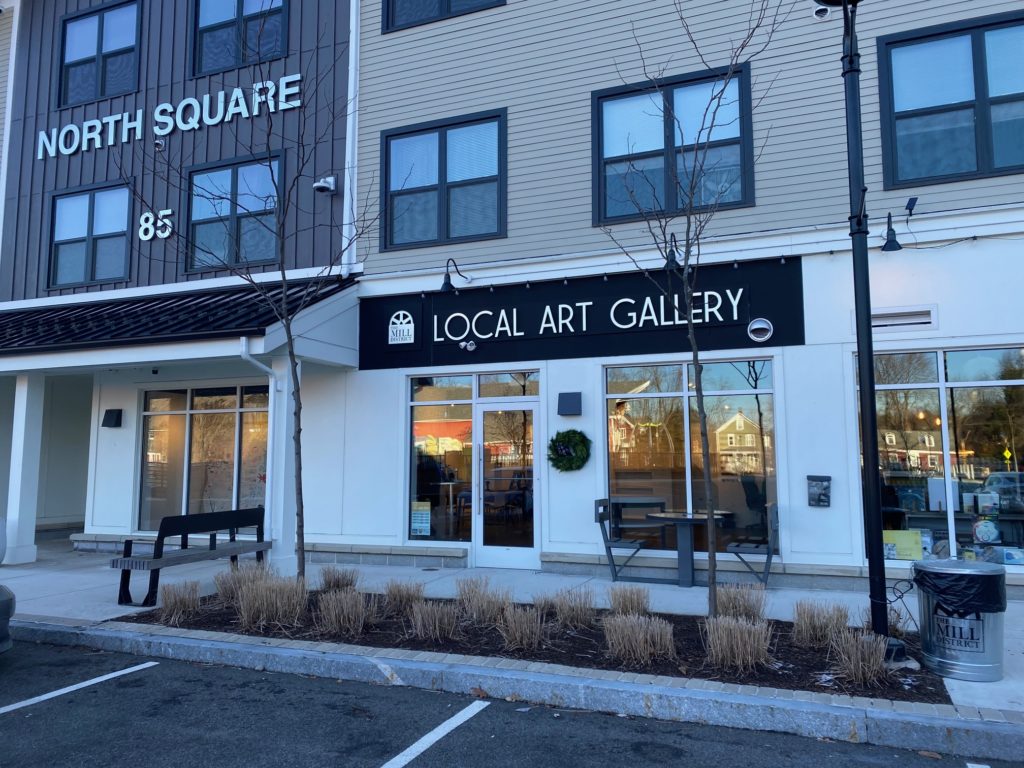 By Maura and Art Keene
The Local Art Gallery opened at the Mill District in June of 2021, and since that time has hosted works from up to 32 artists at a time with some exhibiting artists rotating out occasionally. However, with the waiting list of artists wanting display space recently ballooning to 35, Hannah Rechtschaffen, Director of Placemaking for W.D. Cowls, decided that a full gallery change-over was in order.
At the beginning of January, the entire gallery was cleared of art and members of the community were invited to decorate the walls with colorful messages, poems, and drawings at the end of the week. Rechtshaffen said, "We wanted to have a day where the visitors were included in the art making, kind of flipping the roles." The event was so successful that Rechtshaffen thinks they might do something similar every year, with a substantial if not complete changeover and some kind of participatory event for the public as a celebration for kicking off the new year.

Beginning this past week, the walls were repainted to a fresh white and on January 10, new artists began to move in (view a short video of the move-in here). Although several of these artists have previously shown their works at the gallery, 21 will be new to the venue. As in previous exhibits, the artwork includes paintings, fiber art, jewelry, decorative furniture, ink drawings, photographs, and woodworking. Soon the gallery will again house the works of 25 to 30 artists, all of whom work within an hour's drive of the gallery.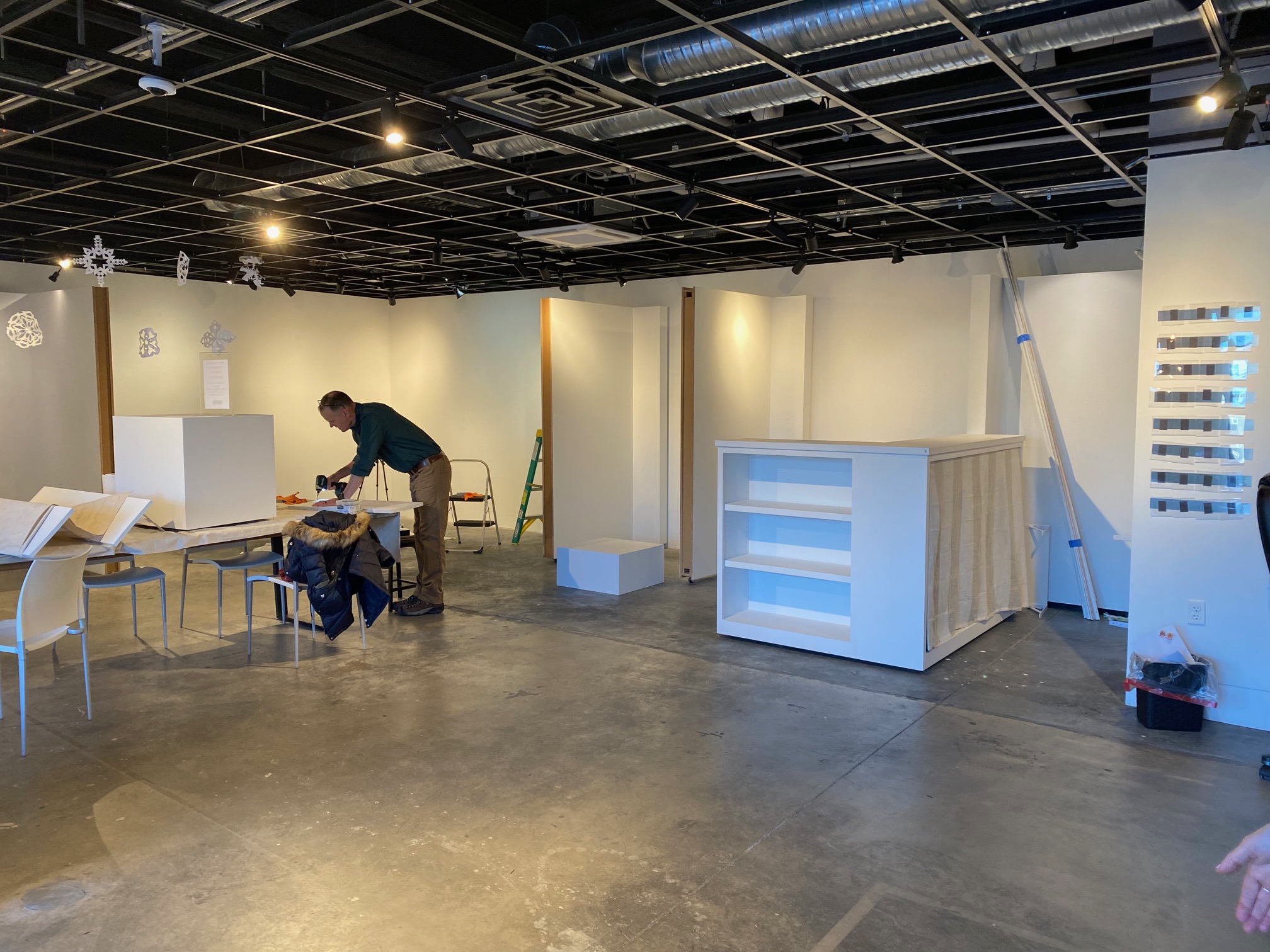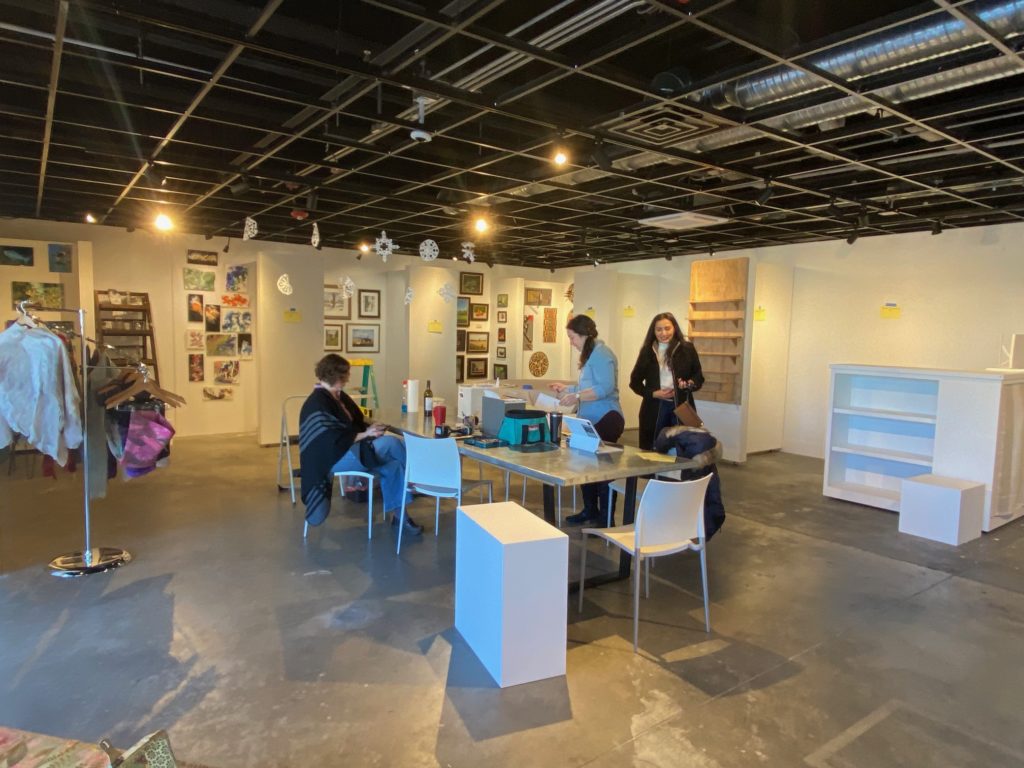 High Demand For Space
This is the gallery's first full changeover since it opened, and several of the artists displaying their work prior to the changeover had been with the gallery from the beginning. With the growing waiting list, Rechtschaffen noted that demand for exhibition space is high. There are few gallery spaces on this side of the river. She noted that part of the gallery's mission is to be eclectic and to display work of both established and emerging artists. "There's a tension around being a small space and being available to all who can benefit from the space," she said. "At just 1,000 square feet of display space, we've found that we can fit 30 to 35 artists here at a time. We'd like to get to a place where we are turning over about seven artists every quarter but there are also times of the year, for example around the December holidays, when it's not helpful to the artists to cycle out. So it's complicated."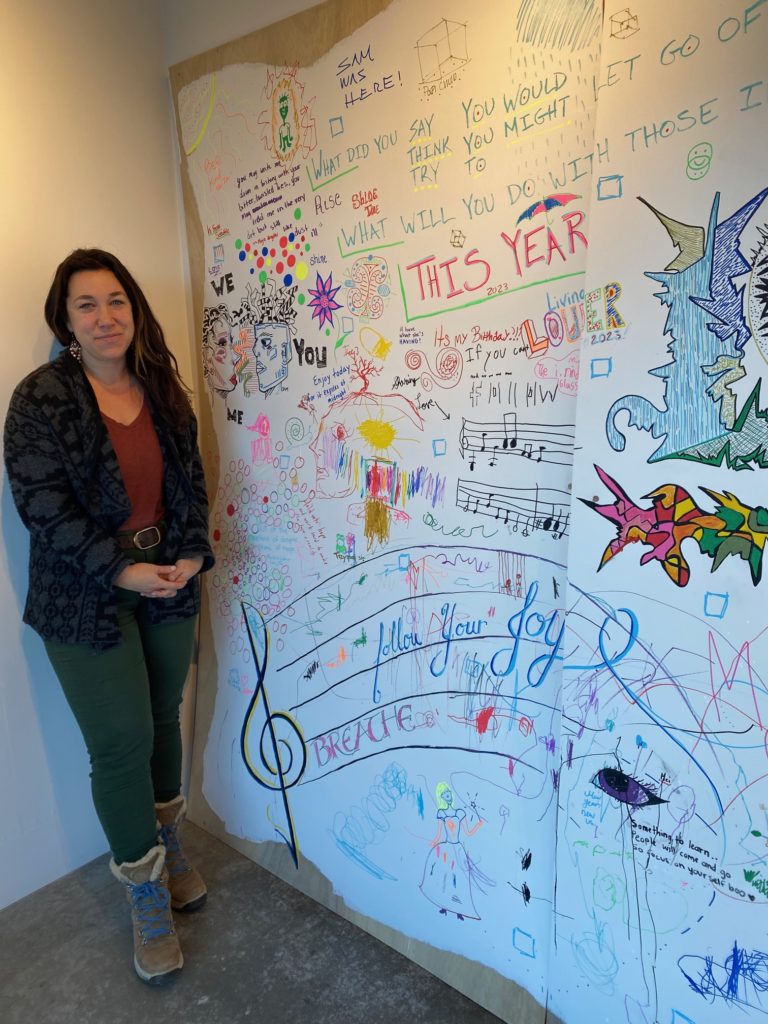 Gallery Events
In addition to offering space for artists to display their work, the gallery hosts a Craft and Converse event from 6:30 p.m. to 8 p.m on the fourth Wednesday of every month. People are invited to bring artwork or crafts they are working on to a community gathering for conversation and company. These events are hosted by Easthampton artist Kaia Zimmerman. Typically, between five and ten artists and craftspeople attend. The next Craft and Converse is scheduled for Wednesday, January 25. Registration is encouraged, but not required.
A reception for the new work displayed at the art gallery is scheduled for Friday, January 27 from 5 to 7 p.m. Artists pay to rent space and then pay a commission from work sold at the gallery. The following artists, among others, will have their works on display following the gallery's reopening: Liz Armstrong, Emily Steward, Janice C. Alder, Jennifer Ablard, Barbara Ballou, Michele Bernet Cutting, Shiva Delnavaz, Michele Diamond, Suzanne DiSessa, Christina Giebner, Laura Geryk, Rachel Goren, Karl Hester, Gabriella Hummell, Elizabeth H. Johnson, Roy Johnson, John Krifka, Keith Lewis, Christine S. Pellerin, Sanford Roth, Norm Vexler, Snchitha Vishwanath.
Artists wishing to display their art at the gallery should contact Rechtschaffen at hannah@cowls.com or 413-835-1765.