Augusta Savage Gallery Hosts Exhibit Dedicated To Missing And Murdered Indigenous Women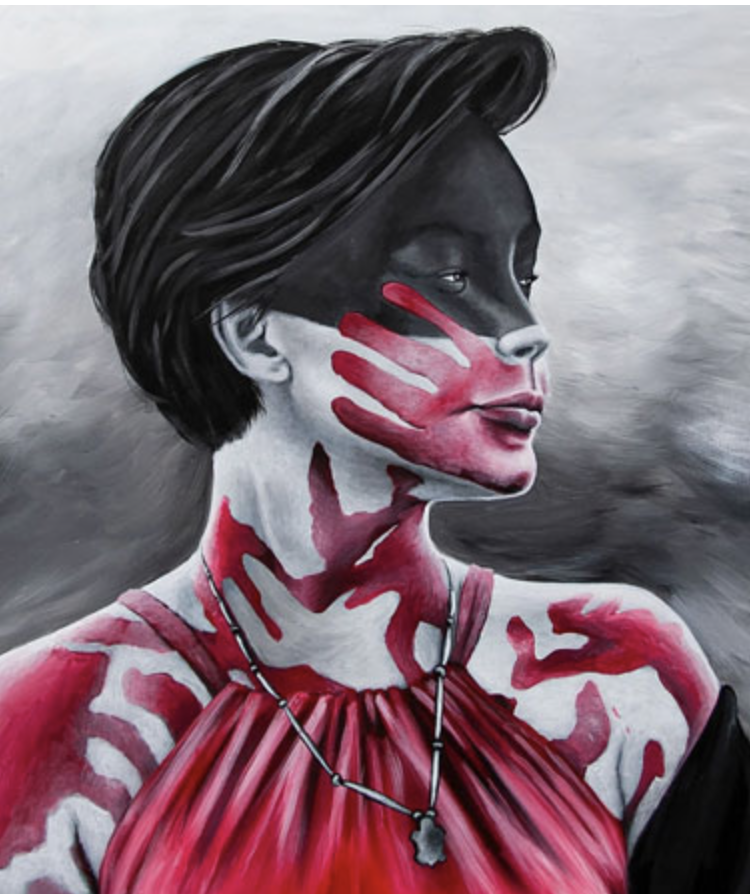 Source: Augusta Savage Gallery
The Augusta Savage Gallery at the New Africa House, 180 Infirmary Way at UMass, will host an exhibit by Amherst Regional High School graduate Nayana Lafond from January 30-May 12,2023. There will be an Opening Reception at the Gallery on Monday, January 30 from 5-7 p.m. and an Artist Talk on Wednesday, February 8 at 6 p.m.



The exhibit, entitled "Portraits in Red: Missing and Murdered Indigenous Women and Girls" shows striking portraits of indigenous women and girls to raise awareness of how many have been killed or have disappeared and bring healing to victims and their loved ones. The black and white acrylic paintings have a red hand across the face of those portrayed.
The collection "Portraits in Red "began on May 5, 2020 with one painting, "Lauraina in RED," created for the National Day of Awareness for Missing and Murdered Native Women and Girls (MMIW). LaFond, whose ancestry is part Anishinaabe, Abenaki, and Mi'kmaq, put out an open call, saying she would paint a couple more portraits if people sent information on subjects. She received more than 25 the first day with stories and photos, and decided to dedicate herself to painting all she receives. The portraits are of missing or murdered women and girls, or of survivors of domestic violence, or of family members or friends seeking to remember their loved ones, and activists working to stop the assaults Through her work LaFond hopes to make sure that the missing and dead are never forgotten, to raise awareness about this serious issue, and to provide help with healing to the families she works with. LaFond continues to receive new images and stories and has an ongoing queue of 20-30. She paints most of the MMIW portraits for free, selling a few to pay for art supplies. She told Steve Pfarrer of the Amherst Bulletin that she doesn't want to profit from other people's loss, and that the work gives her a sense of peace and healing.
Artist's Statement
"After leaving art school I went on to own and run a cafe and record label as well work as a curator for over 20 years in various galleries and museums, eight of which as Chief Curator. Through my work as an art organizer, I have been honored to now sit on the executive board for Artist Organized Art as well as several other arts and cultural boards. My paintings and sculptures can be found in galleries, museums and private collections around the world."

"My Art is primarily acrylic paint on canvas, sometimes integrating ink, cloth, thread and other materials into my work. I paint paintings & sculpt using epoxy, metal, glass and concrete as well as found objects and my old medical supplies. "
"Life has been my inspiration. Through challenges and surviving seemingly insurmountable odds art has been my outlet and the place I could express that which could not be said. The majority of my work carries themes of social justice and as such I have been labelled as an "Artivist" (art-activist). My work reflects themes from my experiences as a woman of mixed race and a Domestic abuse and cancer survivor."
Read a review of the exhibt by Steve Farrer in the Amherst Bulletin

Gallery Hours
All gallery events & exhibitions are free and open to the public.
Gallery Hours: M & T 1-7 p.m.; W-F 1-5 p.m.
For more information: 413-545-5177 or visit Augusta Savage Gallery.