A Better World Is Possible: Citizens' Assemblies: Are They The Future Of Democracy?
A look at the surge in popularity of randomly selected councils that offer an alternative to politics as we know it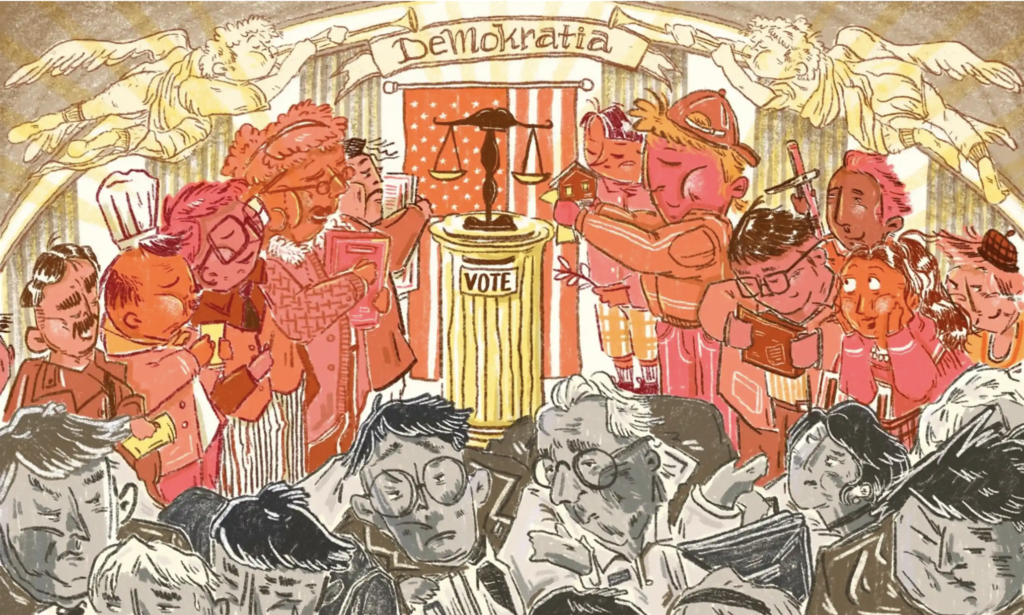 The idea of citizen assemblies shares a kinship with Michael Greenebaum's and Meg Gage's proposals to create resident advisory committees in Amherst – something they have been advocating for since the inception of our current city form of government. Greenebaum writes that a residents' assembly could become a significant force in Amherst, whether it was organized along the lines the Canadian examples in this piece or in some other way. It would take some organizing and maybe a bit of financing. It is worth our while to consider how that could be accomplished.
The Indy will from time to time re-publish articles from The Guardian using the Guardian's Open Platform
---
This article titled "Citizens' assemblies: are they the future of democracy?" was written by Eva Talmadge, for theguardian.com on Wednesday 1st February 2023 11.00 UTC
When Fauzia Bajwa, a retired software developer who lives in St-Bruno-de-Montarville, Quebec, received an invitation to participate in something called a citizens' assembly, her first impulse was to write the letter off as junk mail. It's a common reaction: most recipients of such a mailing never bother to respond. Then Bajwa looked at it again. The sender was listed as the Canadian Commission on Democratic Expression, a non-profit organization that compiles opinion reports to submit to the Canadian government. Though the mailing's language was vague – the assembly would be on the subject of so-called "online harms" – Bajwa's curiosity was piqued. After all, she'd just read a book about online surveillance, and at the time was waking up to a news cycle that seemed to revolve around the tweets of a certain president of the United States. "I found it quite concerning that people were using what I initially considered to be a very good and useful tool" – the internet – "to put out lies and fake information, so I was already thinking about these issues," she says. She went online and signed up.
Citizens' assemblies, a phenomenon that is gaining in popularity around the globe, date back to ancient Athens, where legislative panels, courts and councils were chosen via random selection. In a practice known as sortition, Greek citizens over the age of 30 were enlisted to debate governmental matters from city finances to military strategy. More recently, citizens' assemblies have convened to hammer out solutions to such issues as homelessness in Los Angeles, the allocation of a bn budget in Melbourne, Australia, and the longstanding ban on abortion in Ireland.
In 2017, after meeting over the course of five weekends for deliberation, an Irish citizens' assembly came up with a recommendation to legalize the procedure. Sixty-six per cent of Irish voters later approved the referendum, ending more than four decades of fruitless political debate.
Modern citizens' assemblies are typically convened by legislative bodies, which work alongside non-profit groups to reach out to large numbers of citizens at random – sending letters like the one Bajwa received in the mail – then sorting the respondents who express interest according to social and economic factors. The result is a group of people who are randomly selected and reflect the demographics of the population as a whole.
Sortition, a word that might evoke the next chapter in the Hunger Games franchise, offers a revived spin on democracy. Instead of leaving the decision-making up to elected officials, citizens' assemblies can offer a special interests-free alternative to politics as we know it.
The system is not unlike jury duty. With facilitators in place to provide background information on the issue at hand and encourage everyone's participation, the group meets over the course of several days to learn about a problem, hear from a range of stakeholders and experts, and come up with recommendations for new legislation.
Claudia Chwalisz, founder of the Paris-based international research institute DemocracyNext, has dedicated her career to promoting this resurrected model of democracy. "As the ancient Greeks and others recognized, elections are a way of constituting an oligarchy," she says. "When the French and American revolutions led to the establishment of the institutions that today we call democratic, the word 'democracy' was never used – the intent was for them to be oligarchic, concentrating power in the hands of the few."
Today, when a run for Congress can come with a price tag starting at 0,000 (Senator Raphael Warnock of Georgia raised a whopping .4m for his run in the third quarter of 2022), the notion that government is run by the elite is pretty much a given. More than half of the members of the US Congress are millionaires. The same cannot be said of the participants in an average citizens' assembly.
And yet, more than 500 citizens' assemblies have informed policymaking in recent years, with permanent citizens' councils now in place in Paris, London and Ostbelgien, Belgium. These groups have deliberated on everything from affordable housing in Switzerland and taxes on corporate income in Oregon to population decline in Japan. Wherever it's practiced, sortition facilitates meaningful conversations among everyday people, and has the potential to help fractured societies not only work on complicated problems, but learn how to live with one another. According to Peter MacLeod, founder of MASS LBP, a Toronto-based firm that works on a number of citizens' assembly projects, "Getting opinions is not difficult. Finding common ground, however – that's the art of the process."
But does the process actually work? A citizens' assembly on climate in France resulted in an ambitious climate bill that promised to reduce the country's carbon emissions by 40% – but fewer than half of the assembly's proposals made it to parliament for debate. Without a commitment from lawmakers to include an assembly's recommendations in bills and voter referendums, the practice can be little more than an intensive debate club.
But the potential for far-reaching change is vast. In the case of overturning the abortion ban in Ireland, the assembly that recommended an amendment to the Irish constitution functioned like a "miner's canary", according to Peter Stone, associate professor in political science at Trinity College, Dublin. "Everyone knew that things had changed since abortion was banned in the 1980s with overwhelming support, but no one was sure how much things had changed. And for a politician, it can be very dangerous when things change." Citizens' assemblies, Stone argues, function as a kind of hothouse for public opinion. The act of getting a bunch of randomly selected citizens together to work out their views on a contentious subject functions as invaluable market research on the future. It not only reveals what the public believes right now, but shows also how those beliefs are changing as people talk about an issue. In Ireland, the assembly gave the Oireachtas, the Irish parliament, the political green light it needed to make a change.
When Bajwa first spoke up at the Canadian assembly on digital technology, she came out against online anonymity. "You can't just spew out hate speech or slander online from behind the veil of anonymity," she argued. Then other members of the assembly, immigrants from places like the Philippines and the Middle East, shared their own takes. "People talked about places in the world where having your identity revealed can be a danger to your life," she said. "It didn't change my point of view totally, but I did modify my opinion on that." She also learned that there were parts of Canada that had no internet access whatsoever, which surprised her and reshaped her understanding of the issue. "Being in a room with people who you would probably not meet on a day-to-day basis – that in itself was fantastic."
Critics of citizens' assemblies – including none other than Socrates – point to the lack of expertise among the general public about a given issue. Without adequate educational materials and expert testimony, an assembly can end up relying less on fact than on opinion – or be influenced by bias in the resources they have available. The UN Democracy Fund has a guidebook that details best practices for choosing background materials and speakers at assemblies, and offers more information for participants who request it.
At the digital technology assembly commissioned by the Canadian Commission on Democratic Expression, Bajwa and her fellow participants heard from 13 experts, including university professors, specialists in internet and criminal law, and even one representative from Twitter. The minister of Canadian heritage, Pablo Rodriguez, found the assembly's process so compelling that he has requested an additional assembly to consider its findings. Legislation incorporating many of its recommendations is expected to be proposed in March.
guardian.co.uk © Guardian News & Media Limited 2010
Published via the Guardian News Feed plugin for WordPress.