Amherst/Pelham Educators Share Stories Of Rewarding Work And Dispiriting Contract Negotiations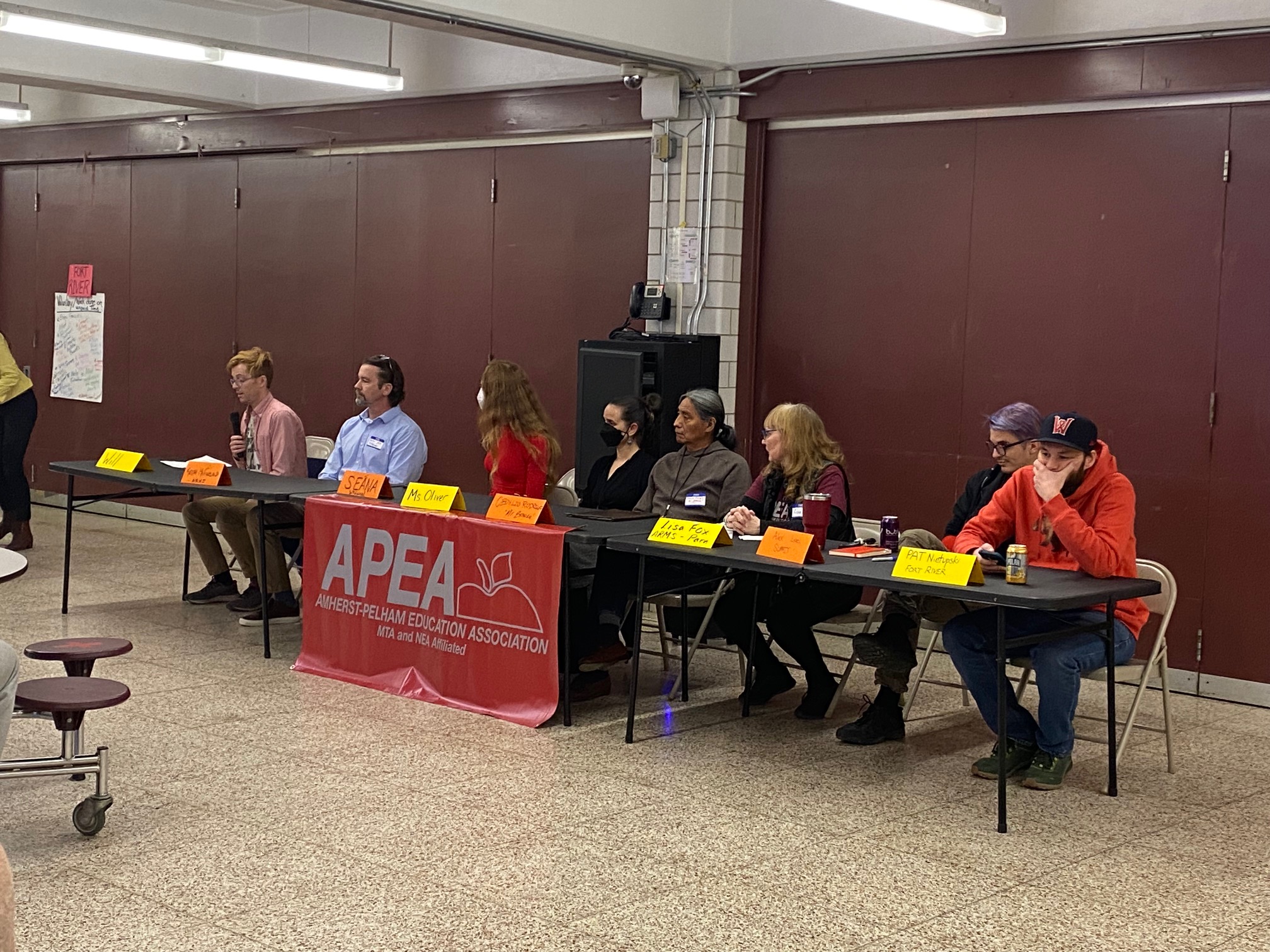 Teachers Have Been Bargaining For 395 Days
More than seventy people gathered in the Amherst Middle School cafeteria on Thursday evening (2/2) to hear a panel of public school educators share stories about what happens in their classrooms and lament the unwillingness of the School Committee to bargain in good faith for a fair contract. The event was sponsored by the Amherst Pelham Education Association (APEA), the union representing teachers and paraeducators in the Amherst and Pelham schools, and was billed as a public forum designed to give residents a chance to hear from educators about the work they do, why they are fighting for a fair and sustainable contract and what residents can do to help them.
Amherst teachers began negotiating for a new contract with the school district 395 days ago. In June, the district filed to change to a mediation format that stopped direct negotiations between the union and the district. Over the last 167 days there have been only four mediation sessions, and very little progress has resulted from them.
What The Union Seeks
APEA is seeking a 3.25% increase for the 2022-23 year and subsequent increases of 4% and 5% for teachers, counselors, and clerical staff, and a 6% increase for the next three years for para educators. The union has charged that district para educators do not earn a living wage.
The union maintains that the district is asking the educators to absorb a loss on their new contract. While educators are willing to accept a degree of loss in these challenging financial times, each year they lose more ground, their capacity to support themselves and their families becomes more precarious, and what is being asked of them is unsustainable and disrespectful of the work that they do.
They point out that over the past six years, the negotiated average cost of living increase (COLA) for Amherst/Pelham educators was 1.43%. The average inflation rate for the last six years has been 2.8% amounting to a pay cut of 1.37%. In 2021 inflation was 7% but teachers and counselors received only a 0.6% COLA. In addition, since 2017, the district has passed increased medical insurance costs to APEA members.

The teachers' original demand was a 9 percent increase each year. Amherst School Committee Chair Allison McDonald said the School Committee made three proposals for COLA in response. The first proposal in March of 2022 was 2% each year for three years. The second in June was 2.5% for one year followed by 2% for two. The third, in November, was 2.5% for two years, followed by 2% in the third year.

The union charges that the town has $8 million in free cash funds that are not earmarked for anything and that could be used to fund COLA increases for educators. The APEA estimates that their demand for COLA increases would not exceed $1.2 million.
Public Protests
Teachers, para educators, and clerical staff walked out of their schools at the end of the contracted work day on Monday, January 9 and held brief rallies outside each of the schools to protest the lack of progress in their negotiations for a new contact and to demonstrate what their adoption of"work to rule" might look like. The action took place at the high school, the middle school, and the four elementary schools in Amherst and Pelham. This was the same day that the APEA negotiating team met with the district mediator again to negotiate their unfunded contract. Amherst educators have been working under an expired contract since the beginning of the school year.

The Panel
The panel consisted of seven educators, each representing one school in the district. (Crocker Farm Elementary, Fort River Elementary, Pelham Elementary,  Wildwood Elementary, Amherst Regional Middle School, Amherst Regional High School and Summit Academy.) The stories they shared were poignant and compelling – attesting to the joy and excitement associated with rich teaching and learning environments and the challenges that accompany creating and sustaining them. Some shared stories about individual students who accomplished something noteworthy, or who were transformed by their experiences. 
There were common themes that emerged from the testimony that can be summarized as follows:
We love our students and our work and we endeavor to bring a tireless energy to that work. But our jobs require much uncompensated work, a lot of hours beyond the classroom, a lot of time away from our families, and incalculable emotional labor as we endeavor to be a support for every student. And for that commitment and sacrifice we are unfairly compensated. We are constantly reminded that we, and the work that we do, are not valued by the town.

The frustration among the participants was palpable. Several of the panelists referred to two expensive capital projects – a library that is now estimated to cost over $50 million and a new track and field that will cost several million dollars. And they asked, how is there money for such extravagance but none to provide a living wage for our educators?

Some Excerpts From The Panel
Will Lawrie, a kindergarten teacher at Pelham Elementary, spoke of the expansive learning objectives he has for his students that include weekly math activities and organizing an annual art show and also all kinds of personal growth. He talked about wanting his students to know that he cares about their academic success, and cares about them as individuals. . He said" I want them to be comfortable with who they are. We talk about the pillars that create an unjust and unequal society, and that everyone has different needs and there is more than one way to do something. I want my kids to know that their voices are being heard. I want them to love learning and I want them to love each other."
He said "I'm tired of the school committee telling us what to do and telling us how to balance a budget." He spoke of his frustration with the way the school budget is managed, noting that the district has come up several million dollars short for its track and field project but is going ahead with it anyway. "And yet they can't fund the contract ,"he said. He suggested that the School Committee is out of touch, noting that there are members who have never set foot in his building.
Keith McFarland, an English teacher at the high school and also a member of the Sunderland School Committee spoke of the things that have changed in his 25 years of teaching. What hasn't changed, he said is that he gets one hour a day for planning and curriculum work but the things he has to plan have burgeoned. Planning classes has become far more complex. He noted that while he has the same schedule that he had 25 years ago, there was no email 25 years ago, and now students, parents, guidance counselors, administrators, and fellow teachers are all contacting him by email. And they expect responses. He said that grading a single assignment for all of his students requires a minimum of 10-12 hours. All of that means that he has to find time for such work when he is not in the building.
He said that he always thought his job on the Sunderland School Committee was to advocate for students and staff, but that's not what he sees happening in Amherst
Seana Tousey-Pfarrer is a paraeducator at Wildwood. She said, "I have become more and more aware of what all our educators do above and beyond the call of duty to hold our school together and to give our students the best possible education that we can." And then she listed a very long list of activities that she and other educators routinely undertake that are uncompensated.
Her list was mirrored on the cafeteria walls which were crowded with posters, at least one from each of the seven schools, enumerating all of the uncompensated work that happens at those sites.

And she gets to do all of that for the pay rate of $17.13/ hour she said.

She concluded,"We love our work. We care so much. We should be paid fairly for the work that  we do."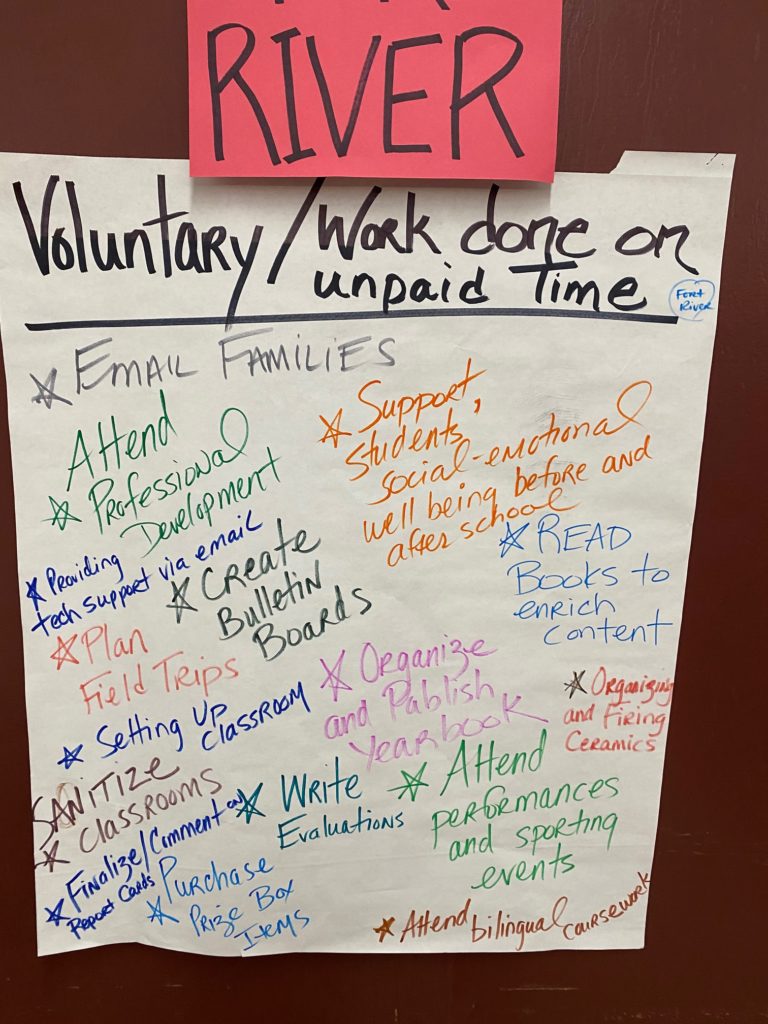 Jennifer Oliver, a teacher at the middle school said, "We go the extra mile. And we have run a marathon of extra miles. Amherst values education, but the district does not value the people who make it happen. People stay on in spite of the hardship because they love the kids, they love the work, they love each other….  And they are impressively qualified – several with Ph.D.s and some whose name is on the textbook they are using. But we are squandering the contributions of these people. "
Amherst values education? she said, but this time with a soft question mark. "We need to remember the people who make it happen".

Oliver recounted a long list of clubs and extracurricular activities that she has undertaken at the middle school, including starting the school's LGBTQ organization. She told of a project where her students redesigned the courtyard of the building, transforming it into an attractive space. She referred to how hard everyone worked to make remote learning work during the pandemic.

And she said she can no longer sustain what she has been doing. She is exhausted and frustrated.
Alex Lopez, a para educator at Summit Academy spoke of the prodigious effort from Summit's entire staff to build and sustain the diverse curriculum at the town's school dedicated to special education. He noted that the school has not been properly staffed since the first day of school with paras taking on a full range of duties. He said, "We are preparing to take a loss so our students don't have to." And he added, "When our students ask a question they expect an answer, and they get one. We're asking for a dialogue on what our futures will be. How is it that there's absolutely no response to our questions?".

The evening ended with an appeal to those present to speak up on behalf of Amherst's  educators and their right to a fair contract.