Library Tea Party Event Draws Fire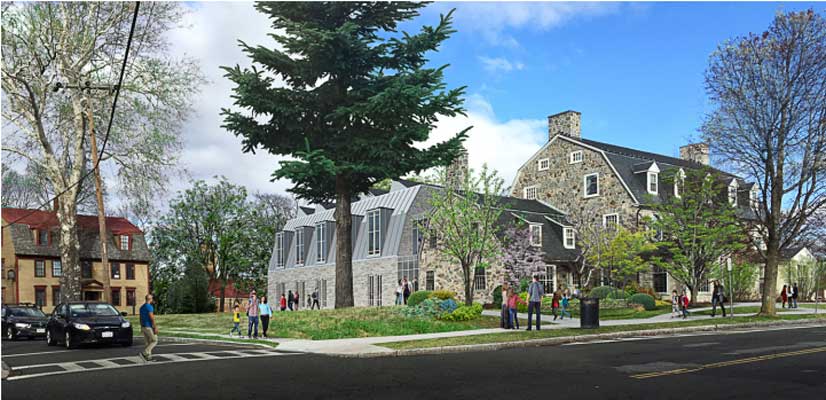 Jones Library News Highlights For The Week Of February 13, 2023
Public Commenter Requests Vetting Of Tea Party Guest Giganta Smalls
During the public comment period of the February 14 meeting of the Jones Library Board of Trustees Carole Hinkley raised personal concerns about an event scheduled for Saturday, February 18 listed as Library Tea Party With Special Guest Giganta Smalls (ages 4-9).
Hinkley, who did not specify where she was from, asked if the library had checked into the background of Drag Queen Giganta Smalls and went on to attribute social media posts to Smalls that Hinckley felt contained questionable messaging for young children. She cited a Facebook video for an adult event, an Instagram entry and a posting on a Belchertown forum that "referenced 22 different queer gay drag queen groups." Hinkley elaborated on her concerns stating, "[the event announcement] says come celebrate being yourselves, but you have a drag queen man dressing up as a woman and isn't this confusing to four to nine-year-olds?"
Online searches by The Amherst Indy failed to turn up the social media posts that Hinkley described.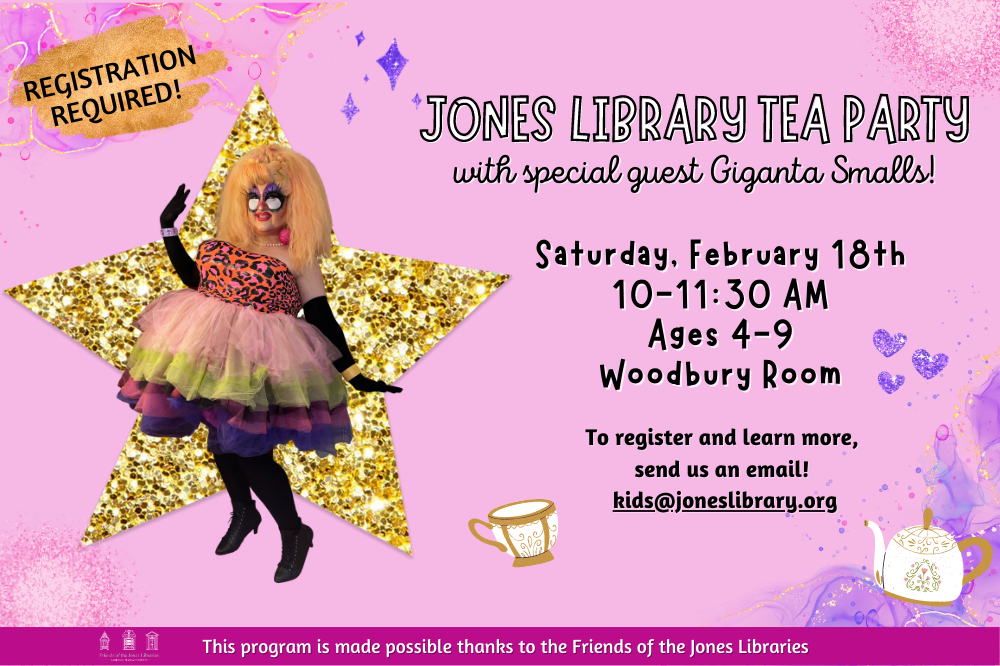 Library Director Sharon Sharry explained that the Tea Party program was organized by Children's Librarian Mia Cabana with help from a library employee who is friends with Giganta Smalls. Sharry related how the Jones Library Tea Party has evolved over the years, originating as an American Girl doll tea party.
"American Girl dolls are very expensive and so over time the Children's Department has tried to make this event more inclusive," Sharry said.
She read from a staff blurb explaining why there is a drag queen this year. "The foundation of Drag Story Hour is to introduce the concept of questioning gender norms in a society that historically prioritizes the heterosexual lifestyle. Drag Queen story time also promotes creativity, self-expression, and play. Drag is simply another form of dress up and cosplay."
Trustee Lee Edwards pointed out that Drag Queen Story Hours are a phenomenon that has been going through libraries all across the country for close to seven years.
Drag Queen Story Hours have in fact been conducted in a number of New England public libraries including in Hartford, Brattleboro and Boston. Unfortunately, these events have not been without incident.
A mask-wearing neo-Nazi group known as NSC-131 interrupted a January story hour at the Taunton Public Library according to an account on Boston.com. Business Insider reports that the right-wing male organization Proud Boys protested Drag Story Hours 18 times across the U.S. last year.
After New York congresswoman Alexandria Ocasio-Cortez plugged a Jackson Heights Drag Story Hour on Instagram, tipped off protesters targeted the event.
In 2022 the trustees of the Whiting Library in Chester, VT pressed pause on a scheduled Drag Queen Story Hour, prompting the library director to resign. A Drag Story Hour in Fall River earlier this year drew a small protest which was countered by a larger gathering of demonstrators supporting the LGBTQ+ community.
To guard against a negative experience for children and parents, an organization called Parasol Patrol will be supporting the Jones Library event.  The group attends Drag Queen Story Hours and responds to homophobic shouts and signs by singing and raising large rainbow umbrellas.
Trustee Objects To Editorializing In Meeting Minutes
Asked to approve the minutes of the December 14 Board meeting, trustee Bob Pam objected that "the minutes go somewhat beyond what we actually discussed there and becomes in part an editorial on what it is we can or should do."
Trustee Alex Lefebvre, who had served as scribe, had recounted the Buildings and Facilities Committee's view toward a repairs-only "Plan B" in case the Library building project proves unaffordable by writing, "Plan B is not likely to be a net zero design as the cost would be too high. We already know the cost to the town for repair work as provided by WBI and Kuhn Riddle would be in excess of the cost to the town for the renovation and expansion. The only current opportunity that exists for a more sustainable design is the renovation and expansion as the addition is what allows for the increased efficiency of the building to get to a net zero ready design."
Lefebvre, who also serves as chair of the Buildings and Facilities Committee responded, "It's what I said."
Pam, who has argued that trustee responsibility dictates taking development of a Plan B more seriously answered, "Actually it went somewhere beyond what you said."
[See related Letter: The Jones Library Should Go To School]
Board Chair Austin Sarat offered Pam the option of moving to amend the minutes.
Pam conceded, "Since it will be voted down, I will not go further, but I've objected."
Designer Recommendation Of Exterior Hardie Board Leaves Building Committee Unexcited
On Thursday Finegold Alexander Architects (FAA) presented recommendations for the most cost-effective materials to use on the exterior of the new library. They proposed using a shade of gray brick on the main walls and a standing seam metal roof. For the areas surrounding large glass windows on the rear addition FAA recommends using a synthetic composite of cement, sand and cellulose fibers called Hardie Board.
While considerably cheaper than the metal paneling proposed in the original design, Hardie Board carries the disadvantage of requiring maintenance such as painting or cleaning after a number of years.
Owner's Project Manager Craig DiCarlo of Colliers showed a photo of the Consigli Construction Corporate Headquarters which features an addition with a Hardie Board-type exterior attached to a historic masonry building. He acknowledged that the fifteen-year-old exterior panels show some signs of streaking.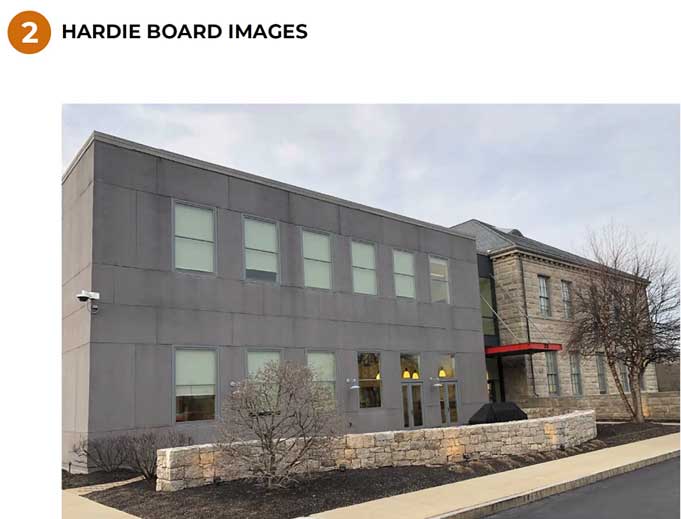 From a distance the material can almost pass for stone panel, DiCarlo said, but as you get closer you realize that it is a composite material with exposed fasteners.
Regarding the material's sturdiness, he said, "If you took a hammer to it, you could probably put a hole through it," but he advised that it would resist denting in a hailstorm better than metal paneling.
After seeing the photo, Finance Director Sean Mangano commented, "Craig, just to be clear is the objective of this visual [to show] that aesthetically it doesn't look great when you have a big a bunch of it all together?"
DiCarlo replied that he had no ulterior motive but to show an example of a building with a Hardie Board treatment. He assured that the use of Hardie Board on the Jones Library project would be limited, but added, "I would tend to agree with you that a whole lot of it uninterrupted is not necessarily what the library's going for."