FY24 Local Aid Package: Boon For Library, Beans For Schools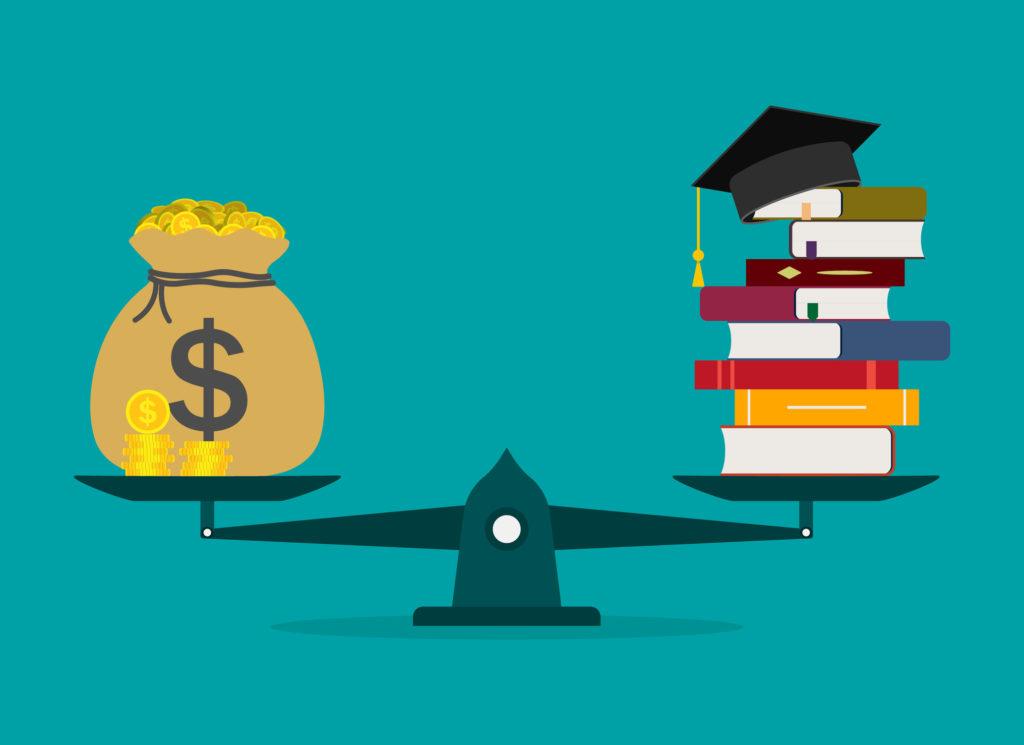 Amherst Finance News Highlights For The Week Of February 27, 2023
Governor's State Aid Proposal Is Disappointing For Amherst's Cash-strapped Schools
Town Finance Director Sean Mangano updated the Finance Committee on Tuesday with a preliminary projection of Amherst's Fiscal Year 2024 local aid package. The information was released by Massachusetts Governor Maura Healey's office in advance of her state budget proposal to be announced next week.
The Cherry Sheet Estimates, as the annual local aid document is known, lists both projections of money to be received by the town from the state, such as Chapter 70 school funding and Unrestricted General Government Aid, and charges to the town, such as Charter School Sending Tuition and its Regional Transit assessment. The document was traditionally mailed to cities and towns on cherry-colored paper until the information was moved to the web in 2004.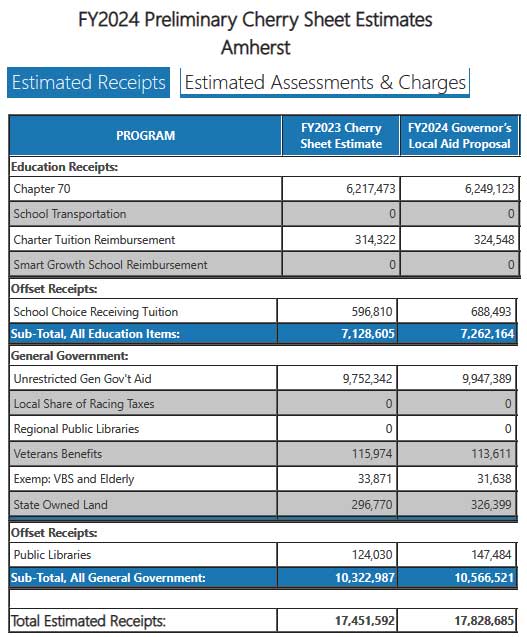 With the passage last November of the Massachusetts Fair Share Amendment, a surcharge on incomes greater than $1 million that was projected to generate $1 billion for education and transportation, hopes were high that local public schools would receive a piece of the pie. Indeed, the governor proposes to increase Chapter 70 funds for public elementary and secondary schools by 10%, from $5.2 billion to $5.7 billion statewide.
Amherst schools, however, were greeted with the cold shoulder. Its FY24 estimate of Chapter 70 funding is only $36,290 greater than the FY23 amount — $6.25 million up from $6.17 million, for an increase of 0.51%.
The Amherst-Pelham Regional School District is faring no better with FY24 Chapter 70 funding rising only $38,220 to $9.72 million, for an increase of 0.39%.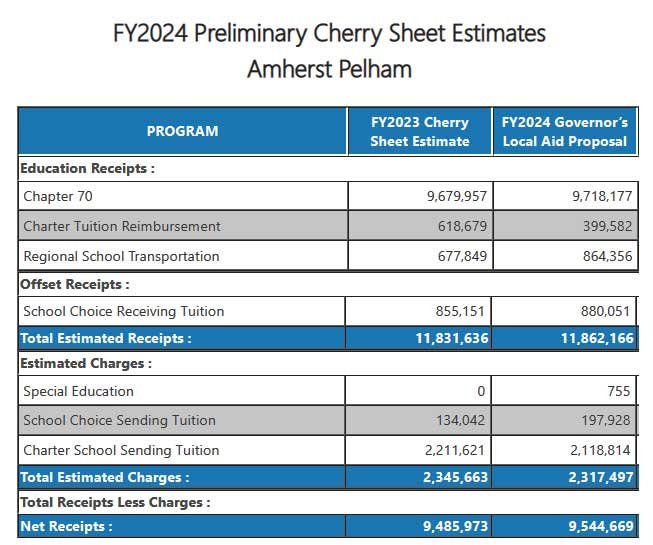 Amherst's paltry Chapter 70 school funding increase is particularly unwelcome news as the town faces a $800,000 school budget deficit and a collective bargaining impasse over educator cost of living increases.
Finance Committee Chair Andrew Steinberg attributed the disappointing school aid projection to the Student Opportunity Act of 2019 which attempts to level the playing field for economically disadvantaged communities by apportioning them more school funding. Amherst lacks the number of students who are certified as low income, or who participate in state public assistance programs to qualify for special Chapter 70 consideration. Consequently, it is among the two-thirds of Massachusetts communities that receive the minimal increase.
Good News For Jones Library
The cherry sheet news for the Jones Library, on the other hand, is much rosier. Statewide, Healey has recommended a 10% increase in aid to public libraries. Amherst's public library aid projection has been increased to $147,584, which is up 18.9% from FY23.
In recent years the Jones Library has been able to bank a portion of its state aid receipts. For instance, the Library Budget Committee reports that out of $107,708 received from the state in FY22, $26,487 was spent.
Of the 351 communities in Massachusetts, Amherst ranks 147th in the amount of Chapter 70 school aid projected for FY24. It ranks 19th in library aid.
The governor's local aid proposal and FY24 budget will be submitted to the state legislature for amendment and approval later this year.
[For more news of the Feb. 28 Finance Committee meeting see Finance Committee Wary Of Using Reserves To Reduce Amount Of Debt Exclusion Override]
Library Building Project Learns That Hardie Board Needs To Be Maintained
In an effort to reduce the cost of the Jones Library Renovation-Expansion project, now budgeted at $46.1 million, the Jones Library Building Committee (JLBC) has agreed to use a synthetic building material called Hardie Board on a portion of the exterior of the proposed 15,000 sq. ft. addition. This change is estimated to save at least $150,000 over the cost of metal paneling that was originally planned.
At its March 2 meeting, the JLBC heard the result of research by designers Finegold Alexander Architects (FAA) into Hardie Board's hardiness.
Designer Josephine Penta explained that Hardie Board carries a 30-year product warranty contingent on it being maintained and will need to be painted every eight to ten years. Periodic power washing may also be required.
"Every eight years – that's awful," commented Director Sharon Sharry.
FAA was unable to accurately predict the cost of painting the Hardie Board section but suggested that it might be about three times more expensive than painting an average house. Painting is complicated because the Hardie Board is located on the higher parts of the building.
Facilities Supervisor George Hicks-Richards downplayed budgetary concerns by pointing out that the library's trim will also need to be painted every eight to ten years. "This is going to be basically a new building, so that is a Joint Capital Planning Committee (JCPC) request [to the town] to repaint and keep the building fresh," he said.