Amherst's Long-serving Police Chief Announces Retirement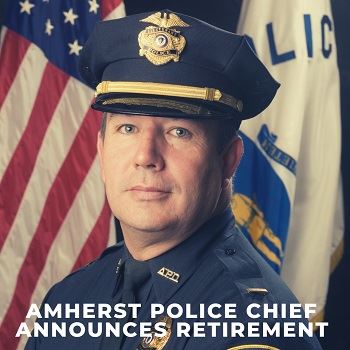 Source: amherstma.gov
Amherst Police Chief Scott Livingstone announced his retirement after 46 years of service to the Town of Amherst. His last day of employment will be May 27.  
Livingstone began a long and distinguished career in 1977 when he was hired as a Community Service Officer. He became a Special Officer Trainee in 1979, then a Police Officer Trainee in 1981, which led to his appointment as a Patrol Officer that same year. He rose quickly through the ranks, becoming a Sergeant in 1988, Lieutenant in 2000, Captain in 2008, and was selected to serve as Police Chief in 2009. 
In announcing his retirement, Chief Livingstone said, "This has been just an incredible journey over the last 46 years. I have been blessed with unwavering support from my wife Rhys and my children. The individuals I have worked with, both past and present, are absolutely the best people I know, who have chosen a profession that is more rewarding than frustrating. They have all played a role in the reason I have remained as a police officer in the Town of Amherst for this extended period. To the Amherst community, I would just like to say thank you for all the support I've received and continue to receive to this day. Amherst can be a difficult town to police in, but we have always been supported by the vast majority of you and for that, I will always be grateful."
Chief Livingstone has introduced numerous initiatives such as addressing quality-of- life issues with community-based policing, crisis intervention teams, and a community outreach officer; developing specialized response programs such as in-house civilian advocates on domestic violence and mental health issues; and establishing canine units and the transition to hybrid police cruisers.
Some of the professional achievements Chief Livingstone noted he was most proud of include being named to the Police Chief position in September of 2009, his graduation from the FBI National Academy that same year and being named the Police Executive of the Year by the Western Massachusetts Police Chiefs in 2019.
"Scott has served the Town of Amherst with integrity, honor, and compassion," said Town Manager Paul Bockelman. "He has provided strong, progressive leadership as Chief for 14 years.  He is a unique public safety leader – one of the best in the state – who has committed his entire career to making Amherst a safe place for all. Scott has built a professional department with highly trained police officers. He has been on the forefront of embracing change in policing such as the six pillars of President Obama's 21st Century Policing, and has worked to implement the Town's Community Responders for Equity, Safety and Service Department. I will miss his wisdom, advice, and friendship. The Town has been fortunate to have Scott as its Police Chief." 
Town Council President Lynn Griesemer added, "We are grateful to Chief Livingstone for his many years of dedicated service to the Town of Amherst. As he grew up in the Amherst Police Department, the Department made many changes and continues to adapt to the challenging environment that is redefining policing nationwide. Because of his leadership, the Amherst Police Department is well regarded statewide and seen as the training and recruitment ground for those who move on to head departments in communities throughout the region."
The Town will initiate a search process for a new Chief of Police immediately. More details on the process and how the public can be involved will be forthcoming.