Opinion: For A Thriving Downtown Amherst, Get Rid Of The Cars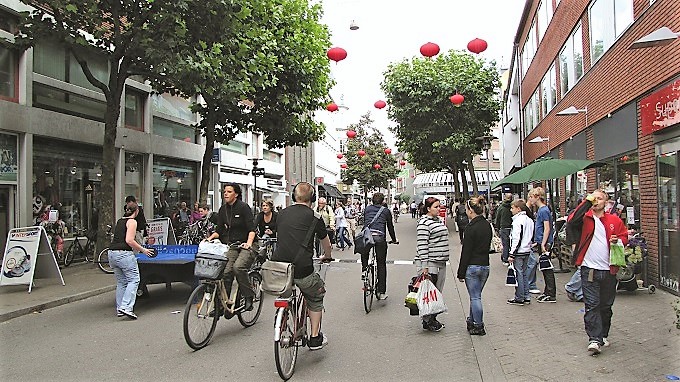 A version of this column appeared previously in the Amherst Bulletin.
Our master plan in Amherst calls for an increase in density in the downtown area, both commercial and residential. But is it possible to increase residential density in downtown Amherst without destroying much of the green space and beautiful ambiance that this ionic New England college town possesses?Not if we have to build the many parking spaces that this influx of student rentals and increased lodging requires. We would end up asphalting most of our yards and green spaces.
Could we address this by building multi-story garages that offer monthly leases and are situated in places that can be reached by electric shuttles? Shuttles that circulate frequently and regularly through downtown, the university and other hubs?
In urban pedestrian cities in Europe, there are parking lots and garages located where they can be reached by bike or bus or trolley. Though we are a small town, we could decide to make use of this solution to help us achieve a pedestrian-friendly downtown. If you are a walker, the experience is so much better if there are no cars. If you are handicapped or tired, you could make use of the hop-on, hop-off electric trolleys.
In the long run, supplying these trolleys will be so much less costly than trying to accommodate enough parking in the few precious commercial spaces that could better accommodate shops. We badly need shops that would fulfill our desires and needs: a grocery store, bakeries, cheese shops, food co-ops, and multiple outdoor dining venues, and so much more … each adding a reason to come downtown in the first place.
If we want a walkable, bikeable, thriving downtown we must get cars and traffic out. How sad it was to see restaurants try to accommodate outside dining by placing concrete dividers between the tables where guests dine on the street. You only need to look to the great popularity of Esselon Cafe outdoor dining to see how happy people are to sit and eat away from traffic.
Our town's future could look very bright! Most cars gone from of downtown. Central garages for residents and visitors. Electric shuttles that might be hop on, hop off to get us where we need to go. More paths that are dedicated to bicycles, not lanes on the sides of roads which just do not feel safe enough to be attractive for the majority of bikers.
The creative progressive leaders of our colleges and university should be able to come up with a plan to facilitate bike use by their students. Perhaps electric bike use could be incorporated into the tuition. I can only imagine what a draw that would be in today's competitive college market. Young scholars particularly are adamant that we do more to protect the future on this planet.
Emily Dickinson is known and revered throughout the world. She loved nature and beauty above all else. It is fitting that we preserve and enhance our unique heritage by embarking on a bold and forward-looking mission to reduce car traffic to a minimum.
We would be opening up our town by catering to people rather than automobiles, and routing and parking cars where they intrude least. UMass, for instance, has land where such garages could be built, and this indeed is just a short bike or trolley ride away. Preserving a beautiful town as the college setting to their university also is an important win for them.
Most importantly, we would be preserving more of the green spaces and yards that create much of the beauty we all cherish and need.

Karin Winter is a member of the Amherst Planning Board. The views expressed here are her own.