Hampshire College Offers Admission To All Students At New College Of Florida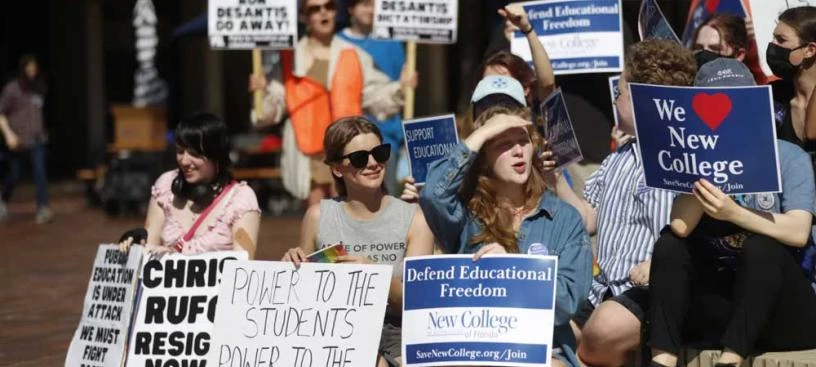 Source: Hampshire College News

Also in this issue: "Hostile Takeover", The Tiny Florida University Targeted By Ron DeSantis
Hampshire College announced today its commitment to offer admission to all New College of Florida students in good standing and to match their current cost of tuition. This opportunity is in response to the continuing attacks on New College of Florida intended to limit intellectual exploration, turn back progress toward inclusion, and curtail open discussion of race, injustice, and histories of oppression. By committing to impose a narrowly politicized curriculum on New College, the newly appointed trustees broke promises made to its current students to support a self-directed, rigorous education grounded in a commitment to free inquiry.

After consulting with the student organizers rallying to preserve New College's distinctive approach to undergraduate education, Hampshire College is proud to stand with students who crave a progressive education. Hampshire will provide a welcoming environment for all who want the freedom to study and act on the urgent challenges of our time, without ideological limits imposed by the state.

New College students will enjoy a streamlined transfer process to ensure that they can continue their education without losing any credits and without an increase in their current tuition costs, in a setting that affirms their passion for self-directed learning, narrative evaluations, free inquiry, and a transformative experience.

What is happening at New College of Florida is merely the most radical example of increasingly aggressive efforts to suppress meaningful examination of the realities of our society and curb the advancement of democratic ideals, aspirations that should be the mission of higher education. Increasingly, public institutions are a target for those trying to censor discussions of racism, white supremacy, gender identity, structural barriers to equity, and the reproduction of oppressive hierarchies. This doesn't serve the students, it doesn't serve democracy, and it certainly doesn't serve the world those students seek to improve.

We must reinforce higher education as a means to create a more equitable society, and resist threats intended to silence those who make visible the injustices embedded in our current structures, assumptions, and policies. The undergraduate experience should be organized around the generation of new possibilities, new questions, and new solutions to the personal, local, and global challenges of the 21st century.

Hampshire College believes we should use our influence and resources to help elevate communities that have been disadvantaged, to provide pathways to a better life and more just world. This means employing the arts and humanities, in concert with the natural and social sciences, to apply our best thinking to the hardest problems. It means designing curricula that prepare graduates to confront the bedeviling and interconnected challenges our future presents, so they can do the work of changing that future. Hampshire College welcomes all New College students who want to be a part of an unbounded, urgent, and entrepreneurial education.

Any New College of Florida student interested in attending Hampshire College can review the transfer process. New College students must complete a Hampshire College Division III, the final year of their education, in attendance at Hampshire. Under the direction of a faculty committee, Division III comprises a major independent project and two advanced educational activities. New College students transferring to Hampshire will receive an aid award guaranteeing that net tuition for 2023–24 matches their current cost of tuition as billed by New College in 2022–23. New College students will need to provide official transcripts and copies of their most recent aid awards.
Read more:
Tough Fight Ahead For Students Of Florida's New College (MSNBC)
New College of Florida's Interim President Fires Diversity Dean (WUSF News)
Governor DeSantis Begins Takeover OI New College (FSU News)
Fight Fiercely New College! (Current Affairs)