Amherst History-Month-by-Month: Modern And Contemporary Homes in Amherst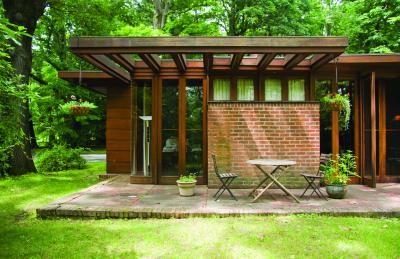 Yes, Amherst has an affordable housing problem. If you are looking for a place to buy or rent here, it might even be a crisis. In the Indy, it was recently suggested that "most of the housing created in Amherst in the last 10 years has been for the increasingly lucrative, high-end student rental market" [Denise Barberet].
The housing problem won't be solved for consumers by catering to renting apartments by the room. I want to use this column to touch on a range of solutions that address the issue by using sustainable design principles and better public planning policies. They start in the 1940s and end, for the purposes of this article, in the first decade of the 21st century. But the need for a long-term solution goes all the way to the present.
One of America's greatest architects was interested in the important issue of housing Americans. In 1940, Frank Lloyd Wright (1867–1959) designed a small, 1,200 square foot home for Ted and Frances Baird, off Route 116 on Shays street in Amherst. Ted Baird, a tall, willowy man who was revered for his approach to teaching writing, was a professor of English at Amherst College. The house is privately owned and on the National Register of Historic Places.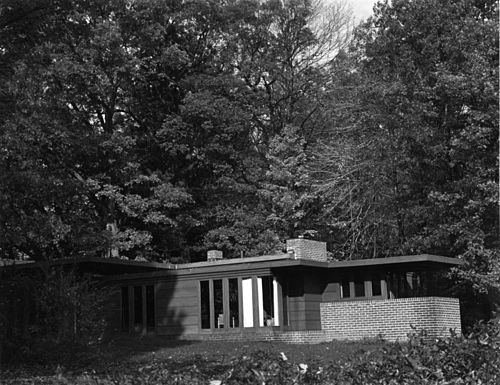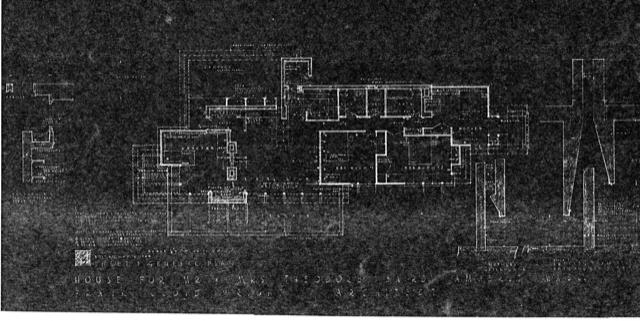 Costs and affordability were on Wright's agenda even if he did not ultimately manage to fulfill these concerns in many of his commissions. The "Usonians", as he called smaller houses like the Baird House, were not large residences like Fallingwater and they were mostly single-story homes on their own small lots. But they had underfloor heating, a construction system of board and batten walls, intended for assembly with deliveries of prefabricated parts to the site via a flatbed truck . (In fact, the Baird House is the only one of Frank Lloyd Wright's Usonians that was built like this.) Wright also hoped to interest his patrons in building the homes themselves with help from subcontractors but in most cases, again, he sent one of his apprentices to manage this part of the job.
Of all the homes mentioned here, this house is the only one officially deemed of historic and architectural significance, and you can read more about this specific Usonian here and about others nearby here.
Interest in the small, low-slung house that Wright embraced continues in America in the more pervasive construction of ranches and/or raised ranches. But in an Amherst neighborhood, just off Strong Street up by Orchard Hill, there are a group of homes on Hills Road and Red Gate Lane that look like Usonians. They are modest, and set back from the street, with carports (also a feature of Wright's Usonians). Some have vertical rather than horizontal siding and a couple are two-story, but there is form, materials, and massing that is common to them all. Mixed in with them are other ranches and colonial style homes, and on the south ridge of Red Gate Lane, one or two larger contemporary homes have been added since these "Wrightian" homes were built.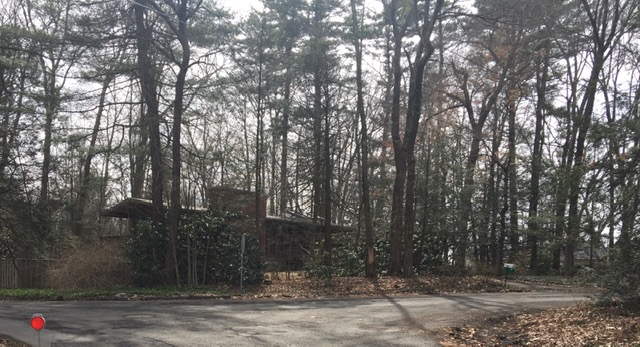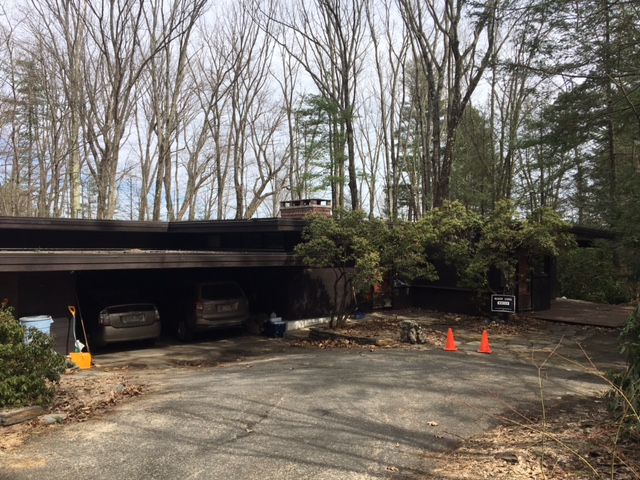 Sadly, there is very little public documentation about these houses, unlike the record of Amherst's first suburban housing development on Van Meter Drive further north from here. It would be a very good idea to create a multiple property listing for Amherst that would document the period and style of these modernist homes, perhaps with others of the same period in other parts of Amherst. One such area would be the student housing built at Hampshire College.
Another place where social housing has been carefully considered is on Stanley Street, where Pioneer Valley Habitat for Humanity built four units between 2006 and 2010. The scheme could be replicated and the houses themselves are striking, standing out as you drive down South East Street, away from the East Village neighborhood of Amherst. They were designed by Kuhn Riddle Architects and have photovoltaic panels, which help to make them energy efficient, and this in turn keeps them sustainable for low-income homeowners. The land was donated by Amherst College and Amherst students were active on the building crews along with other Pioneer Valley Habitat for Humanity volunteers. The homes won a Special Mention award from the Western branch of the American Institute of Architects in 2010.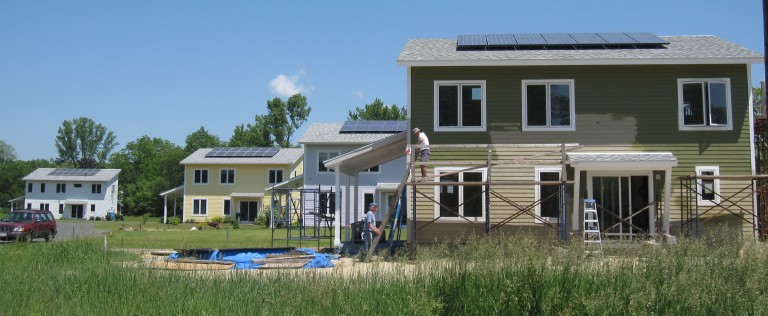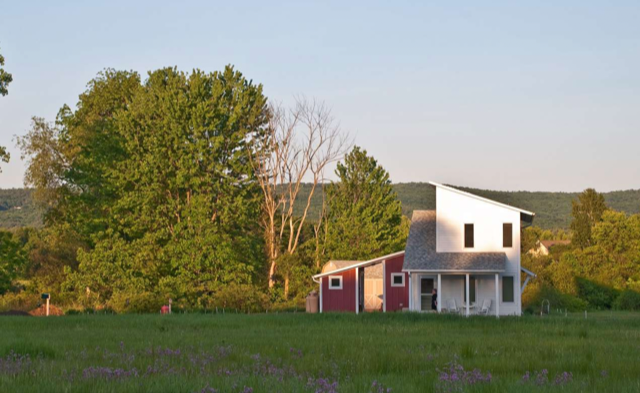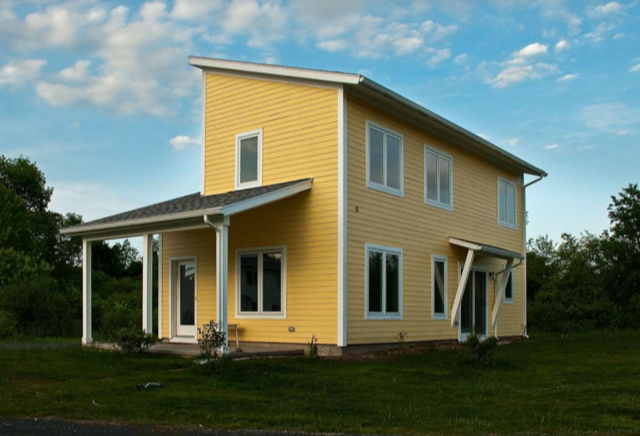 These homes are too new at the moment for any historic recognition (so they do not have what are known as Form B listings, for example) but they are a good example of modern design principles carried forward into the contemporary housing scene. Over time, low density, multiple housing plans need to densify somewhat, perhaps in village centers, with balconies, gardens and yards for recreation with shade trees. One can dream.