Teachers Raise Alarm Over Middle School Principal Search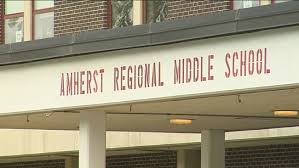 An increasing number of Amherst Regional Middle School (ARMS) educators are weighing in on the recent principal search process, asking Superintendent Michael Morris to pause the search and nullify the community feedback received following this week's public forum.
Thirty-five middle school educators have signed onto letters sent to the superintendent and School Committee this week citing concerns which include secrecy of the hiring process, restrictions on communications between interview committee members, alleged conflicts of interest between those involved in hiring and candidates, and a claim that a qualified internal candidate was not put forward as a finalist.
"We have lost confidence in the ARMS principal search process," wrote Alicia Lopez in a letter co-signed by 28 ARMS educators.
In another letter signed by 18 educators, teacher Ben Levy wrote, "Since the [interview] committee's ratings have not been made public, we are not confident that they indicate that only two, but not three of the interviewed candidates should be recommended."
This is not the first time questions have been raised about the district's hiring process. Last November, retired teacher Martha Toro published a letter in the Indy which questioned the integrity of the hiring process and leveled accusations of nepotism and corruption in the district. The same process that Toro criticized — which consists of a screening committee that has access to candidate resumes and a separate interview committee that does not — was applied in the recent middle school principal search. Among the pleas from teachers this week was a call for a review of the hiring process.
Earlier this week, a letter penned by Claire Cocco and 21 educators called for the internal candidate for the middle school principal position to be added to the finalist pool in time for community forums on March 28, stating the candidate had wide staff support.
Shortly before the forums, finalist Tanya Brodd of Arizona withdrew as she had accepted a position elsewhere, leaving only one candidate.
Seeming to respond to accusations of undisclosed conflicts of interest among applicants and District staff, Human Resources Director Doreen Cunningham opened the virtual forum with sole finalist Gabrielle Jackson by declaring she and the applicant did not know each other and had not met prior to the interview.
At the Regional School Committee meeting also on March 28, when asked by School Committee member Jennifer Shiao whether another finalist would be added to the pool, Morris responded that they don't typically add finalists after the fact. "Unfortunately, the timing of this one was a little awkward," Morris said. "We do have a finalist but that doesn't mean the person will definitely get the position. We'll make that determination along with community feedback."
An online form for the community to offer feedback on the candidate was open until noon on March 30.